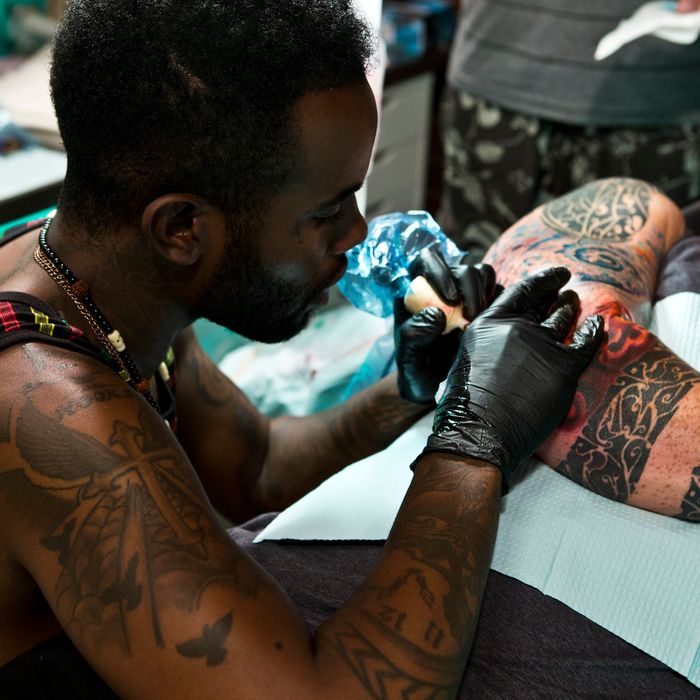 BEST INK – "Fight Club" Episode 303 – Pictured: Darnell Waine – (Photo by: Ben Cohen/Oxygen Media/NBCU Photo Bank)
Photo: Oxygen Media
Keep your pawn shows, your swamp shows, your home-décor shows. I'll happily never watch anyone else house-hunt, or say yes to a dress, or have a kitchen nightmare. But dear God, please, don't take my tattoo shows away.
My obsession with tattoo shows started a thousand years ago in reality TV time, with the 2005 debuts of Miami Ink and Inked. That fondness carried over to New York Ink, L.A. Ink, London Ink, even the lukewarm Tattoo Highway. And now we get to enjoy the golden era of ink shows — it's sort of a boom genre right now. Here's your guide to all the tattoo TV shows currently airing.
The Contest Shows
Best Ink (Wednesdays at 10 p.m. on Oxygen) and Ink Master (Spike, returning later this year) are the exact same show. They might even use the same "countdown" music. And they are both terrific! It's Top Chef, but with tattoos instead of cooking, and both shows have wonderfully harsh judges. Ink Master's Oliver Peck might be the most exacting judge on any reality-contest show in the current mix.
The Workplace Shows
When Miami Ink was good, it was really damn good — but that was before every single tattoo was a memorial or tribute tattoo. (The same thing happened on American Chopper. Must every motorcycle be a "tribute" motorcycle?) So it's not too surprising that other shows have the same model: Workplace shenanigans, plus different clients every week. Tattoos After Dark (Wednesdays at 11 p.m., Oxygen) tends to have weird and attention-seeking clients, while VH1's Black Ink Crew (which just finished its second season) focuses a little more on the drama of the employees and their partners.
Kitchen Nightmares, But Tattoos
That's Tattoo Rescue, which is pretty much Tabitha's Salon Takeover, but again, for tattoo parlors: Expert visits decrepit business, appropriately shames business owner, and moves on his or her merry way. Bad haircuts and crappy food are one thing, though — a crappy or unhygienic tattoo is permanent and potentially very dangerous.
The Bad-Tattoo Shows
To be clear, these are shows about people with terrible tattoos — and lo, they are terrible. Many of the tattoos are badly executed, but many are simply really bad ideas in the first place. TLC has America's Worst Tattoos, which finished its first season in May, and that show included people with tattoos of a hot dog playing a ukulele, a merman smoking a cigarette, and several undecipherable blobs. And a guy with a "workout girl" tattoo where the dumbbells were instead drawn as vibrators. Tattoo Nightmares (Spike, returning in February) is similar but slightly better, with sharper editing and less egregious phony-baloney reality-show chitchat. Plus it explains more about how cover-up tattoos work, rather than just humiliating the poor schmucks who have dumb ink. A&E's Bad Ink (Mondays, 9 p.m.) falls somewhere in between, with plenty of moments of seeming authenticity but also a real fake-seeming setup in which the stars go out looking for people with bad tattoos. The biggest message of these shows, though, is clear: A staggering number of people have tattoos of penises.