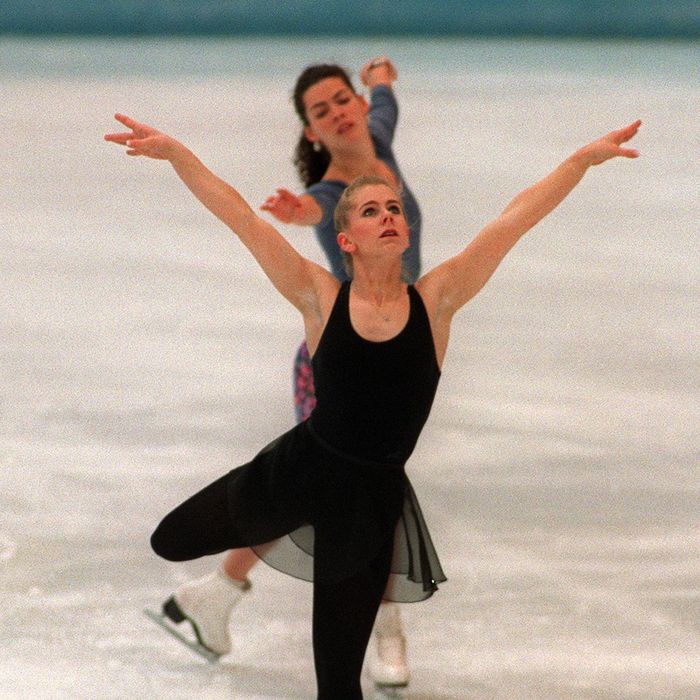 January 6 marked the twenty-year anniversary of Nancy Kerrigan's knee-whack heard 'round the world. It combined everything that Americans could possibly want in a scandal: Sports, a blonde vs. a brunette, class conflict, humorous names, and non-lethal violence. It was the best story since Joey Buttafuoco, and this one had the added international stage of the Olympics. Tomorrow night, ESPN's "30 for 30" documentary series finally takes on the scandal with The Price of Gold. What The Price of Gold has that few other "30 for 30" docs have is an utterly, pervasively familiar subject matter. It's hard to think of a more famous moment in sports, one that's so clearly part of the lexicon. From very early on, it's been a pop-culture goldmine.
For a while there, you couldn't turn on a TV without seeing some mention of the event. As details of the attack came to light — particularly that Harding's then-husband Jeff Gillooly had paid Shane Stant to break Kerrigan's leg — the pop-culture metabolizer took over.
Harding and Gillooly became a favorite topic for David Letterman. He name-checked them in fourteen top ten lists in February 1994 alone (out of nineteen shows done that month). A selection:
Feb. 2, "Top Ten Ways to Mispronounce 'Jeff Gillooly'":  #2, "Boutros Boutros Gillooly," #1, "Guilty."
Feb. 7, "Top Ten Rejected Olympic Sports": #1, "Freestyle Gillooly."
Feb. 9, "Top Ten Signs the Beatles May Be Here Tonight": #2, "Yoko Ono spotted outside the theater holding lead pipe."
Feb. 15, "Top Ten Things Overheard in the Olympic Village": #1, "There's no way I'm rooming with Harding!"
Feb. 16, "Top Ten Signs Greg Gumble Is Nuts": #2, "Officially changed name to Greg Gumbel-Gillooly."
Feb. 22 "Top Ten Olympia Pet Peeves": #8, "There's just not enough coverage of the Tonya/Nancy rivalry."
Feb. 23, "Top Ten Ways to Make the Olympics More Fun:" #4 "Instead of counting down 3-2-1 go, count down 3-2-1 Gillooly;" and #1, "More rock, less Tonya."
Feb. 24, "Top Ten Tonya Harding Excuses": #1, "Couldn't land the triple Gillooly."
Feb. 25 , "Top Ten Signs You're Tired of the Olympics": #1, "No longer laugh at the name Gillooly."
Months later, the July 29 list of "Rejected Forrest Gump Sayings" had "Jenny and me, we're just like Tonya and Gillooly" at number six. And August 1, in the "Top Ten George Bush Complaints about Dan Quayle's book," number six was "Wasn't appropriate to include nude photos of Tonya Harding and Jeff Gillooly." (You can see all the top ten lists from 1994 here.)
SNL of course had plenty of Nancy-Tonya material, too, with Rob Schneider delivering "a message from Jeff Gillooly" on the February 19 episode, which also had a few "Weekend Update" jabs ("Tonya recieved three years' probation, was fined $100,000, and was ordered to do 500 hours of community service, followed by an extremely difficult triple-axle double-lutz combination"). Kerrigan herself hosted on March 12, 1994, but that was hardly the end of things. On the February 8, 1997 "Weekend Update," Norm MacDonald said "Skater Tonya Harding, banned from competing for the United States because of her part in the Nancy Kerrigan attack, received a setback this week when her request to skate for Norway was also rejected. However, Harding remains optimistic that she'll get the okay to compete for The Republic of White-trash-istan." Amy Poehler played Harding in a "Weekend Update" segment in 2002. 2002!
Everybody got in on the action. In April 1994, there was a made-for-TV movie, Tonya & Nancy: The Inside Story, with Just the 10 of Us's Heather Lagenkamp as Nancy Kerrigan. In 1995, Seinfeld had a whole episode mirroring the incident (this time with George and Bette Midler in the Gillooly and Nancy positions). In 1999, an episode of the Cartoon Network show Cow and Chicken parodied the attack. There's a terrific Loudon Wainwright song called "Tonya's Twirls," which first came out in 1999 but was rereleased in 2003.
There was a 1996 episode of Diagnosis Murder ("Murder on Thin Ice") loosely based on the scandal — though on that episode, the Kerrigan-ish character winds up killing an attacker with her ice skate. On The Simpsons' 1999 "Treehouse of Horror" episode, Harding is one of the celebrities who's in a rocket being shot toward the sun. (She's in there with Courtney Love, Ross Perot, Tom Arnold, Dr. Laura, Dan Quayle, and Al Sharpton.) There's a Gillooly joke on a 2005 episode of Family Guy that Jeff Gillooly (now Jeff Stone) himself recalls fondly. In 2007, Barack Obama joked about not "pulling a Tonya Harding."
And lest you think this is all in the distant past, an episode of Futurama from this summer found Bender in a tap-dancing contest with a little girl named Tonya — who eventually breaks his leg.
But far and away the most precious pop-culture gift this entire scandal gave us is one of the most perfect episodes of Law & Order ever. "Doubles," which aired May 18, 1994, is the quintessence of L&O greatness. For starters, it has the dream lineup: Logan and Briscoe, Kindcade and Stone, Dr. Olivette is the consulting psychologist, and Schiff is the D.A. Perfection! The episode is about two tennis players — one the top ranked perfect princess, the other the 82nd-ranked party girl — and follows a seemingly similar trajectory to the Kerrigan-Harding mess: The trashy girl's trashy boyfriend whacks the perfect girl's wrist, just before a major competition. But! Twist! It turns out the perfect girl actually called in the hit on herself! (She hated playing tennis, but her domineering father wouldn't let her quit.) The episode features the required knows-everything bartender, the creepy guy who's just a red herring, and a salty defense attorney who spits "do what you have to do!" Plus, there are some now-familiar faces: In Plain Sight's Mary McCormack is the knowledgeable bartender, Lights Out's Holt McCallany is the scuzzy boyfriend who commits the assault, House's Peter Jacobson is the sports psychologist who says it's "possible" for an elite athlete to self-harm.
Tomorrow, yet further evidence that America well never be "over" the Nancy Kerrigan–Tonya Harding story of 1994: The Price of Gold is a more fleshed-out look at what happened leading up to the assault, and it's a pretty damning indictment the rigid, class-conscious world of figure skating. Gold also advances the theory that in many ways Harding herself is a victim — a victim of parental and spousal abuse, a victim of the media frenzy, and a victim of America's deep, deep hatred of poor people. Maybe Dave can squeeze one more top ten list out of that.
This post has been updated to include the overlooked Seinfeld episode.