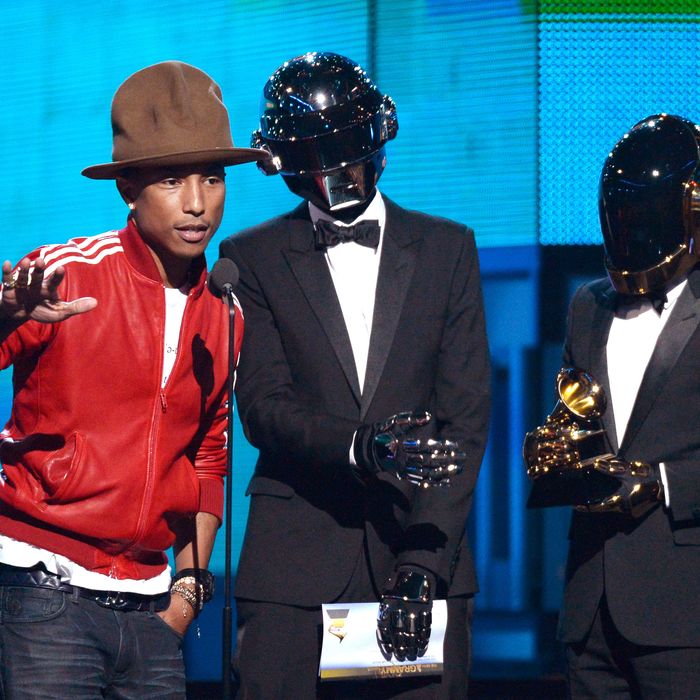 464712181TM00068_56th_GRAMM
Photo: Kevork Djansezian/Getty Images
Well, the first two hours of that were great! Lorde and Daft Punk won multiple awards; LL Cool J made dad jokes; Katy Perry did a long, strange American Horror Story: Coven reenactment. And then, since this was the Grammys, many old men with guitars came out to play for far longer than was needed. It was not a perfect ceremony, but it was entertaining. That is something! Anyway, come relive the highs and lows with us below.
High: Beyoncé and Jay Z, America's First Family
It is hard to be mad at any sort of Television Event that begins with Beyoncé, hair wet, seducing a nation with the word "surfboard."  Then out came Jay, who'd apparently made up his own #surfbort dance and who looked so happy to be standing next to his wife that we did not flinch at "breastices." The night went on like this: Jay's adorable toast to Blue ("Daddy got a gold sippy cup for you!"); Beyoncé nursing a drink mid-ceremony; the two of them dancing awkwardly to the Willie Nelson performance. Do not hold an awards show without them.

Low: Robin Thicke and the never-ending Chicago Medley
Congratulations to Robin Thicke, who managed to make us all forget that he was the object of Miley's frenetic twerking at the VMAs. Otherwise, though, this was a classic Grammys performance in the worst ways: too long; too many White Guys; no women or relevance to anything that happened in the last year and a half.  (Until they played "Burred Lines," but were you even watching at that point?)

High: No Assholes
Chris Brown was not nominated once, and Justin Bieber was otherwise occupied, meaning that we did not have to sit through any uncomfortable speeches from ill-behaved men who are still somehow adored by the music industry. It was great!

Low: Macklemore sweeping the rap categories.
You wouldn't know, because the Grammys still refuse to show any of the rap categories during the ceremony. But Macklemore had a clean sweep — Best Rap Album, Best Rap Song, and Best Rap Performance — as if he were the only rapper that certain Grammy voters had heard about this year. Do you know who else was nominated in those categories? Kanye West, Jay Z, Drake, Kendrick Lamar, and Eminem. Macklemore had a very successful year, sure, but so did a lot of very talented rappers.

High: Taylor Swift singing "All Too Well"
"All Too Well" — better known as the Jake Gyllenhaal-shaming song about the scarf and the maple lattes — is the emotional center (and secret highlight) of Red. So Taylor brought her feelings, and we all felt them with her: sadness, regret, pity for the man who inspired that one last look of anger. (To repeat: It was Gyllenhaal.) Taylor is her best when it's just her and the song. This was Taylor at her best.

Low: Taylor Swift getting shut out.
Kacey Musgraves is wonderful; so is Daft Punk. But Red was a genuine achievement, and it deserved at least something.

High: Kendrick Lamar and Imagine Dragons
The Recording Academy was not too kind to Kendrick on the awards front, and this co-performance really seemed like yet another slight. Wrong! Kendrick seemed energized by the set-up (or maybe by the losses), and he was absolutely on fire tonight — rapping over drums and smoke monsters and who even knows how many members of Imagine Dragons.  (Respect to them, too; they were covered in grime afterwards and didn't even care.)

Related low: Kendrick Lamar getting shut out.
Are we sensing a pattern here?

High, Literally: Pink's Trapeze
(Sorry.)

Low: Kanye West getting shut out.
He was only nominated for two awards, but still.

High: Lorde Wins, Twice
For all the talk about how the Grammys only like old people and can't keep up, a 17-year-old girl from New Zealand won two awards for a song that came out in 2013. Congratulations to them, and to Lorde, who 100 percent deserved this. Also: Can anyone explain her candle-wax nail art? Is that a new trend?

Low: The Beatles segments.
Yes, that is plural, because we had to honor both living Beatles tonight. Paul McCartney basically lives at the Grammys, so it seems pointless to complain — but did we really need a bonus Ringo number? With his awkward knee bends before every high note? God Bless Ringo, but still.

High: Willie Nelson, Kris Kristofferson, Merle Haggard and Blake Shelton
See, there is a gun way to do old-timer tribute performances. (It involves songs about weed, apparently.)

Low: Madonna, Wedding Crasher
At the exact moment that Queen Latifah was going to marry the 33 poor couples who somehow thought this was a good idea — as she said the words "by the power invested in me" — Madonna waltzed on stage in a white ten-gallon and upstaged everyone. Then she tried to sing with Mary Lambert and embarrassed herself. Not a good night for Madonna.

High: Stevie Wonder, Daft Punk, and Pharrell do "Get Lucky"
And "Freak Out." A brief survey of all the dancing that occurred during this performance: Pharrell's happy marching; Jay Z shimmying in the aisles; Katy Perry doing the "Roar" punches; and Steven Tyler doing that disco arm roll. Everyone was feeling it.

Low: The last hour of this show
Three and a half hours is always too long, but especially when it involves a Metallica/Lang Lang war planetarium mash-up, a tonally bizarre wedding ceremony, and then an "All the Men We Forgot" performance that gets interrupted by advertising. If this show had ended at 10:30, it would have been astonishingly fun. Let's file that away for next year.