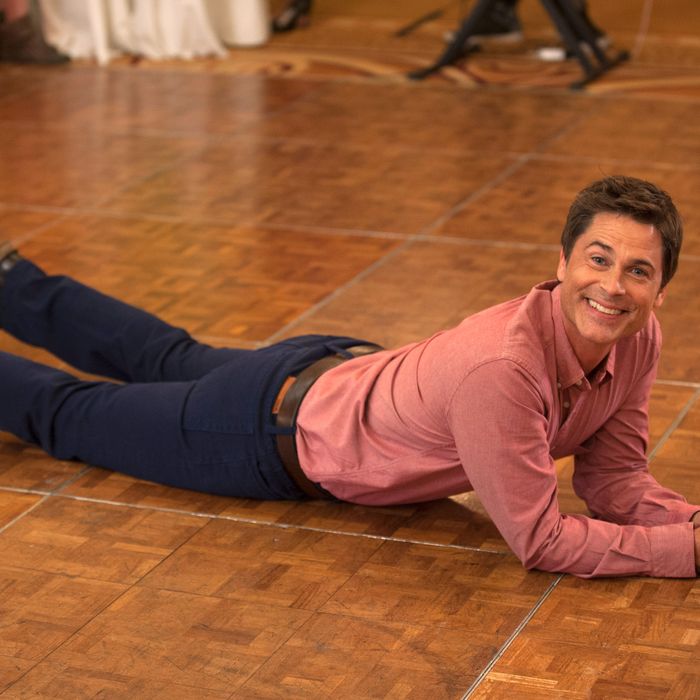 PARKS AND RECREATION – "Ann & Chris" Episode 613 – Pictured: Rob Lowe as Chris Traeger – (Photo by: Colleen Hayes/NBC/NBCU Photo Bank)
Photo: NBC/2013 NBCUniversal Media, LLC
Last night's Parks and Recreation was the final episode for Rashida Jones and Rob Lowe, and they were sent off in a fiesta of emotions, with Leslie going way overboard to say good-bye to Ann and the guys going way underboard to say good-bye to Chris.
But Parks is not the first show to say farewell to Rob Lowe. Lowe left two other shows before their finales, most notably The West Wing in 2003, but also Brothers & Sisters in 2010. How does a show bid farewell to Rob Lowe and his characters? Let's look at the facts.
His character's reason for leaving:
Parks: Moving to Michigan to raise a family.
Brothers & Sisters: Death.
West Wing: Moving to California to run for Congress.
Rob Lowe's reason for leaving:
Parks: To cut the show's budget.
Brothers & Sisters: To cut the show's budget.
West Wing: It was in the wake of a salary dispute — plus, he got to be the star of the new NBC drama The Lyon's Den, which didn't even make it a full season.
Was it sad?
Parks: More bittersweet. Chris seemed genuinely thrilled to be starting a new chapter in his life. At least we'll always have "Stop. Pooping," the character's best line.
Brothers & Sisters: Yes, very. The character was in a coma for a long time, and B&S really loved its melodramatic monologues, so do the math. There were a lot of weepy tributes. R.I.P., former Senator Robert McCallister.
West Wing: Not really. It was a bummer, since Sam Seaborn was a great character, but watching him go off to California to be God's gift to handsome liberal politics wasn't so bad. Plus, he came back at the very end of the series!
Who missed Rob Lowe's character the most?
Parks: It'll probably be his BFF Ben, though it seems unlikely that the show will dwell on it too much. Out of sight, out of mind. Right, Mark Brendanowitz? (That's the character Paul Schneider played on the first two seasons of the show; he has not been mentioned since his exit.)
Brothers & Sisters: His wife Kitty (Calista Flockhart) and brother-in-law Justin (Dave Annable).
West Wing: Josh (Bradley Whitford). That's why Sam's return in the series' final episodes was so perfect.
How did people bid him adieu?
Parks: The Pawnee fellas first got him a gift card, but then pooled their emotional resources and built him a keepsake box. They also all declared their love.
Brothers & Sisters: Kitty gave a wrenching eulogy after finally agreeing to take Robert off life support. Sad.
West Wing: Toby (Richard Schiff) helped run a noble but losing campaign, and then told Sam, "They're gonna throw rocks at you next week. And I wanted to be standing next to you when they did."
Did he cry?
Parks: Yes.
Brothers & Sisters: No.
West Wing: A little.
Did we cry?
Parks: Yes.
Brothers & Sisters: Yes.
West Wing: Yes.
Did it feel right? Was it time for that character to leave?
Parks: Yeah, both Ann and Chris had sort of run out of stories. Chris probably could have stuck around, but once he was onboard to raise a child with Ann, the writing was on the wall.
Brothers & Sisters: Not really. B&S was so, so schmaltzy and overwrought that putting another death on the show, when the series was already based around a family's reaction to its patriarch's death, felt like overkill.
West Wing: No, there is never a good time to be without Sam Seaborn.
Will you forever associate Rob Lowe with this role?
Parks: Weirdly, no. Chris is such an oddball that it's more like Lowe provided the voice of a cartoon.
Brothers & Sisters: No way, Robert was just Sam Seaborn–lite.
West Wing: Indeed! Even more than his role in Wayne's World.