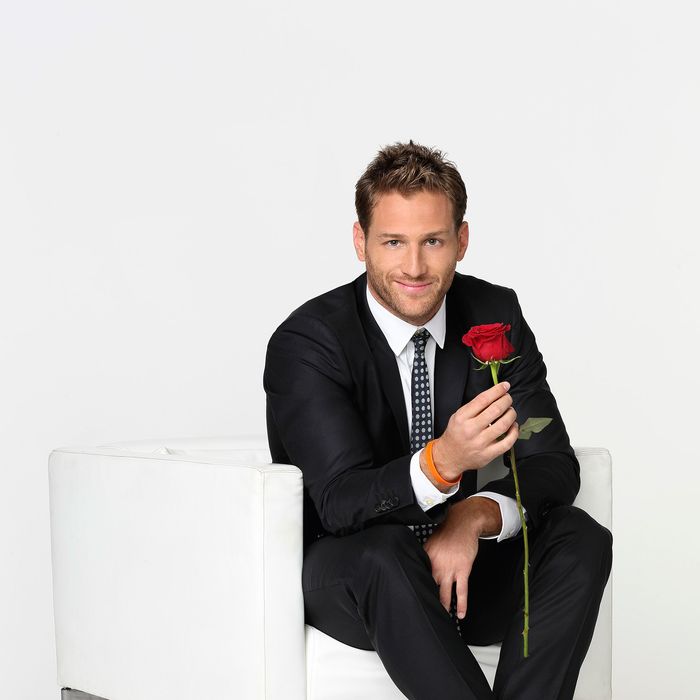 133461_2533
Photo: Craig Sjodin/ABC
The Bachelor returns to ABC tonight for its eighteenth season, this time with last year's soccer-playing Bachelorette loser Juan-Pablo looking for love. And I will be watching — just as I have been for every season since 2002 (and the nine Bachelorettes). I take this show very seriously, so much so that last year I developed a Fantasy Bachelor League, designing an insanely detailed rulebook for my friends and myself: We have been intensely playing ever since. It is once again time for us to each carefully select our rosters from the pool of eager singles (which we can trade throughout the season), and I have unveiled a new list of bonus scores that players can accrue throughout the season if their singles hit key Bachelor landmarks first: first helicopter ride, first woman to be sung to by a musician on a one-to-one date, and more. Vulture asked if I would share my rules so Bachelor fans everywhere can form their own leagues. Roses mean so much more when you actually have something riding on it.

Before we get into the nitty-gritty rules and regulations for Advanced Bachelor Fantasy League, here are some quick rules for an Easy Version: Just pick seven Bachelorettes from the original pool of 27 for your roster and collect points or the following specific set of Bonuses, which I have named. (If you want to also take a drink as these happen, I won't object.)
Special Premiere-Night-Only Bonus Points:
+2 The "Chasing Amy": Both Amy J and Amy L are on your roster and both get roses.
+2 The "Lauren C of Arabia": Both Lauren H and Lauren S are on your roster and both get roses.
+3 The "Juicy Lucy": If "Free Spirit" Lucy (who famously dated SnapChat's founder and in her online questionnaire mentions that she is "BFF with with Kate Upton") is on your roster and name-drops anyone famous.
Season-Long Bonus Points:
+3 "Immunity Idol": For each player who gets a rose on any type of date.
+4 "Target on Their Back": Your player gets the very first rose of the season.
+3 "And the First Runner Up Is…": Your player(s) get any rose (other than the first!) given before the First Rose Ceremony.
+1 "Initiative Check": Your player is the first to get one-on-one time in the premiere.
+1 "Stolen Goods": Your player is first to "steal" Juan away from another woman on the premiere.
+3 "Under the Limbo": Your player gets the final rose at each Rose Ceremony, during weeks one through six.
+8 "Out With a Bang": Your player(s) get eliminated before the First Rose Ceremony.
+4 "Top Gun": Player who gets the first plane ride.
+3 "Mercy Flight": Player who gets the first helicopter ride.
+2 "A Tug on the Heartstrings": Player gets the first boat ride (sail- or motorboats only; hot tub, canoes, and rowboats do not count).
+2 "Cliffhanger": Player with first rock climbing/rappel date (or any other date that involves confessing a fear of heights)
+1 "Chevy to the Levee": Player with first road trip date
+1 "I shall sing you a song of my people": Player who is first to be sung to by a live musician on a one-on-one date.
+5 "Dr. House in the House?": Player first to require medical attention.
+1 "From Frog to Prince": Player who gets first kiss of the season (excluding introduction shenanigans).
+1 "Trophy Collector": Player who wins any non-rose competition on a group date.
+1 "Blindsided": Player gets dumped on a one-on-one date.
+5 "Zombies!": Player who makes an appearance on a later episode after getting kicked off.
+X "I Surrender": Player who quits the show and leaves, where X = Week number.
PreSeason Bonus:
+8 If you can show solid proof that you predicted Juan-Pablo would be the next Bachelor before he was announced. (Possible signs of proof: e-mails, Tumblr posts, diary entries, notarized avowals.)
That is the easy version. However, if you are interested in playing a more serious Bachelor Fantasy League, like the professionals do, assemble your participants and then follow these advanced rules. Good luck, and see you at the final Rose ceremony!

Start before tonight's premiere by having everyone pick seven women to be on their initial roster: Tips for smart picking include carefully perusing the Bachelorettes' questionnaires on The Bachelor's website and/or watching a rerun of the vague pre-Bachelor special that aired last night on ABC. For each rose awarded, you will get 3 points, not counting the above bonuses. If, after tonight's eliminations, you have fewer than six remaining women for week two, you can add Bachelorettes to your roster to bring it up to six. If before week three you have fewer than five remaining on your roster, you can add Bachelorettes to bring your roster up to five.
Weeks 4–6: After episode three you will select a new team, re-picking and ranking five new Bachelorettes. For each Bachelorette you select that you had picked for your first-week team, you will get a onetime bonus of 2 points. You will get 5 points for each Bachelorette in your top three who get roses, 7 points if your fourth-place choice is picked, and 8 points if your fifth-place choice is picked. (This is backwards in order to reward edge-case contestants who aren't consensus top picks.) Bonus points are still eligible. After week four, roster changes will be allowed, but at an escalating point penalty until Week 9. (See below "Roster Changes" for more details.)
Weeks 7–10: Your fifth pick is dropped, with only your top four ranked picks eligible to score points in ever-increasing amounts. This is where the bulk of points are scored. Schedule of points is as follows (and some bonus points will still be eligible, if applicable). Note that from week seven on, you get more points for Bachelorettes who make it through the higher you've ranked them on your roster:

Roster Changes
After week four and before week nine, you can make changes to your roster at increasing amounts. After week nine, rosters are locked. In addition, there is a "waiver wire" penalty or discount based on current points standings.
After Week 4: -3 points for only 1 roster change; -5 points for any changes
After Week 5: -6 points for only 1 roster change; -10 points for any changes
After Week 6: -10 points for only 1 roster change; -15 points for any changes
After Week 7: -15 points for only 1 roster change; -20 points for any changes
After Week 8: -20 points for only 1 roster change; -30 points for any changes
After Week 9: None allowed
The winner is the one with the most points at the end; this is about strategy, not about engagement rings. In the event of a tie, the winner is whoever paid the least number of points in roster changes. If still tied, then it is whoever had the most accurate picks on week one. Good luck!