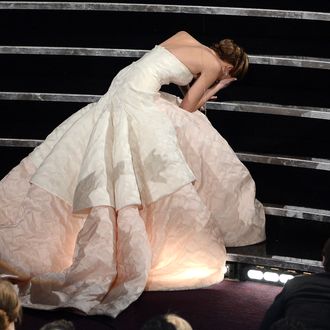 Photo: Kevin Winter/Getty Images
One day, we'll all be telling our grandkids about what it was like to live in the time of Jennifer Lawrence. And surely we'll mention the magical night she tripped when walking up to receive her Best Actress Oscar for Silver Linings Playbook. Well, in W magazine's annual movie issue, she explained exactly why it happened:
"I was at the Oscars, waiting to hear
 if my name was called, and I kept thinking, Cakewalk, cakewalk, cakewalk. I thought, Why is 'cakewalk' stuck in my head? And then, as I started to walk up the stairs and the fabric from my dress tucked under my feet, I realized my stylist had told me, 'Kick, walk, kick, walk.' You are supposed to kick the dress out while you walk, and I totally forgot because I was thinking about cake! And that's why I fell."
The issue also has terrific anecdotes from Chris Hemsworth (who said he was originally passed on for Thor, but got a second shot after his brother Liam became a finalist for the part but was said to be close but not exactly right), Idris Elba (who said that drug dealers give him "cocaine as a kind of salute"), Oprah (who said Robert Duvall 
in The Godfather was her first movie crush), and much more. Read them all here. It's a real cakewalk.