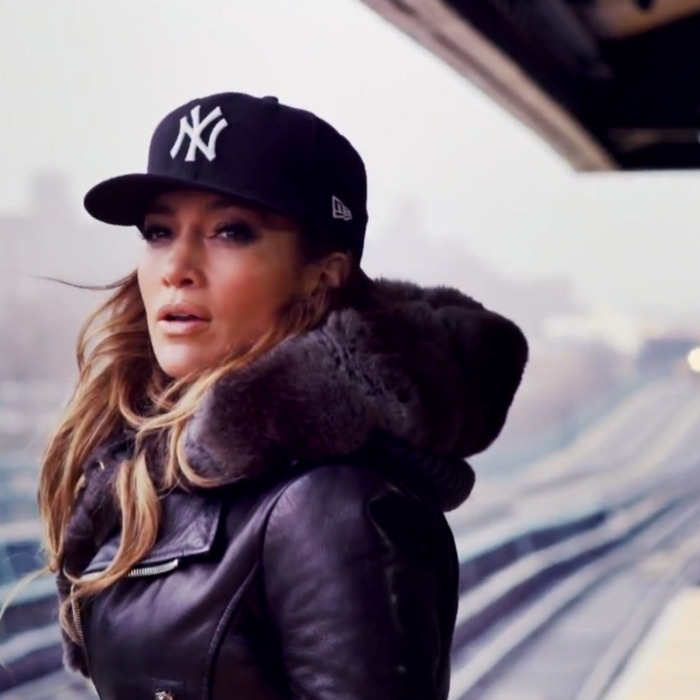 A recent episode of American Idol had a short interstitial documentary of Harry Connick Jr. and Keith Urban waiting a long time for their fellow judge Jennifer Lopez to show up. While their good-hearted exasperation was framed as "women! always taking so long to get ready!" the subtext was that divas always keep people waiting while they are primped. Is J.Lo one of those divas? If I were to judge solely on her own lyrics, I would be forced to argue no: Her songs insistently and consistently reference the fact that she's still the same Bronx chick she always was (you know, Jenny From the Block?), so pay no attention to the glitz. Her latest single, "Same Girl," is yet another ode to the virtues of keepin' it real, so let's take a look at the musical timeline of J.Lo's lyrical humility.
"My Love Don't Cost a Thing" (2001)
Yes, J.Lo has lots of diamonds. But that's just stuff she bought for herself, and she would like to make it clear that in no way is currency necessary to buy her love. As she sings, "You think you gotta keep me iced? You don't." To buy her love … I don't know, maybe Yankees tickets?
"I'm Real" (2001)
"What you get is what you see," says J.Lo. That is super real. The realest.
"Ain't It Funny" (2001)
She wants to make sure there are no misunderstandings, so, to reiterate: Her love is not dependent on money. "I really wish you wouldn't send me gifts / Tryin' to make me sit and reminisce / Tryin' to blind me with your blingin' bling / Thought I told you love don't cost a thing."
"Jenny From the Block" (2002)
Perhaps the ultimate in J.Lo's hometown shout-outs, "Jenny From the Block" sums it all up in the chorus: "Don't be fooled by the rocks that I got / I'm still, I'm still Jenny from the block / Used to have a little, now I have a lot / No matter where I go, I know where I came from (South-Side Bronx)."
"All I Have" (2002)
"The block" is really key here. Her lifetime block allegiance bears repeating, as she does to LL Cool J in the first verse: "'Cause I'm good holdin' down my spot / And I'm good reppin' the girls on the block / And I'm good, I got this thing on lock / So without me you'll be fine, right."
"Hold You Down" (2005)
The music video has NYC skylines and Fat Joe, another Bronxite who understands what it's like. "From back then / To now in my story / Straight from the hood / You've always been there for me."
"Gotta Be There" (2007)
L.A. is so unpleasant, with its mansions and drivers — blecccch. This song (which samples the Jackson 5's "I Wanna Be Where You Are") has J.Lo wishing she were in her hometown of NYC and her ancestral hometown of Puerto Rico.
"Greatest Part of Me" (2010)
The Real 6 Train keeps on roll, roll, rolling along: "Baby I'm me, all because I love you / Oh, you know the cars and the clothes and the cribs and the bankrolls / Are nothing without your loving."
"Good Hit" (2011)
A little backtracking: In this song, she acknowledges that she's not totally against L.A. — or other non-Bronx locales — but she packs her New York 'tude with her when she does leave the borough. "Got that New York swagger, Miami bass / Got my California Loubs on, all up in your face / Yeah, I'm Midwest pimp tight, Texas fire."
"One Love" (2011)
Nine years after "Jenny From the Block," the block and all the memories that come with it reappear. "Took a shot, with the bad boy from the block / Picked my love right from the start."
"Same Girl" (2014)
In J.Lo's latest, "Same Girl," she rides the 6 train all the way uptown. There and only there can people relate to her realness-keeping and strict opposition to the diamonds-for-love economic model.