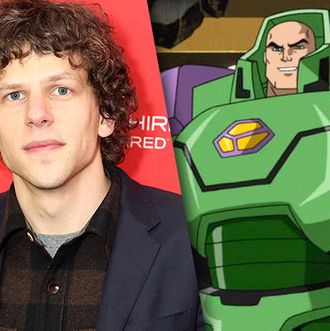 Jesse Eisenberg and Lex Luthor, twins.
And now for something completely different. Jesse Eisenberg has been cast to play villain Lex Luthor in Zack Snyder's upcoming Superman-Batman movie. In the coming books, Luthor is a brilliant billionaire corporate overlord who really, really hates Superman, as he feels he diminishes the value of human achievement. He isn't classically stammering or neurotic, though, and to be fair, we haven't seen him around girls much. As an old girlfriend once told him, "You're going to go through life thinking that girls don't like you because you're a nerd. And I want you to know, from the bottom of my heart, that that won't be true. It'll be because you're a sociopathic supervillain."
Also, Jeremy Irons will be replacing Michael Caine in the role of Batman's butler and British friend, Alfred. Both are joining a cast that already includes Henry Cavill (Superman), Ben Affleck (Batman), Gal Gadot (Wonder Woman), Amy Adams (Lois Lane), Laurence Fishburne (Perry White), and Diane Lane (Martha Kent). Wait, Superman's adopted mom is played by Diane Lane and he dates Lois Lane and we thought he had daddy issues.