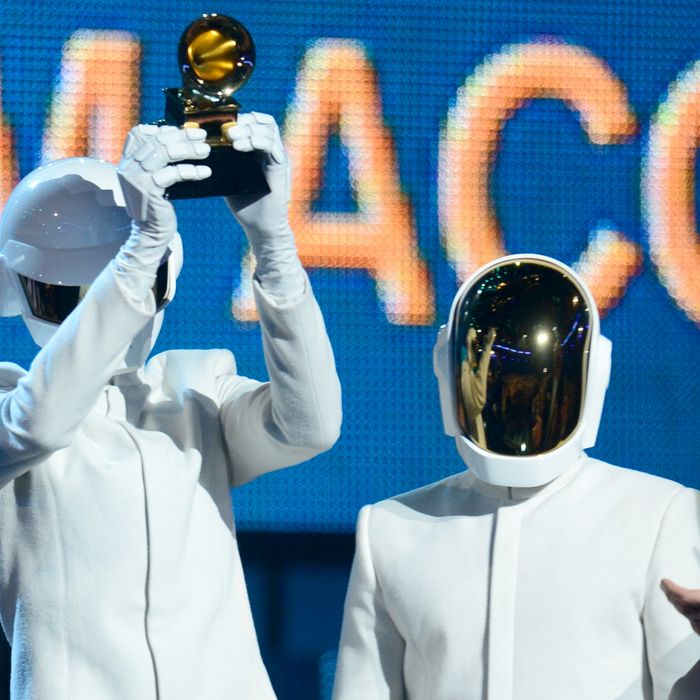 Photo: GettyFREDERIC J. BROWN/2014 AFP
Neil Portnow, the president of the National Academy of Recording Arts and Sciences, may well be a fine president of the National Academy of Recording Arts and Sciences. But he's a crappy D.J. The 56th annual Grammy Awards ceremony, a nearly four-hour-long onslaught, left a viewer nursing a variety of emotions: fond and, more often, fearful sense memories of, as Portnow likes to call them, Grammy Moments. The overriding impression, though, was that the show was terribly plotted and paced, with a herky-jerky rhythm akin to Elaine's Thumb Dance, or maybe it's Paul McCartney's Grammy Dance. The broadcast was front-loaded, opening with the night's best performance, Beyoncé's titanic "Drunk in Love," followed by Lorde's transfixing, witchy reworking of "Royals." The natural show-closer — a mash-up of "Get Lucky" that took in Daft Punk's "Harder, Better, Faster, Stronger," Chic's "Le Freak," and Stevie Wonder's "Get Lucky" — arrived two thirds of the way through. Curtain-dropping duties were left to four rockers, Trent Reznor, Dave Grohl, Josh Homme, and Lindsey Buckingham, who were bruising and effective, but not exactly uplifting — and of course their number got cut off midway through.
In between, there were a few other good turns: Taylor Swift's "All Too Well," complete with much-GIF'ed hair tosses; Pink and Nate Ruess's balladeering; Sara Bareilles and Carole King, sweetly dueting on the former's hit "Brave" — a.k.a. the song that Katy Perry and company, um, borrowed for "Roar." Kendrick Lamar gave an electric performance in spite of his backing band, the unfathomably lame rock maulers Imagine Dragons. Mostly, though, it was a slog. Katy Perry brayed her way through a rendition of "Dark Horse," with production values somewhere between goth and Andrew Lloyd Webber; it served mostly to demonstrate how much more Beyoncé can accomplish with a single chair than Perry can with columns of fire and a cast of thousands. Hunter Hayes, a talented country singer and multi-instrumentalist, had a bad case of Grammy jitters, mewling an off-key version of "Invisible," an anti-bullying album that made me want to go beat up someone half my size.
LL Cool J hosted the show, I guess, but he disappeared for hours at a time. Jamie Foxx came on made an ass of himself, shticking lamely about ogling Beyoncé. Oscar nominee Jared Leto — who moonlights as the lead singer of the world's worst band, Thirty Seconds to Mars — materialized and mumbled some Lou Reed lyrics, a "tribute," apparently, to the late singer. (Afterwards, backstage, Leto was throttled by Lou Reed's reanimated corpse.) In the audience, stars danced, threw shade, etc. It will take a team of medical professionals to exorcise nightmare visions of the person I think was Steven Tyler, unless it was Charlize Theron doing Method research for a role as a drag king; in any case, he/she should be barred by legal writ from singing Smokey Robinson songs. Eventually, during hour four, Portnow himself turned up to intone platitudes about music and the industry and zzzzzzzzz.
The evening's vaunted "emotional high point" was Macklemore's "Same Love," stunt-staged as a Moonie-style wedding for dozens of couples of various homo- and hetero-configurations, with kinda-sorta-but-not-really-officially lesbian Queen Latifah administering the vows. Like the song itself, it was a sweet, large-hearted gesture that seemed a wee bit too on the nose and self-congratulatory: a display of music industry "activist" largesse that comes, right on time, after national polls have tipped in support marriage equality. Wake me when we get a big Grammy production number highlighting income inequality.
Oh yeah: They gave out some awards. The biggest, Album of the Year, went to Daft Punk's Random Access Memories. It was classic Grammy conservatism: The best album of 2013 is also the album that sounds most like 1977. In fact, it's hard to extract clear lessons from the Grammys. As usual, they were fuddy-duddy; as usual, they were incoherent. Yes, of course, Kendrick Lamar should have won Best Rap Album. (Macklemore, to his credit, recognized this.) Taylor Swift's Red, a nominee for Album of the Year, was released in the autumn of 2012; it might well have won the big prize last year, but the National Academy of Recording Arts and Sciences, illogically, does their nominating in October. Meanwhile, Bruno Mars's excellent Unorthodox Jukebox strikes a balance between retro and contemporary that Grammy voters should love. It won Best Pop Album — but why on earth wasn't it nominated for the big Best Album award?
Other questions linger. Why did we get a "Beatles reunion" but no Beatles songs? Where was Kanye? And seriously: What's up with all the pianos? Forget Irving Berlin: Nobody loves a piano like Grammy. It's a dowdy old instrument that says, vaguely, "classical training," "big windswept ballad," "real music," "Let It Be," and other things that Grammy voters love to hear. Thus, last night: Paul McCartney, John Legend, Taylor Swift, Robin Thicke, Hunter Hayes, Sara Bareilles, Carole King — they all got their ivory-tickle on. Even Metallica succumbed, dragging Lang Lang onstage to spice their rawk with some Rachmaninoff. I'm certain Jared Leto would have had a go too, treating us to an eleven-minute solo piano version of  "City of Angels" — but that's one, just one, Grammy Moment that Neil Portnow has left, for now, to our imaginations.