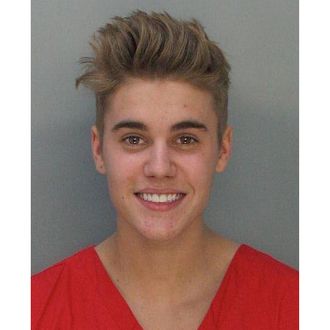 Well, it finally happened: After multiple run-ins with paparazzi, noise complaints from his neighbors, and the dramatic egg raid earlier this month, Justin Bieber has been arrested. Miami Beach Police confirmed that Bieber was taken into custody early Thursday morning; the Miami Herald reports that his crew (possibly including his father) had blocked off traffic so that Bieber could race his rented yellow Lamborghini down Pine Tree Drive. At 4:09 a.m., Bieber was stopped by police, who "immediately smelled an odor of alcohol emanating from the drivers [sic] breath." He was asked to get out of the car and declined, yelling "Why the fuck are you doing this" repeatedly. (The full police report is below.)
According to sources, Bieber told officers that he'd "had a beer, was under the influence of antidepressants and had been smoking marijuana all day." The AP confirms that he had consumed alcohol and weed. Bieber was charged with driving under the influence and resisting arrest; police also said he was driving with an expired Georgia license. Florida law mandates a maximum of six months in prison, a fine of $250 to $500, and 50 hours of community service for a first-time DUI conviction. Bieber's immigration status — he's Canadian, remember — will probably not be changed, since neither crime makes an individual eligible for deportation under U.S. law.
Bieber appeared before a judge via webcam this afternoon. His bail was set at $2500 ($1000 each for the charges of DUI and resisting arrest, plus $500 for the expired license.
TMZ has posted footage of the arrest (which is mostly footage of young women crowded around the Lambo, plus some flashing lights):
And here is what Bieber looked like before the arrest. The woman with him is reportedly a model named Chantal Jeffries. (This photo is taken from the Instagram of Khalil Sharief, who was also arrested.)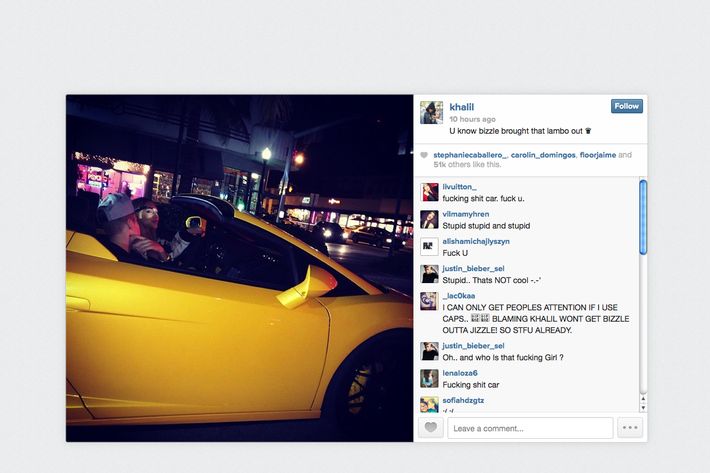 Meanwhile, here's the police report.
And below, the scene after Bieber was released from jail on Thursday afternoon.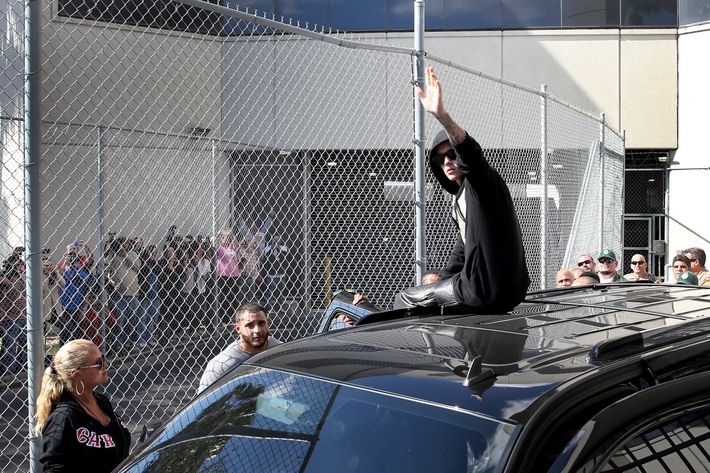 This post has been updated throughout.