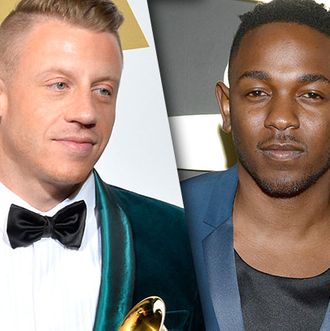 As we mentioned in our highs and lows from the Grammys, Macklemore sweeping the rap awards felt like a real low. And you know who agreed: Macklemore. Macklemore texted Kendrick Lamar to tell him that Good Kid, m.A.A.d. City deserved the win. You can read the text below, which Macklemore Instagrammed.
He explained himself in the photo's caption:
"My text to Kendrick after the show. He deserved best rap album… I'm honored and completely blown away to win anything much less 4 Grammys. But in that category, he should have won IMO. And that's taking nothing away from The Heist. Just giving GKMC it's proper respect.. With that being said, thank you to the fans. You're the reason we were on that stage tonight. And to play Same Love on that platform was a career highlight. The greatest honor of all. That's what this is about. Progress and art. Thank you. #grammys"
Maybe, as a sign of goodwill, Macklemore could've given Kendrick a change of clothes after he got covered in pink cloud during his set with Imagine Dragons. Ideally, something not from a thrift store.