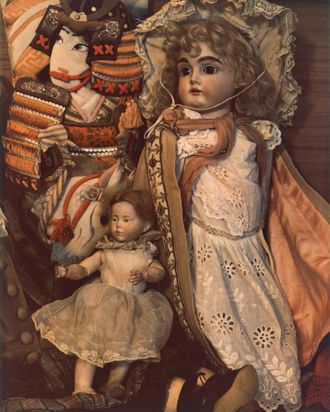 Dolls, Boston (1965); Photograph by Marie Cosindas/Courtesy of Bruce Silverstein Gallery
Photo: Marie Cosindas
A few years ago, I was talking with an older filmmaker who referred casually to the ­photographers whose work he most admired. "Adams, Evans, Cosindas," he said, ticking them off. Adams was Ansel Adams, of course; Evans was Walker Evans. But Cosindas? Hmm.
Back in 1978, a now-long-out-of-print collection called Marie Cosindas: Color Photographs was published with an introductory essay by Tom Wolfe, who wrote at great length about the quiet and ­painstaking and untrendy ways in which Cosindas worked. He ranked her with Klimt and Caravaggio. "A glow and a creamy richness quite unlike anything that had been seen in color photography" was his description. Another hmm.
The pictures in the book were portraits and composed still lifes, and they looked like nothing else in the world. Their color was astonishingly saturated, tawny, even a little cooked. The compositions were packed with visual activity, piled-up fruits and flowers and objects as in a French academic painting. The portraits, too, were whatever the opposite of minimalist is. Maximalist, I guess. They were small, made mostly on four-by-five-inch ­Polaroid film, but they seemed to burst out of their dimensions, or pull you down and in. They looked implausibly fresh, hyperreal—like something you'd create with a lot of computer-assisted filtration, rather than in the camera on film. Only the dry-look haircuts and caftans occasionally betray their era.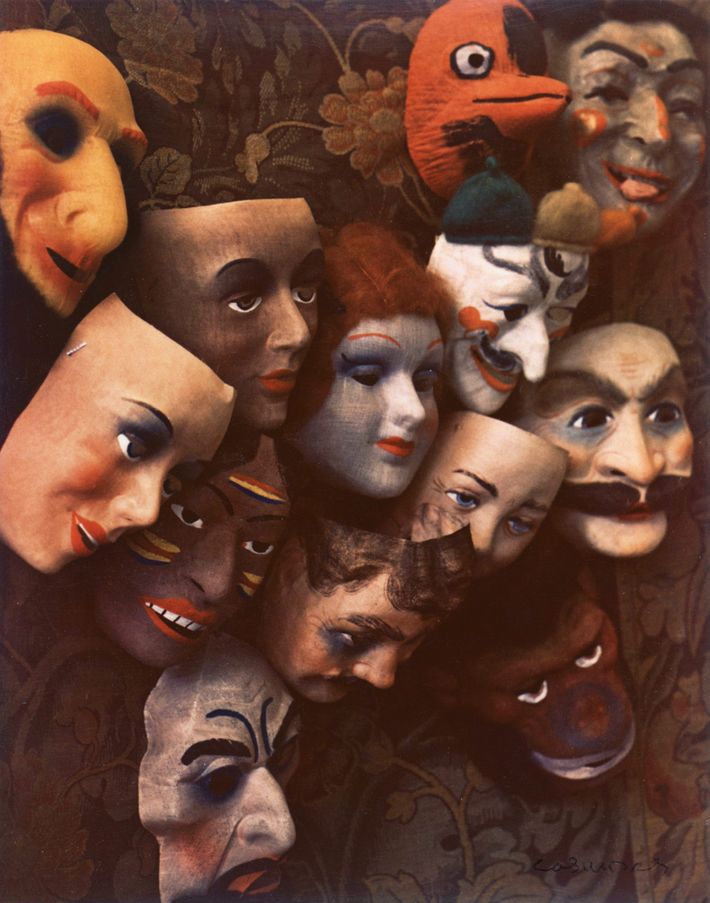 Not long after that, my interest piqued, Cosindas and I ended up on the phone, and the first story she told me was about that lush color of hers. She had studied with Adams in the early sixties: "He told me, 'You're shooting in black-and-white, but you think in color.' " It wasn't a ­compliment: The vogue among artist-­photographers who wanted to be taken seriously was stark monochrome, in the manner of Arbus and ­Avedon. Cosindas had been a painter and went utterly in the opposite direction.
Even going against the tide as she did—or because of it—she and her work caught the eye of John Szarkowski, the photography curator at the Museum of Modern Art. In 1966, she had her own show of photographs at MoMA, only the fifth woman to do so. In the subsequent two decades, her career flourished: She spent days shooting the Gatsby–era Robert Redford and weeks on movie sets. She was particularly great at capturing women, especially older ladies like Coco Chanel and Madame Grès. Plus those still lifes, although, she says, "I don't like that term, because they're not still." It's true: Stare for a while, especially at the originals, and you have that experience that a painting can deliver, where things start to shift and change before you.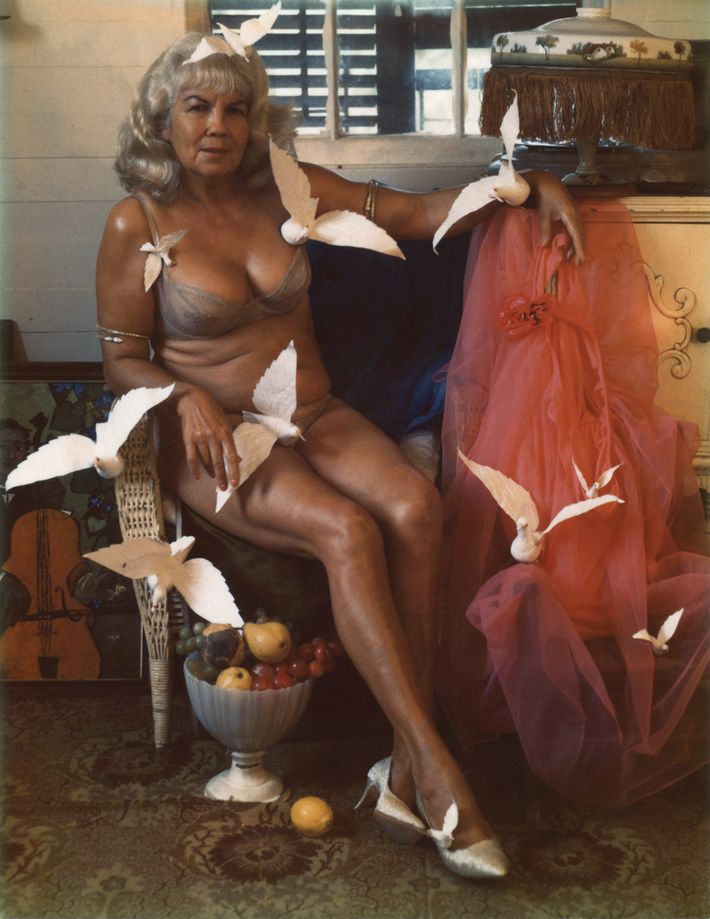 And then … well, who knows why an artist falls out of wide view? A couple of back surgeries limited her mobility for a long time and made it hard for her to lug a large-format camera around, cutting into her work options. She wearied, she says, of the business of being a working artist. Still, "I was working all the time—I still am," she says, "just not as much. There wasn't anything exciting I wanted to do."
Well, when the tide goes out, it tends to come back in, and so it has for Marie ­Cosindas. In the past year and a half, she's had work on view at the Getty and a full-on retrospective at the Amon Carter Museum in Fort Worth. Last fall, in her hometown, the Photographic Resource Center of ­Boston University gave her a lifetime-achievement award, and Wolfe came up to present it to her. This week, Bruce Silverstein Gallery opens "Arrangements by Marie Cosindas." At a late age—she's never told me what it is, but she's well into her eighties—she is on the rise, the oldest hot young thing in town. "I didn't go out of fashion," she says, sounding slightly defiant, "but I was out of the ­public eye." The public eye is catching up.
*This article originally appeared in the January 20, 2014 issue of New York Magazine.