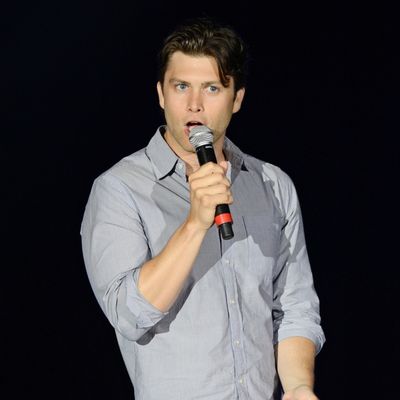 COCONUT CREEK, FL - JULY 19: Colin Jost performs at Seminole Casino Coconut Creek on July 19, 2012 in Coconut Creek, Florida. (Photo by Larry Marano/WireImage)
Photo: Larry Marano/Getty
Earlier today it was announced that Colin Jost will be taking over as co-anchor of Saturday Night Live's "Weekend Update" when Seth Meyers departs to host Late Night. Though his face will be new to you, his work shouldn't be. Jost has been a force on the show since joining the staff in 2005 and particularly since he became co-head writer in 2012. Below are some fun facts about Jost, stand-up clips, and some sketches he wrote: everything you'll need to know when he introduces himself on the March 1 show.
Fun Facts: 
- Jost was born and raised in Staten Island, New York.
- He wrote and is starring in an upcoming Paramount film about his childhood, called Staten Island Summer.
- He was the president of the Harvard Lampoon.
- At 22, he was one of the youngest writers ever hired by SNL. He's 31 now.
- He dates Rashida Jones. They reportedly met at Seth Meyers's wedding.
- He's written "Shout & Murmurs" for The New Yorker. 
His Stand-up:
Sketches He Wrote or Co-Wrote:
"Weekend Update" Bits He Wrote or Co-Wrote