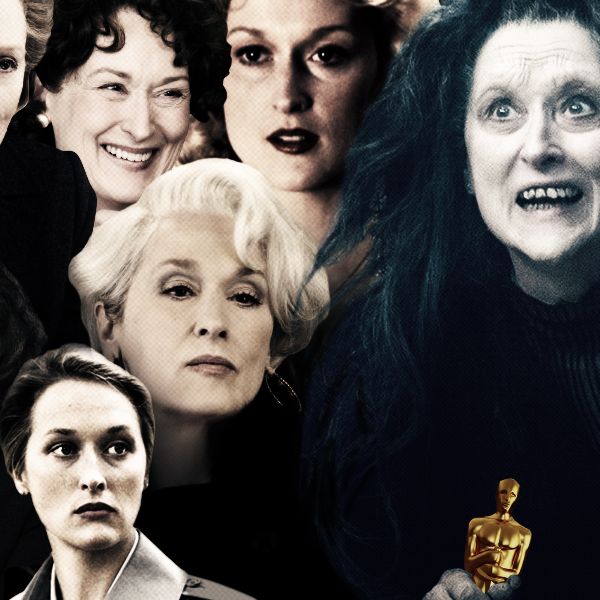 This post was initially published on January 16, 2014. We have updated it following this morning's Oscar nominations.

Meryl Streep received her 19th Oscar nomination this morning, extending her record as the actor with the most Oscar nominations ever. (Katharine Hepburn and Jack Nicholson trail way behind at 12 each.) Put another way: Meryl Streep is the undisputed Queen of the Academy Awards, even when her nomination is … how shall we say this? Even when her nomination is more about the Legend of Meryl than it is the actual performance. So where does her Into the Woods nod fit in on the spectrum (grouped simply from "well deserved" to "just because it's Meryl")? Please join us for the breakdown:
Well Deserved
The Deer Hunter
The Deer Hunter swept the 1979 Oscar nominations, so it is only fair and right that Meryl —  in her second-ever film role — got recognized along with everyone else. And since the Supporting Actress nomination is often used to anoint a promising newcomer, you have to hand it to the Academy: They got this one right.
Kramer vs. Kramer
A young mother who walks out on her family, then tries to wrest her adorable son away from his loving father — this is not a role for the weak of heart. But Meryl holds her own against Dustin Hoffman, and Joanna never descends into caricature; she is understandable, if not totally likable.

Sophie's Choice
This film won Streep her first Oscar for Best Actress, and her last Oscar until The Iron Lady nearly 30 years later. No one would dispute her victory, even over a powerhouse pack of performers in 1982 including Jessica Lange, Julie Andrews, Sissy Spacek, and Debra Winger.
Silkwood
As labor activist Karen Silkwood, who died under mysterious circumstances on her way to whistle-blow on the plutonium plant where she worked, Streep does work that is amazing for how unremarkable it seems at first. But the relative normalcy of the performance is subtle and strong.
The French Lieutenant's Woman
Sure, it's a deeply Oscar bait-y movie — a beautifully filmed costume drama, a screenplay by Harold Pinter, two Respected Actors (Jeremy Irons and Streep) — but it was also well done, and Streep switches between Sarah and the modern-day counterpart with ease. French Lieutenant set the Streep template: classy, with an accent, and better than everyone else.
A Cry in the Dark
Otherwise known as the "dingo ate my baby" movie. That line has since passed into camp (helped in large part by Elaine on Seinfeld) but revisit the film and you'll find that this is an admirably tough performance from Streep.
Adaptation
After at least a decade of "eh" to "really?" nominations — and in a year of particularly traditional Oscar fare, like Chicago, The Pianist, and Gangs of New York — you just want someone to get weird. Meryl got a little weird, and this nomination probably rewarded the choice as much as the performance, but who cares. It was delightful.
The Devil Wears Prada
In a great year for camp (other Best Actress nominees included Judi Dench for Notes on a Scandal and Penelope Cruz in an Almodóvar film), Helen Mirren's restrained performance in The Queen won out. That's a shame, because even though The Devil Wears Prada is the sort of light comedy Oscar doesn't typically reward, Meryl Streep is positively iconic in it, giving a delicious, difficult performance that's one of her very best.
The Iron Lady
Historians will disagree whether Streep should have collected one of her precious few statuettes for a film that's almost already been forgotten, but whatever you think of The Iron Lady, there's no denying the skill and craft Streep brought to bear as Margaret Thatcher. She deserved a nomination, even if you can quibble with her win.
Into the Woods
Again, Meryl gets nominated for a movie that's otherwise an Oscar nonstarter. But let's be real — she tears it up here. She breaks out a surprisingly good singing voice and serves as the movie's primary source of humor. She's great as the witch, great as the glam post-witch, and manages to be both frightening and sympathetic in equal turns.

Sure, Why Not
Out of Africa
To be fair, Meryl doing classy with an accent was still something of a revelation in 1985. And the movie was so pretty.
Ironweed
Meryl Streep and Jack Nicholson! Playing messed-up homeless people during the Great Depression! There were high expectations for this movie and Streep works her ass off as sad-eyed and cloche-hatted Helen Archer. But there's more than a hint of the actorly overreaching that we would come to see more often in late-career performances. She lost to Silkwood co-star Cher, who won for her performance in Moonstruck.

Postcards From the Edge
Yes, she was good, but this felt more like a response to She-Devil than anything else.
The Bridges of Madison County
You could almost bump this performance down to the next tier, simply because you may rightfully be steaming that Meryl got an Oscar nomination for this, of all things, while Nicole Kidman in To Die For was left out to dry. But though Streep's performance is a touch overripe, she and Clint Eastwood do impressive work elevating the source material.
Doubt
Sally Hawkins (Happy Go Lucky) might disagree, but this was an otherwise quiet year in the Best Actress category. And Meryl Streep sure did look mad!
Julie & Julia
Streep's Julia benefits by comparison — all respect to Amy Adams, but the "Julie" portion of Julie & Julia is a drag. But look how un-actorly the part is, and how much fun Meryl is having! How can you resist?
Just Because It's Meryl
One True Thing
Here we have a rather ridiculous bit of category fraud, as the lead actress of this cancer drama is clearly Renée Zellweger, playing a high-powered journalist who returns home to care for her ailing mother (Streep). Better that Streep should have switched with Rachel Griffiths, who was nominated for Best Supporting Actress that year for Hilary and Jackie, even though she co-led the film with Emily Watson.
Music of the Heart
Meryl Streep replaced Madonna in a Wes Craven film and was still nominated for an Oscar for Best Actress in a year when Reese Witherspoon, who played Tracy goddamn Flick in goddamn Election, was snubbed. That should tell you all you need to know about this foolishness.
August: Osage County
Streep goes dreadfully over the top in this Oscar vehicle, and while her big, bad mama role is the sort of thing that encourages a big interpretation, this is the rare performance you can see from space. Rumor has it that even Streep herself is not that enamored of the movie — she's done practically no press for it — but she still beat out a passel of worthy Best Actress contenders like Emma Thompson, Brie Larson, and Adele Exarchopoulos.