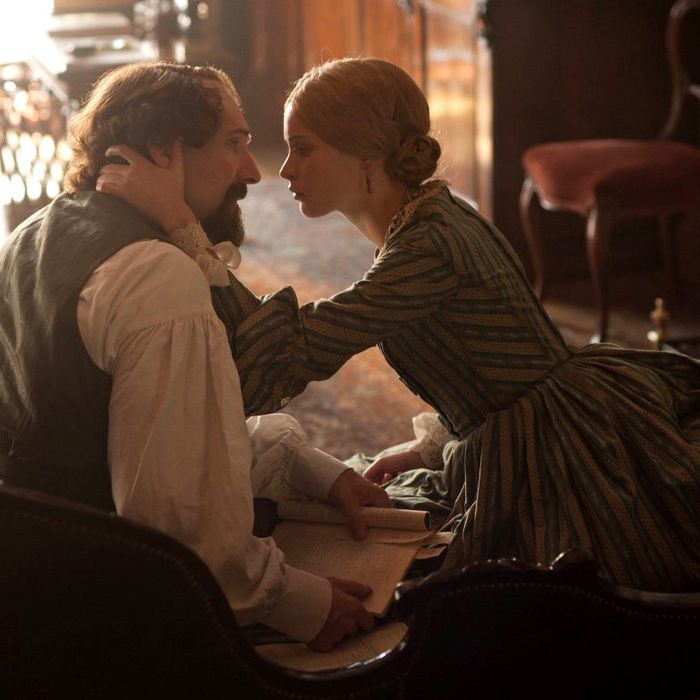 Photo: Sony Pictures Classics
The question at the heart of The Invisible Woman is whether a person who is "kept a secret" can be said to exist. That, at least, is the spin that screenwriter Abi Morgan (working from a book by Claire Tomalin) and director Ralph Fiennes put on the true story of Nelly Ternan (played by Felicity Jones), actress and mistress of Charles Dickens in the final decade of his life. At least, she seems to have been his mistress. We're 99 percent sure. I just slogged through an entire book — The Great Charles Dickens Scandal, by Dickens biographer Michael Slater — that centers not on the relationship but on how it took more than a century for the whole story to come (partially) out. In our time, Joyce Maynard made a pile of money auctioning off her private correspondence with J.D. Salinger, who seduced her when she was 18 and he was in his fifties. A woman couldn't have been so garish (and vengeful) in the nineteenth century. Nelly acquiesced to her own invisibility, but she didn't have much choice.
The movie is exquisitely done — sometimes a little too exquisitely. There are long shots of the beach at Margate, where the older Nelly walks and remembers, remembers … There is a periodically over-assertive string quartet. In some scenes, Fiennes is too free with the handheld camera. But he does make the movie all-aquiver, rich in feeling. The theatrical milieu is splendid, and Kristen Scott Thomas has a radiant intelligence as Nelly's watchful mother. Fiennes himself plays Dickens, and it's an extraordinary creation: demonstrative, gregarious, theatrically dithering. The author is held as a national treasure, an A+ celebrity, and Fiennes portrays a man stuck between public posture and private feeling. He will not deny himself the former (he has lost interest in his wife, who has grown heavy), but feels a stronger obligation to the latter. He will have Nelly — he is honestly smitten — but he will not confirm her existence.
With her swanlike neck and ever-flushing complexion, Felicity Jones has a perfect nineteenth-century look, but there's something forward and modern about her physiognomy, her huge eyes and strong nose and overbite. As she gazes down in enforced modesty, you feel her soul about to burst. The performance is startlingly vivid. It's a pity about her last scene, in which she has to utter (to a handy priest) an overly literary speech about the original (downbeat) ending of Great Expectations, which is somehow connected to her taking back her identity. It's a nice, feminist sentiment, but it plays like a nineteenth-century theatrical declaration at the edge of the footlights. As even 21st-century women know, visibility is not so easily won.