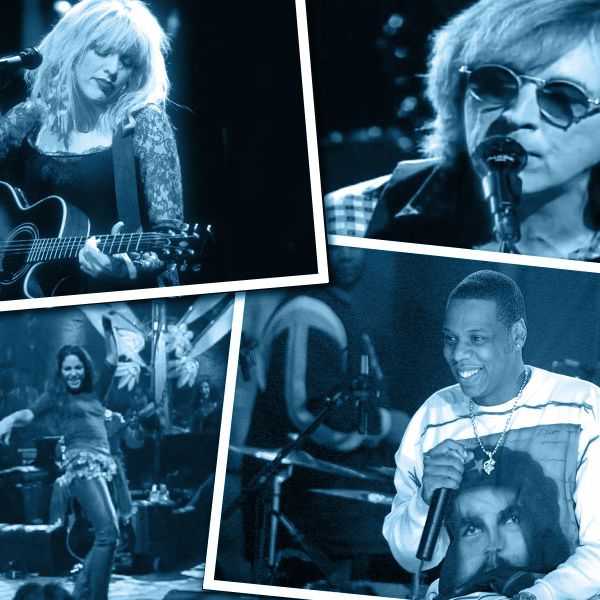 Photo: Maya Robinson and Photos by Getty
Miley Cyrus, one of the biggest music stories of 2013, may have been strangely absent from this year's Grammy Awards, but the "Wrecking Ball" singer regains the spotlight tonight when she stars in her very own Unplugged special on MTV. Haters are poised to mock, but Miley has given hints that she'll acquit herself nicely under the long-running acoustic concert program's flaw-revealing format. Through its stripped-down nature, Unplugged rigorously tests the true musicality of those who perform on the show, but those who make it through the acoustic gauntlet gain some respect and an easy excuse to release a live album. There are the time-tested favorites that everyone knows (Nirvana, Mariah Carey, Pearl Jam, etc.), but performances by other big-name artists who have been invited on Unplugged have been lost in the sands of time. Here are a few you may have missed or forgotten about, and a few of my personal favorites, because, let's remember: All lists are ultimately subjective and this one is mine. Whatever your favorite — and let me know in the comments section! — we can probably agree that Miley has her work cut out for her tonight. Good luck, girl.
Maxwell, "This Woman's Work" (1997)
Controversial question: Is Maxwell's cover of Kate Bush's "This Woman's Work" actually better than the original? Hear me out! Bush wrote the song for the 1988 John Hughes film She's Having a Baby (starring Kevin Bacon and Lady Grantham!) and told NME in a 1989 interview that the lyrics are from a male perspective: "It's exploring his [the newborn's father] sadness and guilt, suddenly it's the point where he has to grow up. He'd been such a wally up to this point." A fresh-faced Maxwell sang it for the first time at his Unplugged, and the rendition would become inseparably tied to his work after he included a studio version of it on his 2001 No. 1 album Now. The synergy is there.
Shakira, "¿Dónde Están los Ladrones?" (2000)
Right before releasing her breakout U.S. album, 2001's Laundry Service (i.e., the one with "Wherever, Whenever" on it), Shakira performed an all-Spanish set at New York City's Grand Ballroom, which MTV subsequently released as an Unplugged album. It would not only win her a Grammy for Best Latin Pop Album, but it also become a staple in suddenly thrilling middle-school Spanish classes: "¿Dónde están los ladrones? ¿Dónde está el asesino?" Gracias, Shakira.
KISS, "Beth" (1995)
It was always super-strange to watch drummer Peter Criss sing his apologetic ballad "Beth" in full KISS makeup, so when the boys reunited for a 1995 Unplugged (which ended up being so popular that the original lineup officially reunited in its wake), the sweet song finally seemed less surreal. Or at least it didn't feel like you were watching a sad clown.
Hole, "He Hit Me (and It Felt Like a Kiss)" (1995)
We can agree that Nirvana's Unplugged is by far the most famous installment, right? But a year after Kurt Cobain's death, his widow, Courtney Love, got her own Unplugged moment and it bears revisiting. Hole performed a cover of Nirvana's "You Know You're Right" (changing the lyrics to "I don't want to love again"), a bizarre cover of Duran Duran's "Hungry Like the Wolf," and my favorite, a cover of the Crystals' 1962 haunting song "He Hit Me (and It Felt Like a Kiss)."
Jay Z featuring Pharrell, "I Just Wanna Love U (Give It 2 Me)" (2001)
Am I biased by the past year's Pharrell perfection? Whatever — Jay's 2001 Unplugged performance has the Roots (pre-Fallon!) doing "Big Pimpin'" with a flute and strings. Also, Mary J. Blige shows up for "Can't Knock the Hustle," while Pharrell helps Jay close out the show with his falsetto hook on "I Just Wanna Love U (Give It 2 Me)," which starts at 39 minutes in.
Lauryn Hill, "I Gotta Find Peace of Mind" (2001)
Lauryn Hill's Unplugged is often left off top ten lists because she boldly decided against singing anything from The Miseducation of Lauryn Hill, instead choosing to perform a slew of politicized folk songs that was bound to alienate fans. No doubt some were miffed (and the album itself fell quickly off the charts after its debut), but looking back, it was a brave decision for a young artist to make and ultimately true to the Unplugged format.
Eric Clapton, "Nobody Knows You When You're Down and Out" (1992)
I purposely left some of the big guns off this list, but for me, you can't have an Unplugged list without Eric Clapton. His Unplugged album earned him six Grammys (including Record of the Year) but more notably it inspired rivers of (my) tears via his moving performance of "Tears in Heaven" and "My Father's Eyes," along with a now equally famous version of his 1971 Derek and the Dominos classic "Layla." He didn't perform "Bell Bottom Blues," but Bessie Smith's "Nobody Knows You When You're Down and Out" is an equally sad song, so I forgive him.
And now for the "This List is Complete Blasphemy, Because How Could You Forget … " section: Nirvana's "Where Did You Sleep Last Night?," Pearl Jam's "Porch," LL Cool J's "Mama Say Knock You Out," Tori Amos's "Silent All These Years," Neil Young's "Long May You Run," Mariah Carey's cover of the Jackson 5's "I'll Be There," 10,000 Maniacs and David Byrne's "Let the Mystery Be," and Alice in Chains' "Nutshell." Got any more? (And no, Bruce doesn't count; he totally plugged in.)