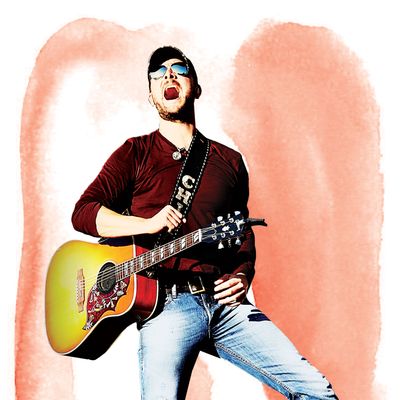 The country singer Eric Church might have written a bad song once or twice, but he's never recorded one. Church arrived in 2006 with a debut album, Sinners Like Me, that was, in a word, sharp: a dozen sharp-witted and sharp-elbowed songs, delivered by Church in his piercing, slightly nasal voice, a sound that comes slicing right at you, like a table saw running through your speaker cabinet. Since then, Church has released a new album roughly every two and a half years, each stronger than the previous, proving himself not just the most consistent male country star of his generation but one of the brightest lights in any genre—right up there with Kanye West, Beyoncé, Vampire Weekend, et al. Church's new album, The Outsiders, is, in keeping with the pattern, his best yet; it's also his most blustery, with the guitars and the outlaw swagger turned up, as the poet said, to eleven. It opens with the title track, an absurdly bombastic biker-bar anthem that Church likened, in an interview with the website Taste of Country, to both Waylon Jennings and Metallica: "We're the junkyard dogs, we're the alley cats / Keep the wind at our fronts and the hell at our backs." If you're going to sing a lyric like that and get away with it, you better sing it with conviction, and with a great big wall of noise rearing up behind you. "The Outsiders" fits that bill.
Church is from Granite Falls, North Carolina, a town of about 5,000, 60 miles northwest of Charlotte. He began writing songs in his teens, played in bar bands in high school and college, and moved to Nashville following his graduation, spurning his then-fiancée's father's offer to help him get started in the corporate world. Church told that story in one of the best songs on Sinners Like Me, "What I Almost Was," a model of fine Nashville handicraft, with its toothsome hooks and string of clever variations on the refrain "I thank God I ain't what I almost was." Church has co-written all but one of the 48 songs he's released on his albums, which is unusual for a country artist. I'd call him a writer first, if he wasn't such a good singer; I'd call him a singer-songwriter if that moniker didn't imply a kind of sodden self-regard that Church wants none of. (He's self-regarding, for sure, but not sodden about it.)
Better instead to say that Church is a Music Row pro who really knows how to put his songs across—how to croon or drawl or yelp or snarl, to get the biggest payoff from his well-placed punch lines. On The Outsiders there are yuks and tears: funny songs like "Cold One," a plaint about a girl who stole the singer's heart and, worse, snatched one of his longneck beers, and weepers, like the power ballad "Give Me Back My Hometown," Church's current single. "The Joint" is sneaky: It sounds at first like an ode to weed but turns out to be a kind of redneck "Norwegian Wood," a black comedy about a woman who torches the backcountry ­honky-tonk where her husband spends too much time boozing. "The only joint my momma burned was on the rural route / She parked in old man Taylor's woods so she wouldn't be found out," Church sings.
"The Joint" has a woozy sound, a kind of clattering junkyard blues-funk, with a trombone tooting above overdriven bass and Church's vocal processed so it sounds like he's warbling through a Jew's harp. Church's records are the most sonically distinctive in commercial country, balancing rootsy earthiness and digital snap, with a muscled-up rhythm section that is more rock than country—and more classic heavy-blues-rock than the eighties arena-rock that's the current Nashville norm. Credit for the sound goes to Church and Jay Joyce, a Nashville-based guitarist and studio musician who has produced all of Church's albums. Joyce is a masterful record-maker, one of the great unsung talents in today's pop. He is, you might say, the Timbaland to Church's Missy Elliott; together, they're assembling a body of work that expands country's sonic palette while honoring the genre's core values of structure and storytelling—cooking up a feast for the ears while making sure that sound never trumps song. Church and Joyce are excellent arrangers with a knack for eccentric touches. ("Springsteen," Church's big No. 1 hit from 2012, found a hook in a ringing five-note piano figure—hardly the usual country radio hit-bait.) The Outsiders is full of little surprises, unexpected sounds shoved to the front of the mix: In one song, the bass line, bolstered by a groaning trombone, is boosted to such a fearsome rumble you worry your dishes may tumble from the kitchen shelves; in another, a brushed snare drum is close-miked and jacked up so it sounds like wind raking across a leafy hillside.
Church's sound isn't all that sets him apart from the pack. Recently, country radio has had a frat-house feel: an undifferentiated corps of party-hearty dudes braying hits about getting drunk and laid. The Outsiders is a rebuke to bro-country clichés—not that Church is averse to partying (cf. his 2011 hit "Drink in My Hand"), nor to clichés per se. From the beginning, he has styled himself as an outlaw, wearing a beard and boots and dark shades and playing to the hilt the rugged but tender bruiser, the role that was pioneered by Waylon Jennings, Merle Haggard, and other ornery refuseniks. On The Outsiders, Church has doubled down on the rebel posturing, although the vibe is, as Church himself might put it, more Metallica than Waylon. Country has tilted toward rock over the past two decades, and Church is determined to out-rock the competition—not that tall an order, truth be told. In any case, he makes his case explicit with "That's Damn Rock & Roll," which proffers AC/DC power chords while name-checking the Clash and Nirvana and Janis Joplin, and "Devil, Devil (Prelude: Princess of Darkness)," which has the running time (8:03) and the time-signature changes to match the goofy prog-rock title.
I happen to like those songs, but Church's rocker moves feel a bit more stilted than his country ones. He is, at his essence, a great country singer—a genre artist par excellence. Country, like all genre music, is often High Hackwork: It's the art of making clichés pay, again and again, of tweaking the conventions ever so slightly or embodying the conventions with such force or finesse that you make them feel fresh. In the best moments on The Outsiders, Church does just that, revitalizing the familiar through sheer charisma and the ideally deployed chord or couplet. The ballad "A Man Who Was Gonna Die Young" is a variation on a favorite country theme: the desperado redeemed by the love of a good woman. But in Church's hands, it turns into something deeper, a song about aging—about sliding, more gently than you imagined you could, into middle age:
In the mirror I saw my surprise
Who knew gray hairs liked to hide
On a head didn't think he'd live past 30
If I make it 30 more, it's the brown that you'll be looking for
As you run your fingers through it
And say, "Slow down, honey."
My favorite song on The Outsiders, "Like a Wrecking Ball," is also another smart variation on standard fare: the road-weary musician's ode to his gal at home. It's one of Church's deftest songs; it's definitely his hottest, as sexy an ode to connubial booty-calling as any on Beyoncé's new album. Here's Church receiving a selfie from his wife: "You, look at you, send me one more shot / Sittin' on the bathroom sink / Damn, you really turn me on / Painting your toenails pink." Church sings those words over a warm, almost soul-ballad-like groove, nudged forward by a piping Hammond organ. It sounds great, especially at high volume. In fact, another lyric from "Like a Wrecking Ball" could serve as Church's mission statement for this album, which is best experienced not plugged into earbuds but blasted, the old-fashioned way, through a pair of speakers with sturdy subwoofers. "I want to rock some Sheetrock," Church sings. "Knock some pictures off the wall."
*This article originally appeared in the February 3, 2014 issue of New York Magazine.