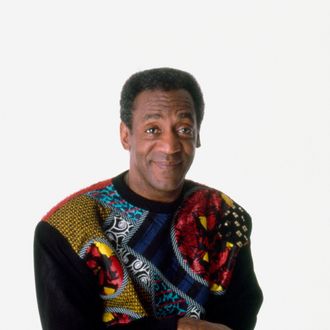 Bill Cosby, in his Cosby Show glory days.
Photo: NBC
Yesterday's news that NBC is working on a new comedy with eighties network savior Bill Cosby — from the same producers who brought you The Cosby Show — prompted predictable skepticism from the Twitterati: "Because this worked so well for them with Michael J. Fox." "This new Cosby sitcom will feel about as fresh as Billy Crystal's last tour as Oscar host." The "latest sign that Jack Donaghy may, in fact, be running NBC." This sort of mockery is understandable, particularly since the Cosby development comes just days after the aforementioned The Michael J. Fox Show tumbled to its worst ratings yet (a mere 0.6 among adults under 50) and former Will & Grace co-star Sean Hayes continues to strike out on NBC with Sean Saves the World. It's hard not to view the Peacock's deal with Cosby as yet another example of network TV seeking comfort in the familiar, or of NBC in particular trying to turn Twitter's #ThrowbackThursday meme into its comedy strategy. But while there's some validity in those critiques, there's also a case to be made that developing a comedy with Bill Cosby is not quite as desperate as it seems. It might even end up being a good thing.
The most encouraging part of the Cosby deal is what NBC didn't confirm. Unlike the Michael J. Fox project, which was ordered straight to series with a 22-episode commitment, Peacock brass haven't made any on-air guarantees to Cosby or producers Marcy Carsey and Tom Werner. In fact, despite headlines declaring Cosby is "returning to NBC," the network hasn't so much as ordered a pilot for this project. No writers are even attached. All this indicates that, while other networks may have been interested in landing Cosby, NBC didn't make some outrageously large monetary deal for the Cos. There was no out-of-control bidding war. As a result, the Peacock can easily bail if all the elements of the show don't come together, rather than feel boxed in by a deal made while in hot pursuit of a project. This doesn't guarantee a bad show won't result from all this, but it makes it less likely NBC will go forward out of any sense of financial obligation. (It also means Cosby can easily pull out should he be unhappy with the pilot script, once it's written.)
Of course, just because something isn't a bad idea doesn't make it a good one, either. NBC may have made a financially responsible deal with Cosby and Carsey and Werner, but the odds that it will lead to a ratings breakthrough seem slim, if history is any guide. Beyond this year's Hayes and Fox disappointments, TV is littered with examples of failed attempts to rekindle viewers' nostalgia for the Things and Stars We Used to Love. While Lucille Ball had successes after I Love Lucy, her last attempt at a comeback, at age 75 — 1986's ABC comedy Life With Lucy — was a disaster pulled after a half-season. Bob Newhart, after the success of The Bob Newhart Show and Newhart, struck out at age 63 with the short-lived CBS comedy Bob and, four years later, the same network's George & Leo. Things have been particularly tough on the former stars of NBC's Must-See TV era: Friends alum Matthew Perry couldn't get more than one season for Studio 60, Mr. Sunshine, and Go On; Lisa Kudrow's The Comeback got a cult following, but not a big enough cult to get more than one season; Matt LeBlanc's Joey petered out (before the mild success of Episodes — a cable show that has different ratings standards); and Courteney Cox's Cougar Town has barely (and thankfully) cheated death because of TBS. Many Seinfeld stars have had trouble: The Michael Richards Show only lasted eight episodes and Jason Alexander notched multiple half-hour flops. Jerry Seinfeld has avoided staging a big TV comeback, producing (and only occasionally popping up on) The Marriage Ref.  Julia Louis-Dreyfus has arguably avoided the Seinfeld cast curse: She is presently shining on HBO's Veep (though reaching a relatively small audience) and had a modest success with CBS's The New Adventures of Old Christine. (On the other hand, her first post- Seinfeld TV gig, NBC's Watching Ellie, was about as successful as Elaine Benes at a dance club.)
Cosby's own track record post–The Cosby Show also offers little hope of a breakout hit for NBC. After The Cosby Show ended in 1992, Cosby did a syndicated remake of You Bet Your Life, but the secret word from viewers after just one season was "nope." In 1994, NBC execs at the time threw money at the comic to star in a dramedy called The Cosby Mysteries; it flopped and was gone after twenty episodes. And in late 1995, CBS's then-new programming chief, Leslie Moonves, shelled out big bucks (and guaranteed two seasons) to get the Cos to return to form and star in another family sitcom, Cosby — in which he would once again be paired with his former TV wife, Phylicia Rashad. It was also produced by Carsey and Werner, and was supposed to be the show that rescued a struggling Eye network from the Nielsen doldrums. Instead, it was a massive ratings disappointment when it debuted in fall 1996; it survived for four seasons only because CBS was an also-ran back then (and Moonves is particularly loyal to talent). Everybody Loves Raymond, which starred the then largely unknown comic Ray Romano, debuted the same month as Cosby and ended up being the network's big hit. Ironically, Romano this week told critics in Pasadena that he will likely never do another sitcom, in part because he doesn't want to go backwards. Clearly, Cosby — and NBC — feel differently.
If there's evidence for optimism regarding the Cosby-NBC redux, it can be found over at ABC, Friday nights at eight. That's the home of Last Man Standing, a very old-fashioned, taped-in-front-of-a-studio-audience comedy starring the once iconic Tim Allen. It is by no means a massive hit, critics couldn't care less about it, and the show hasn't changed ABC's overall ratings trajectory since its debut in 2011. But it will likely end up making all parties involved a little bit of money when it quietly exits a few years from now: It's averaging 7.8 million viewers, making it ABC's third most watched comedy this season (behind Modern Family and The Middle), and putting it ahead of every comedy on Fox and NBC. It does decently with younger viewers and adds a decent numbers of viewers via DVR (indicating it has a loyal fan base). And as with the Cosby project, there's no indication that ABC execs broke the bank to get Allen back to TV; in fact, Allen has joked about lean budgets on the show.* Last Man Standing isn't Home Improvement 2.0, but it's a success. (Also a success: Cosby's Comedy Central stand-up special from last fall, which did decent ratings and drew kind critical notices.)

NBC execs weren't willing to talk about the Cosby deal Wednesday, so there's no way of knowing exactly what their hopes are for Cosby, or how it might fit into their overall comedy strategy. But given the low-key manner surrounding his signing — no press release, no puffed-up quotes — I'm betting Peacock chief Bob Greenblatt is not looking at this deal as a game-changer, or viewing Cosby as some sort of savior. He's certainly not moving the network in a retro comedy direction: NBC has ordered new sitcoms written by the creator of Happy Endings, as well as Tina Fey and Amy Poehler (the last two of whom, granted, are NBC recidivists, but much more recent and hip). The network has also green-lit a new comedy starring Craig Robinson, and it's all but renewed Parks and Recreation for next season. In other words, while the Peacock might look creatively spent for developing a show with its eighties messiah, nothing about its actual actions in doing this deal seems desperate. Maybe it's as simple as this: NBC had a chance to develop a show with a comedy icon (and two very successful comedy producers), and it said, "Why not?"
* An earlier version of this story misstated the studio behind ABC's "Last Man Standing." It is produced by 20th Century Fox TV.