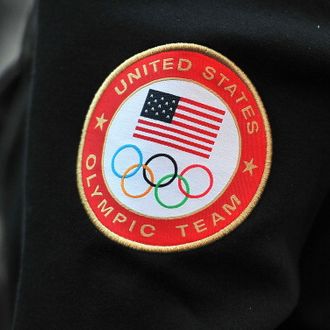 NEW YORK, NY - OCTOBER 29: A close up view of nowboarder Gretchen Bleiler's jacket as she attends the USOC 100 Days Out 2014 Sochi Winter Olympics Celebration at Times Square on October 29, 2013 in New York City.
Photo: D Dipasupil/Getty
NBC knows you are going to watch the Sochi Olympics opening ceremony zingers in hand, which is in part why the network has decided to broadcast the ceremony on February 7 instead of live-streaming the event. "We want to put context to it, with the full pageantry it deserves," chairman of NBC Sports Group Mark Lazarus told Variety about the decision. Well, as long as we can all experience the worst team berets together at the same time, we'll be happy.