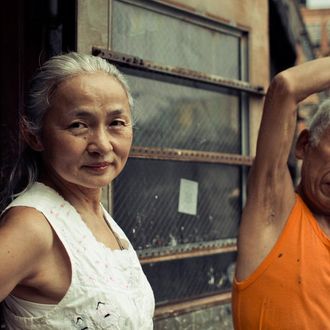 Now that the Oscar nominations are out, you'll have to set up a viewing schedule to see every last one of them before the big show. Luckily for documentary fans, most of this year's nominees (and a bunch that we deem snubbed) are available to stream. Here's where. (Click at your own risk; as always, films are subject for removal at Netflix's discretion.)
The Act of Killing
This year's front-runner, The Act of Killing, was briefly only available to stream for free in Indonesia, as the movie centers around atrocities committed by Indonesian death squad leaders.
Stream it at Netflix.
The Square
Jehane Noujaim's documentary about the Egyptian protest was conveniently acquired by Netflix and prepped to begin streaming … tomorrow, a day after the Oscar noms were announced. Very confident, aren't you, Netflix?
Stream it starting tomorrow, January 17, on Netflix.
Cutie and the Boxer
A documentary about the ups and downs of the marriage between artists Ushio and Noriko Shinohara, Cutie and the Boxer's director Zachary Heinzerling also won 2013 Sundance Film Festival's "Best Director" award.
Stream it at Netflix.
Dirty Wars
Based on the book Dirty Wars: The World Is a Battlefield by Jeremy Scahill, the documentary takes Scahill's work one step further, investigating United States military and government cover-ups surrounding fighting in Afghanistan, Somalia, and Yemen.
Stream it at Netflix.
20 Feet From Stardom
The only Oscar nominee not currently streaming on Netflix, let's see how long it takes for them to snatch it up. Featuring interviews with Mick Jagger, Stevie Wonder, and Bruce Springsteen, the documentary is actually all about the talented women who serve as their backup singers. It's a joyous movie.
Stream it at Apple, YouTube, and Google Play.
BONUS! The most prominent documentaries not nominated are the Sea World exposé Blackfish, which is on Netflix, and Stories We Tell, which is available for rental on iTunes. Quite a few documentaries that were on the Oscars short list happen to be HBO-owned, therefore streamable: The Crash Reel, Pussy Riot: A Punk Prayer, First Cousin Once Removed, Life According to Sam. Other noted documentaries that were not nominated include The Armstrong Lie, Tim's Vermeer, and God Loves Uganda — none of which are currently streaming.