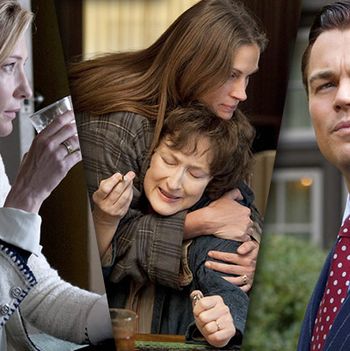 Photo: Sony Pictures, The Weinstein Company, and Paramount Pictures
We're only a week away from the announcement of this year's Oscar nominations, and it feels almost like anything could happen. Sure, there are some movies and performances that ought to be considered absolute locks to be nominated, but there are also plenty of former front-runners who are fading fast, as well as a host of dynamite contenders waiting in the wings to replace them. Who are the shoo-ins, which nominees are on the bubble, and which dark horses may surprise us next Thursday? Let's take a look at how the contenders in the top six categories have all fared so far (after important precursor nods like the Golden Globes, the Screen Actors Guild nominations, and laurels from the Director's Guild and Producer's Guild) to see who's sitting pretty … and who ought to be worried.
BEST PICTURE
The Shoo-Ins: 2013 was a fantastic year for film, and that may actually end up working against it: Many people have assumed that the Best Picture category will be maxed out with ten worthy movies, but if there's a surplus of contenders, the Academy's preferential balloting system may actually reward only the precious few movies who score far higher than the still-great second tier. That means you can definitely expect to lock in the three Best Picture candidates everyone is most passionate about this year — 12 Years a Slave, Gravity, and American Hustle — and we'd go so far as to add two more shoo-ins that have performed solidly this awards season, Captain Phillips and Nebraska, which both appeal to the Academy's older contingent.
On the Bubble: Then you've got the second tier of movies, all of which are fighting for purchase. The surging Dallas Buyers Club feels best positioned to break through, as it's picked up plenty of guild attention and even a surprise SAG ensemble nod. Both The Wolf of Wall Street and Saving Mr. Banks have had bumpy awards season launches; the controversial Wolf had its hopes stoked recently by Martin Scorsese's DGA nomination, while Banks was snubbed for more prizes than pundits initially expected. And then there are two critical favorites, Her and Inside Llewyn Davis, which may simply prove too highbrow for some Academy members (the latter, in particular, has had a seriously poor showing with all the guilds so far) and aren't expected to grab any acting nods.
Dark Horses: Should any of those films fall out, it may open the door for one of the Weinsteins' crowd pleasers — summer hit Lee Daniels' The Butler and the warm Judi Dench vehicle Philomena — or even Woody Allen's Blue Jasmine, which popped up recently on the PGA's list of nominees.
BEST DIRECTOR
The Shoo-Ins: Last year's Best Director category was so wild, snubbing many presumptive nominees (including Ben Affleck, who directed the year's Best Picture winner) in favor of auteurs like Michael Haneke and Benh Zeitlin, that it almost seems foolish to call anyone a shoo-in this time. Still, if anyone's going into this race with the strongest hand, it's Alfonso Cuarón (Gravity), Steve McQueen (12 Years a Slave), and David O. Russell (American Hustle), any of whom could win.
On the Bubble: Paul Greengrass (Captain Phillips) is widely assumed to be the fourth most likely nominee, but if the voters opt for quirky picks like last year, he's the least safe. Meanwhile, Martin Scorsese (The Wolf of Wall Street) and Alexander Payne (Nebraska) are tussling for that fifth spot, though THR analyst Scott Feinberg feels Payne's DGA snub spells ill for his Oscar chances.
Dark Horses: Don't underestimate Jean-Marc Vallee (Dallas Buyers Club), whose film has been widely seen and appreciated by voters so far. Still, if the directors branch follows its auteurist bent from last year, Spike Jonze (Her), Joel and Ethan Coen (Inside Llewyn Davis), and Woody Allen (Blue Jasmine) all stand a chance.
BEST ACTOR
The Shoo-Ins: Chiwetel Ejiofor (12 Years a Slave) and Matthew McConaughey (Dallas Buyers Club) have simply dominated pre-Oscar laurels thus far, even if the latter's BAFTA snub was a bit of a wrench in the works. And that's about all we're prepared to call locked in for a category that once seemed impenetrable.
On the Bubble: Our third slot would probably go to Tom Hanks (Captain Phillips), whose performance is mostly unshowy enough to risk a snub … until that final breakdown scene, which has had voters buzzing for months. And then there's the indefatigable Bruce Dern (Nebraska), who has campaigned harder than anyone this year and will likely see it pay dividends. As for that fifth slot, it could go to former front-runner Robert Redford (All Is Lost), who's been frequently passed over this season, or it may be snatched by Forest Whitaker (Lee Daniels' The Butler), who earned a bellwether SAG nod in this category.
Dark Horses: Do Christian Bale (American Hustle) and Leonardo DiCaprio (The Wolf of Wall Street) have enough late-breaking momentum to break into this category? Or can critical favorites like Oscar Isaac (Inside Llewyn Davis) and Joaquin Phoenix (Her) defy the odds stacked against them and score a nomination after all?
BEST ACTRESS
The Shoo-Ins: Here's a group you can safely put your bets on: Expect Cate Blanchett (Blue Jasmine), Sandra Bullock (Gravity), Emma Thompson (Saving Mr. Banks), and Judi Dench (Philomena) to all have their names read next Thursday. These four have proved powerful all season in a category with far fewer threats to steal in than its male counterpart.
On the Bubble: If anyone is in danger here, it's Meryl Streep (August: Osage County), whose film has gotten a mixed reception from critics and audiences; notably, Streep was absent from BAFTA's recent shortlist.
Dark Horses: If Streep falls, Amy Adams (American Hustle) will happily waltz her way in. She's really the only dark horse with any heft; while there were plenty of other worthy female performances this year, most came from indies — like Julie Delpy (Before Midnight), Adele Exarchopoulos (Blue Is the Warmest Color), and Brie Larson (Short Term 12) — with a notably reduced Oscar profile.
BEST SUPPORTING ACTOR
The Shoo-Ins: If there's anyone who seems as likely to win as Cate Blanchett in her category, it's Jared Leto (Dallas Buyers Club) in his. Leto's attention-getting trans role has been a pre-Oscar juggernaut; his competitors are just happy to be mentioned on the same short list. Still, Michael Fassbender (12 Years a Slave) and Barkhad Abdi (Captain Phillips) have also performed well enough to be considered safe nomination bets.
On the Bubble: There are a whole mess of candidates who could take the other two spots, the best-positioned of which is Daniel Bruhl (Rush), whose awards season profile has far exceeded the short shadow cast by his underperforming movie. Bradley Cooper (American Hustle) is surging, while Tom Hanks (Saving Mr. Banks) is fading; meanwhile, Jonah Hill (The Wolf of Wall Street) deserves a second nomination, but the Oscar fate of his movie is unclear. And what of James Gandolfini (Enough Said), who could score an affectionate, posthumous nod?
Dark Horses: It's entirely possible that Steve Coogan (Philomena) may be swept into this category, especially because he's really a co-lead alongside Judi Dench. If sentiment for the movie is strong enough, Jeremy Renner (American Hustle) could surprise. And then there's the darkest of dark horses, James Franco (Spring Breakers), who is a critical darling, though an unlikely Academy choice.
BEST SUPPORTING ACTRESS
The Shoo-Ins: At this point, it feels like Lupita Nyong'o (12 Years a Slave) and Jennifer Lawrence (American Hustle) are neck and neck for the win, with only J. Law's all-too-recent Oscar win still holding her back. But this is a category that often crowns a surprise winner, so don't be shocked if June Squibb (Nebraska) or Oprah Winfrey (Lee Daniels' The Butler) finds a path to victory somehow.
On the Bubble: Her film has been indifferently received, but Julia Roberts (August: Osage County) is flogging her most Oscar-friendly vehicle in some time, and Oscar loves a megastar who slums it in a supporting role (even if this part, like Coogan's in Philomena, is really a co-lead). Octavia Spencer (Fruitvale Station) was an early contender, but does she have enough screen time to pop through in a tough field?
Dark Horses: There are some wonderful character actress here who deserve to sneak in, like Sally Hawkins (Blue Jasmine), Margo Martindale (August: Osage County), and Sarah Paulson (12 Years a Slave), but the real surprise could be Jennifer Garner (Dallas Buyers Club); the film's Best Ensemble nod from SAG indicates that actors appreciate her just as much as her showy co-stars.