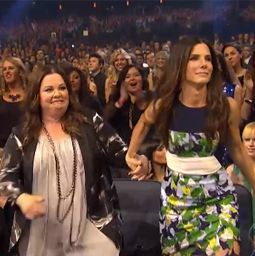 Sandy & Mel, the people's favorite BFFs
What the People wanted, apparently, was a live awards show in which all the winners were already aware they had won. At the 2014 People's Choice Awards, any surprises came in the form of "Oh God, who left the announcer's mike on backstage?" not, "Oh God, I can't believe I won." The awards show where the winners are chosen by online vote unsurprisingly had a winner's circle filled with the music, movies, and TV shows that most of America generally enjoys: Justin Timberlake, Iron Man 3, Despicable Me 2, Adam Sandler, The Voice, Supernatural, etc. The show's hosts, the stars of 2 Broke Girls, schtick'd their way through a two-hour ceremony — and  their charming dumb-blonde-and-snarky-brunette routine actually worked well for them. (Well, mostly worked well for Kat Dennings.) Here were the show's most noteworthy moments.
Favorite Male Artist, Favorite Album, and Favorite R&B Artist all went to Justin Timberlake, who had a cutesy staged moment with Favorite Daytime TV Host Ellen Degeneres on his way up to the stage. He then thanked his wife Jessica Biel for teaching him to put dishes in the dishwasher. That is bull, because there is no way Jessica Biel knows how to use a dishwasher.
Sandra Bullock and Melissa McCarthy also had a cute hand-holding moment on their way up to accept Favorite Movie Duo, for The Heat.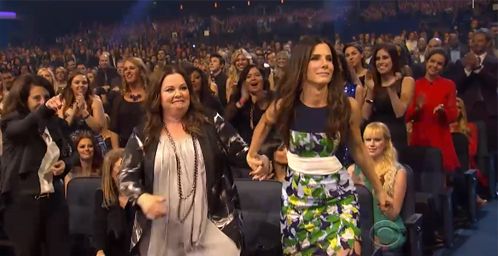 Adam Sandler took home Favorite Comedic Movie Actor for the fourth year in a row, and his recurring leading lady, a clearly pregnant Drew Barrymore, bowed down to him. Twice! It was weird.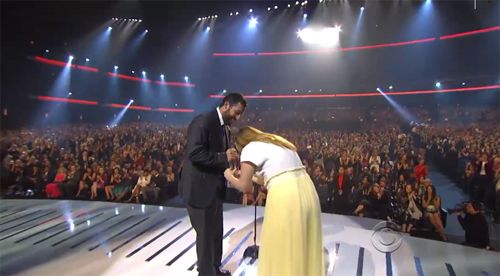 Somehow, Robert Downey Jr. got not only more time, but a spotlight and special voice effect when he accepted his award for Favorite Action Movie Star.
During Brad Paisley's performance, he took an audience member's iPhone and filmed her with it.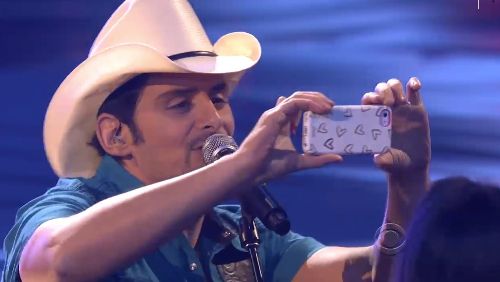 "Thanks for always drawing abs on me when you draw me naked," said Chris Colfer, accepting the award for Favorite TV Comedic Actor.
Jennifer Hudson and her sister Julia accepted the award for Favorite Humanitarian because of their work with the Julian D. King Gift Foundation.
Ian Somerhalder and Nina Dobrev, who dated in real life and then broke up but still play lovers on The Vampire Diaries, won Favorite On-Screen Chemistry, which was probably pretty awkward for them.
"Let's put Girls' Allison Williams and The Walking Dead's Norman Reedus together as presenters because at this point, WHO CARES?"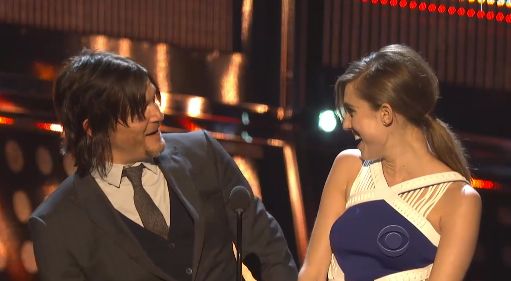 We the People present this award for Favorite Network TV Comedy to The Big Bang Theory.
But really, all that mattered is what Britney Spears (who shockingly won her first PCA last night) thought: