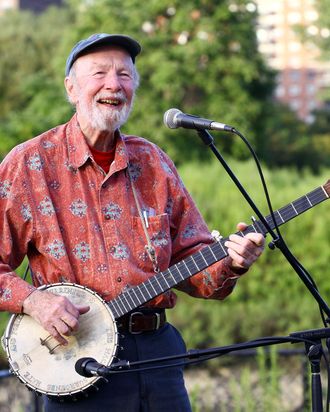 Pete Seeger in 2009.
Photo: Astrid Stawiarz/2009 Getty Images
Pete Seeger, the songwriter dubbed "the conscience of America" and "the father of American folk music," died on Monday night at 94. His grandson, Kitama Cahill Jackson, said he'd been hospitalized in New York for the past six days and died of natural causes. Seeger was a key figure in the American folk revival in the mid-twentieth century, known for his trademark five-string banjo and his support for various left-wing causes. He rose to fame in the forties as a member of the Weavers, singing hits including "Goodnight, Irene" and "If I Had a Hammer." Seeger went on to write "Where Have All the Flowers Gone?," "Turn! Turn! Turn!," and "Kisses Sweeter Than Wine," and popularized "We Shall Overcome." "Songs won't save the planet," Seeger told his biographer, David Dunlap. "But, then, neither will books or speeches … Songs are sneaky things. They can slip across borders. Proliferate in prisons."
Seeger has the distinction of being the only singer in the Rock and Roll Hall of Fame who was convicted of contempt of Congress for refusing to answer questions at the House Un-American Activities Committee. Due to his membership in the Communist Party during the forties, he was blacklisted and did not appear again on commercial television until 1967.
When Seeger was honored by the Kennedy Center in 1994, President Bill Clinton described him as "an inconvenient artist who dared to sing things as he saw them." He supported the labor movement in the forties and fifties, marched with Dr. Martin Luther King Jr., participated in anti-Vietnam War rallies, and spent decades fighting to clean up the Hudson River.
Seeger and his wife Toshi lived on the same property in Beacon, NY since 1949. She died last year, just days before their 70th anniversary. The couple had three children and six grandchildren.
Seeger never retired from performing or political activism. He marched in the Occupy Wall Street protests, and joined Bruce Springsteen to sing "This Land Is Your Land" on the steps of the Lincoln Memorial during President Obama's first inauguration. "He was so happy that day," Springsteen recalled. "It was like, 'Pete, you outlasted the bastards, man.' It was so nice."