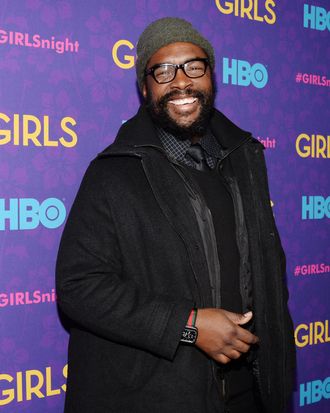 Questlove.
Photo: Clint Spaulding/? Patrick McMullan
Take heart, all you struggling young artists: Even Questlove, who'd won a Grammy by the age of 24, had career anxiety when he was coming up. "The two biggest icons in music were Prince and Michael Jackson, and both of them had made their magnum opuses by the age of 23," he told us at Monday night's season-three premiere of Girls. Also, it wasn't like winning awards meant he got to bypass that stressful stage of life when you just forget to pay your bills. "The day after I won [my Grammy], all the electricity in my house was cut off because I forgot to pay the bill. Very disorganized. I didn't have a staff, you know? I felt depressed. I was like, Wow. I'm sitting here in the dark, holding this damn Grammy with no electricity in the house. [Laughs.]" As for where that Grammy is today, we did ask him. And that's we got to talking about toilets.
Questlove: It's on the toilet. I keep all my Grammys on the toilet.
On the toilet? Are you joking or are you for real?
No, I'm serious. I mean, megapeople have, like, awards rooms or whatever. The Kanyes of the world, I'm sure he has enshrined himself. But all mine are in the bathroom. And one of them is broken.
How did it break?
I dropped it on the floor. I gave it to my mom; she didn't want it. So I just sat it on the toilet. And then when I got the second and third one, I just gave it company.
You're saying you sit them on the toilet, but there's a case or something, right?
No.
What if it falls in the toilet?
I am so low-maintenance. I'm low-maintenance.
I hope you don't touch them after you go to the bathroom.
I don't touch them. I don't lick them or touch them. They're just there to look at. Now, guests of the house, I don't know.