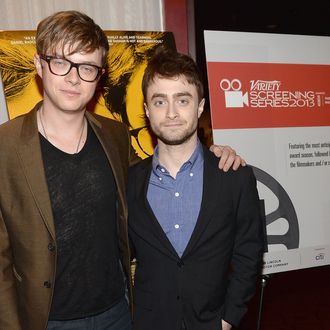 Dane DeHaan and Daniel Radcliffe, young republicans.
Photo: Michael Buckner/Getty Images
Fresh off playing the hedonistic, college-aged Beats Allen Ginsberg and Lucien Carr in Kill Your Darlings, The Wrap reports Daniel Radcliffe and Dane DeHaan are going back to school to play two very different people: Lee Atwater and Karl Rove, respectively. Directed by Darlings' John Krokidas, College Republicans is a buddy comedy about Rove's dirty 1973 campaign to become the national College Republican Chairman, for which Atwater was his campaign manager. The film is supposed to be somewhat of an origin story for the style of campaigning that's become common practice today. Hopefully, it's not also an origin story for how Rove got the nickname Turd Blossom.