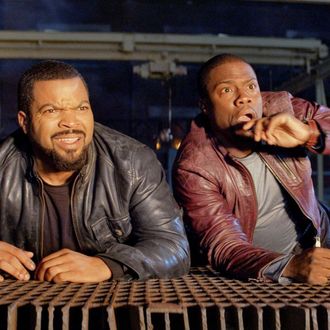 Photo: Universal Pictures
Continuing its reign at the top of the box office for a second week, Ride Along brought in another $21.1 million this weekend for a two-week haul of $75.4 million. Just as last week, Lone Survivor stayed put in number number two. The Mark Wahlberg vehicle earned $12.6 million this weekend, bringing it to $93.6 million in five weeks. Both films are Universal's, and they casually mentioned that the last time a studio occupied both the first and second box office spots was in 1994, when WB did it with On Deadly Ground and Ace Ventura: Pet Detective.
In third place, family favorite The Nut Job and its "Gangnam Style" closer delighted another $12.3 million worth of moviegoers for a two-week total of $40.2 million. Also in its second week out, Jack Ryan: Shadow Recruit brought its cumulative total to $30.1 million ($9.1 million of that came in this weekend). Rounding out the weekend box office is the seemingly un-budging Frozen. Disney's animated wonder only made $8.9 million this weekend but in ten weeks, it's rung up $347.6 million domestically. With another $462 million overseas, TheWrap writes that this brings the film's global box-office haul across the $800 million mark, a sum that trails only Finding Nemo in the studio's list of highest-grossing original animated movies.