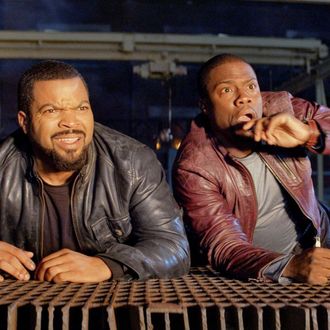 Still of Ice Cube and Kevin Hart in Ride Along (2014).
Photo: Universal Pictures
It may have seemed destined for mediocrity, but the buddy drama Ride Along took a detour on its way to the the Rite Aid bin and shot to the top of the box office, bringing in $48.1 million its first week out — a record amount for the long MLK weekend. Lone Survivor earned $27.5 million this weekend but fell to the number two. After a month in theaters, Mark Wahlberg's Navy SEAL drama has made $78.3 million. Also new this weekend is The Nut Job — another animated family favorite that opened in number three and is predicted to make somewhere between $26.6 million and $27.2 million — while the Tom Clancy adaptation Jack Ryan: Shadow Recruit got $19.4 million. Frozen rounded out the box office top five with a haul of $16 million, bringing its nine-week total to $336.6 million.