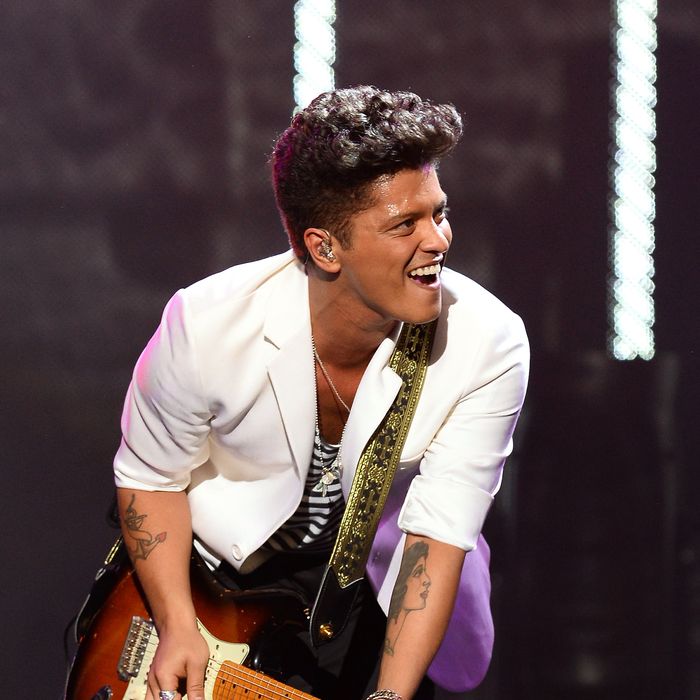 Photo: Ethan Miller/WireImage/Getty
A cold weather Super Bowl is one thing — but a cold weather Super Bowl halftime show? The forecast for Sunday's big game calls for brisk but tolerable conditions, but the possibility of arctic temperatures and even snow remains, and whatever difficulties such weather could present to quarterbacks Peyton Manning and Russell Wilson, the job of halftime headliner Bruno Mars would surely be as tough. Have you ever tried to sing and dance, to play guitar and piano, in the subzero chill, on a wind-lashed stretch North Jersey swampland? There never has been an Inuit rock star.
It'd be challenge, but I suspect Mars would meet it in his usual fashion: with finesse, and without batting an eye. Mars, 28, is a pro, as polished a musician and performer as anyone in pop's upper echelons. In concert, he's a dynamo. His eight-man backing group, the Hooligans, is one of the most exciting going, with an old-fashioned soul revue band's blend of energy and chops, and it's clear that Mars is in command; he is, verily, a bandleader — or to use the apt metaphor, a quarterback. In fact, Mars has a bit of both Wilson and Manning in him. Like the Seattle signal-caller, Mars is an upstart, a relative newcomer, with just two albums and four years as a star under his belt. Like Manning, he's a natural, with Hall of Fame skills and the preternatural smarts and vision of one born to play the game.
Mars comes from a musical family, and began making music more or less as soon as he could walk. As a child, he was an Elvis Presley impersonator. You can hear, and see, the results today: There are echoes of Elvis in the lavish love-oaths of Mars's ballads, and in the hip-swiveling kineticism of his dancing, and in the pompadour that rises, a bit preposterously, a foot or so above his head. Mars is in many respects a classicist, but not a fusty one; he has absorbed decades' worth of pop but knows how to strike a balance between yesteryear and today. The title of his debut album, Doo-Wops & Hooligans, nodded to fifties pop, but the album punched up that era's malt-shop romanticism with sturdy beats and hip-hop-savvy production. On Unorthodox Jukebox, his superb second album, the songs take in a wide breadth of influences — the Police, Michael Jackson, Elton John, Def Leppard — but again, the music has a contemporary punch, and Mars sounds like himself, not an imitator or revivalist. Listen to the thrilling "Natalie," with a lyric (and an eerie vocal sample) that invokes Delta blues, but a bristling, bracing sound that is pure 2014.
In short, Mars is one of those rare pop polymaths: a superb singer, songwriter, performer, and producer. He writes No. 1 hits (four and counting); he headlines arenas. Just about the only thing Mars doesn't have is a plus-size extra-musical personality — the kind of "brand" that transfixes gossip rags and the Internet. He is, uniquely among hit-makers at his level, merely a musician — indeed, a musicians' musician. He's the only A-list pop star in recent memory whom you can easily imagine sitting in with any band, on any stage, in any genre, from rock to jazz to hip-hop and beyond.
But how will he fare on the biggest possible stage, at halftime? Some clearly have their doubts. The late addition of old reliable funk-rock horndogs Red Hot Chili Peppers to the bill must betray concerns by those in charge about Mars's drawing power.
I suspect all those fears will be put to rest when Mars and his band lean into "Locked Out of Heaven" and "Treasure" on Sunday night. For those millions who have only a vague sense of who Mars is, the halftime show should make intriguing viewing. They'll meet a man who, among other things, looks like Obama's America. Like the president, Mars is from Honolulu; like the president, he is multiracial, the child of a half–Puerto Rican, half-Jewish father and a Filipina immigrant mother. Newcomers to Mars will encounter a singer who, more than most his age, can straddle generations, with the songbook and showbiz suavity to speak to hip-hop kids, to classic-rock and -soul middle-aged types, and even to Elvis- and Sinatra-loving oldsters.
Again, the appeal here is strictly musical — Mars's credentials are those of ferociously talented professional. Mars may never be weird enough, or aggressively egotistical enough, to compete in the twenty-first-century fame-stakes. After Sunday, though, he may have, for the first time, an item on his CV with an air of legend about it: The little guy with the big hair who rocked Met Life Stadium at halftime of Super Bowl XLVIII. Possibly — for the sake of drama, hopefully — in a blizzard.