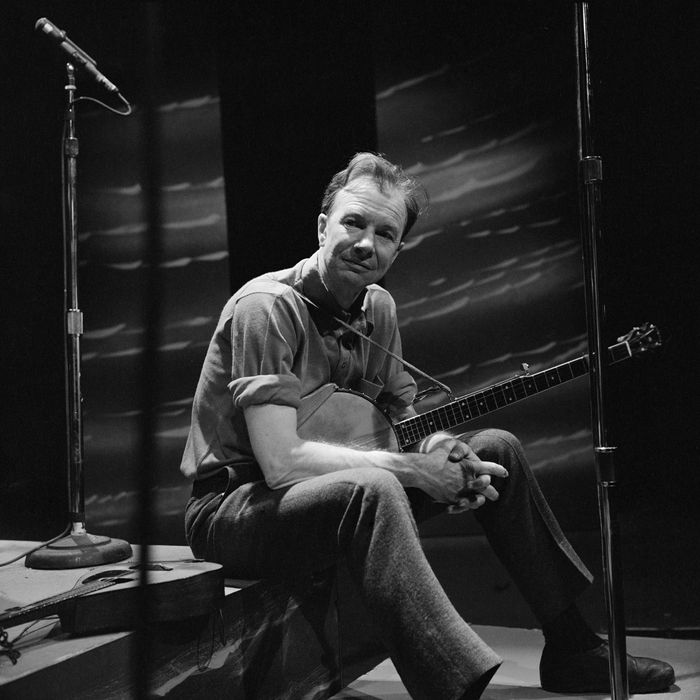 Photo: CBS Photo Archive/Getty Images
Pete Seeger, who died yesterday at 94, was for many decades the most famous folk singer on earth, although to call him a star seems absurd. Stardom, celebrity, didn't matter to the man. There was no I in Seeger's music, only a big, broad, encompassing we — a we that took in the world's worth of social justice causes to which he devoted his life, and a we that collapsed the distance between singer and audience, whether at a presidential inauguration, a Madison Square Garden concert, or a protest, with seven people in attendance, against the pollution of the Hudson River. His tenor voice was clear and robust; when the song called for it, his tone could turn soft, pillowy. But Seeger wasn't exactly a vocal stylist. He didn't perform so much as lead sing-alongs, casting a warm campfire glow over every stage he stepped on. He was an encyclopedia, a living, breathing anthology of folk music, primarily but not exclusively American; his task, as he saw it, was to amass, preserve, and pass on a vast, motley canon of people's songs. That job was a birthright. His father, Charles Seeger, was a musicologist and composer, as was his stepmother, Ruth Crawford Seeger; when Pete was a young man, he worked for his father's friend, the folklorist Alan Lomax, at the Library of Congress's Archive of American Folk Song. Throughout his life he remained a song collector and, supremely, distributor — a scholar, in dungarees, with a banjo.
He was the archetypal — often, stereotypical — folk revival balladeer. For some of us pink diaper kids, who were dragged by parents and grandparents to Pete Seeger concerts at an age when we would rather have been listening to "Sucker MCs," the earnest solemnity of the scene — an auditorium full of old hippies, swaying and crooning Seeger's "Where Have All the Flowers Gone?" — could be oppressive. Yet Seeger both exemplified and defied the folk singer clichés. His musical taste took in not just protest anthems and labor songs, but Appalachian death ballads and children's ditties and even Tin Pan Alley. (For decades, Irving Berlin's "Blue Skies," a showtune with the stark beauty of a folk song, was a staple of Seeger's repertoire.) Seeger was a pop musician himself; he wrote several hits, and with his partners in the Weavers, took a Lead Belly song, "Goodnight Irene," to the top of the charts for thirteen weeks in 1950, an improbable feat in that heyday of Perry Como and Patti Page.
But for Seeger, showbiz was always a means to an end — a platform for his politics. He was uncompromising, ballsy; his demeanor was gentle, but his spine was made of steel. He was a blue blood second-generation Harvard man; he could have coasted through life. Instead, he stuck out his neck on every major social justice issue of his times, often at great personal risk. He was blacklisted and threatened with imprisonment. He stood up for his principles in defiance of the John Birch Society, the Ku Klux Klan, and the United States Congress, which held him in contempt when he refused to name names (or to plead the Fifth) in his testimony to the House Un-American Activities Committee. Through it all, his message was the same: justice, peace, community. The most famous song he ever wrote, "If I Had a Hammer," is caricature of folkie high-earnestness, but only the worst cynic could scorn its humanism and heart: "If I had a hammer … I'd hammer out love between my brothers and my sisters / All over this land."
In person, he was peach. When I was researching a book about Irving Berlin, I called Seeger up; he spoke to me for 45 minutes and sang "Blue Skies" over the phone. In the forties, he built a log cabin in Beacon, New York, overlooking the Hudson; he lived there, with his wife Toshi, for the rest of his life. (Toshi Seeger died in 2013, a few days before the couple's 70th wedding anniversary.) Seeger was a familiar figure in the towns of the Hudson River Valley, a kind of local saint. A few years ago, friends of mine moved from Brooklyn to Cold Spring, a few miles south of Beacon. When they opened up a business on Main Street, a mutual friend brought in Seeger to "bless" the place. He recited the Gettysburg Address, verbatim, from memory.
In this video, you can catch a glimpse of Seeger's golden years in Beacon and vicinity. There are scenes of Seeger singing and performing, Seeger attending some kind of community meeting with his wife, Seeger rowing on the Hudson. Around the two-minute mark, we catch a glimpse of an anti–Iraq War protest: just Pete and a few other locals, holding American flags and placards, on a freezing winter day, alongside Route 9. The song playing over the footage is "To My Old Brown Earth," which Seeger wrote himself. It's one of his loveliest and most philosophical songs, and makes as good an epitaph as any: "And you who sing / And you who stand nearby / 
I do charge you not to cry / Guard well our human chain / Watch well you keep it strong / As long as sun will shine." The song's opening lines strike a Whitmanian metaphysical note: "To my old brown earth / And to my old blue sky 
/ I'll now give these last few molecules of 'I.'" Note well the scare-quotes that Seeger, ever self-effacing, put around that I.