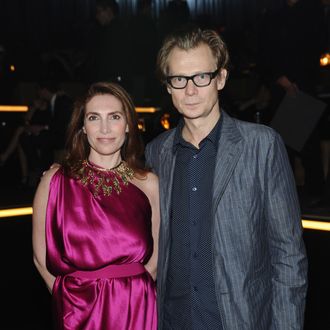 Photo: Stefanie Keenan/Getty
In naming DIA director Philippe Vergne its new director, the beloved and lately bedeviled Los Angeles Museum of Contemporary Art has taken a step to put itself out of the misery it's been in for almost six years. Born of an art community's mutual desires for a great museum and opened in 1983, MoCA has mounted an extraordinary number of exemplary group shows, surveys, and retrospectives. Everything was going swimmingly until the aughts, when it was discovered that under director Jeremy Strick the institution had spent down much of its endowment and was for all practices broke. From there, this great museum has had a season in hell. From the perspective of many in L.A.'s tight-knit art world, the low-water mark was Jeffrey Deitch's recently ended tenure.
Vergne, 47, is a former curator and deputy director at the Walker Art Center in Minneapolis, director of the billionaire collector Francois Pinault's private foundation for contemporary art, a co-curator of the 2006 Whitney Biennial, and since 2008 the Director of the DIA Art Foundation. He could be a good fit for MoCA. He loves brainy group shows and avoids all-out Deitch-like spectacle. He also has a feel for retrospectives of well-known mid-career artists. He's incredibly charming, one of the funniest and brightest people I've ever met, and could have a wonderful way of slipping his French fingers into notoriously tight Los Angeles pockets. (When I spoke to him once about raising money, he stuck his hand into my pocket and took my wallet.) MoCA needs money, good shows, and to restore its storied reputation. That said, I worry about Vergne's sparse track record at DIA and fear his staff hires could be on the safe side. But all of Los Angeles really wants this to work. As do we all. This energy could propel things forward in positive ways.
Behind him, Vergne leaves deeply unfinished business. He assumed DIA's directorship in 2008 with a mandate to correct the tragedy wrought by its former director Michael Govan, who in 2004 needlessly and permanently shuttered and gutted its legendary West 22nd Street building. After creating DIA Beacon, Govan left to become the power director of the Los Angeles County Museum of Art. LACMA seems to be doing fine. DIA hasn't fared as well. The Beacon space is incredibly expensive to maintain; not many people go there; it can't be closed. DIA has problems. Vergne tried mightily to right these wrongs. He balanced the budget, made hires, rebuilt a board, and made plans for a new building on West 22nd Street. But he never broke ground. Moreover, he was embroiled in a perplexing controversy around de-accessing works from DIA's collection and never provided a case for why this had to be done. While he organized a few good shows, notably the Thomas Hirschhorn Bronx installation this summer, he didn't do much in his DIA tenure in way of exhibitions. I deeply admire him, but in leaving DIA, Vergne leaves much in limbo.
Museums aren't zero-sum games. MoCA's gain is not DIA's loss. Vergne's going to L.A. should be good news for MoCA and for art. We all want MoCA to be great again. We are left to hope that DIA can finally right the ship left so terribly wrong by Govan and be great again, too. Neither directorship will be easy. But if DIA can't build a building soon, New York may have to come to terms with there never being a permanent DIA space in town for it again. That would be a loss for all.