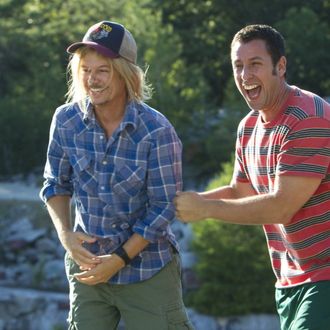 Adam Sandler, nominee.
Photo: Tracy Bennett - ? 2013 CTMG/Sony Pictures
Tomorrow, Oscar nominations will be announced. But before the best movies of the year can be celebrated, the worst need their time in the sun. And for that, we have the Razzies. Leading the way this year is Razzie staple Adam Sandler, whose Grown Ups 2 received eight nominations, including worst picture, sequel, ensemble, screenplay, and director, as well as three nominations for its actors (Sandler for lead, and Taylor Lautner and Salma Hayek for supporting). Rounding out the other worst-picture nominees are After Earth, Lone Ranger, A Madea Christmas, and Movie 43. Besides Sandler, the worst actors are Johnny Depp (The Lone Ranger), Ashton Kutcher (Jobs), Jaden Smith (After Earth), and Sylvester Stallone (Bullet to the Head, Escape Plan, and Grudge Match). Worst actresses are Halle Berry (The Call, Movie 43 ), Selena Gomez (Getaway), Tyler Perry (A Madea Christmas), Naomi Watts (Diana, Movie 43), and Lindsay Lohan (The Canyons). Un-congratulations to you all.