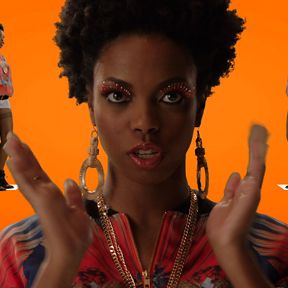 The newest cast member on Saturday Night Live made her debut last night, after a much publicized hire earlier this month. Before getting into how Sasheer Zamata fared, however, let's remember why her presence is important. After the dramatic exit last spring of a handful of funny movie stars like Andy Samberg, Bill Hader, and Jason Sudeikis, SNL rebooted its cast in the fall with six recruits. Five of the new cast members were male; all of them were white. This diversity fail did not go over well at all, even among cast members Kenan Thompson and Jay Pharoah. It brought about a self-reflexive mea culpa sketch where guest host Kerry Washington played as many prominent black female characters as could be squeezed into one sketch — you know, because nobody on the cast could do so. Eventually, there were whispers of a quiet search for black female cast members, and here we are today.
New cast members on SNL often have to run through a gauntlet of failure behind the scenes before figuring out how to get onto more sketches: Many first-year actors spend an entire season only visible as waiters and waitresses or dancing behind a host's monologue song parody. Some of this season's new guys have barely had a chance to make a dent in viewers' consciences, which are probably struggling to take in so many new faces. It was inevitable that Zamata would be more visible than most first-timers in her first episode, considering all the attention paid to her hiring, and out of eleven total sketches, including one that took place during the monologue, Zamata appeared in five. The comedian was more prominent in some of these than others: One digital short found her singing the hook to the New Year's ode "Resolution Revolution," without getting to do much of anything funny; another sketch had her playing one of many students in a classroom — with one key line and an insouciant sticking-out of the tongue. While overall, her presence in the episode felt somewhat ornamental in the tradition of most SNL newbies, Zamata got at least one chance to really let loose, playing Rihanna as the lead in the oddly unforgettable nineties sitcom Blossom. (It would take too long to explain how we got there or why it was funny.)
Considering its white-guy history, SNL had a delicate balance to pull off, and Zamata was in a difficult position: If they gave her the trace elements of camera time that the usual freshman gets, it might have been perceived by some that her hiring was symbolic, and that the show had no real intention of using her. However, if they gave her a disproportionate number of major roles, it might have been perceived as them trying too hard to suddenly claim diversity. But this balance seemed right, especially as they resisted the urge to make a self-aware, Kerry Washington–esque sketch statement about the many parts she is expected to play: She was just introduced as a new face on the show, which is as it should be.
With the first episode behind her, and no ill-fated F-bombs in the offing, only time will tell how Zamata adjusts to her new role on the show. She hasn't had the chance to show off any original characters just yet, and the Rihanna bit is only a hint of what impressions she has on deck. The good news is that in a less-publicized HR move, the same week that Zamata was hired, SNL also welcomed two women of color to the writing staff, Leslie Jones and LaKendra Tookes. Together, these three seem to promise that not only has the look of the show evolved somewhat, but that its sensibilities could be changing too. Or maybe we'll just get more celebrity-impression talk shows, just with African-American fake stars, too.