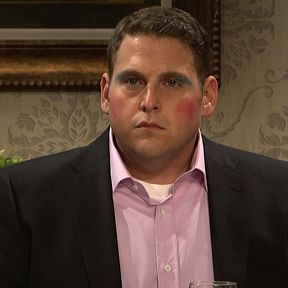 Photo: NBC/2013 NBCUniversal Media, LLC.
It's insane to think that someone currently nominated for an Oscar in a Martin Scorsese movie would have something to prove, and yet that's exactly the position in which Jonah Hill found himself last night. Even if 2013 was pretty much the perfect year for Hill's career trajectory — one that most comedic actors would reluctantly admit they aspire to — it was actually a year of backlash for his public persona. First, there was the noxious phony version of himself Hill played in This Is the End, an image which was soon fortified in an infamous Rolling Stone interview that had him coming off as above everything. Then there was the Comedy Central Roast of James Franco, in which no less an authority than James Franco observed: "Look how full of himself Jonah has become." With so much bad PR hanging over his head during a career peak, it was the perfect time for the actor to head to the court of public opinion that is Saturday Night Live, and crush it.
The last time Hill hosted SNL, he was already poking fun of the public suspicion that he'd become a self-serious Hollywood d-bag in the wake of his first Oscar nomination. Because doing so himself kind of works as a counter-hex against everybody else's efforts, Hill was bound to do it again as his Superbad roots recede further into the horizon. Although the (now-former?) Apatow mainstay has the traditionally silly 22 Jump Street coming up, and ultimately it doesn't matter what anyone else thinks when you're nominated for an Oscar for a Scorsese movie, last night Hill not only needed to be funny, he needed to be having fun doing it. Weirdly, though, it was the very same reputation-augmenting commitment to acting that made most of the night's sketches work so well.
Heteronormativity of the Week
Since there will be plenty of opportunity to poke fun at the 2014 Winter Olympics when they're actually, you know, occurring, it makes little sense to have a preamble this week. And yet here we are with "The U.S. Men's Heterosexual Figure Skating Championships," perhaps a reaction to the recent press that flamboyant stars of the sport like Jason Brown have been getting. The concept is retrograde, but the execution is decent — with Bobby Moynihan's Jets jersey-clad TJ Davenport falling on his keys and doing air guitar, as a heterosexual figure skater is wont to do.
Celebrity Bro Down of the Week
Similar to Hill's last outing as SNL host, the self-image mockery arrives this time during the monologue. The actor begins to wax philosophically about his approach to doing "an Oscar movie," only to be interrupted by none other than fellow nominee/bestie Leonardo DiCaprio. "What have we said about acting like a big shot in public?" asks the acting world's lead Adonis, who has oddly never hosted SNL. The self-effacement is soon made complete with a brief Titanic reenactment that casts Hill in the Kate Winslet role.
Welcome Return of the Week
Much like Christopher Walken and Justin Timberlake, Jonah Hill has a signature bit on SNL: precocious 6-year old Benihana-guest, Adam Grossman. It's the actor's third time hosting, and it's his third time trotting out the character. Is it a one-note role? Yes. Yes, it is. But that fact does not in any way diminish the sketch's success or the actor's clear delight in having a recurring character. With departed cast member Bill Hader no longer around to be Grossman's single dad, Vanessa Bayer fills in as foil, playing new stepmom, Debbie. It's a formula, for sure — with the character constantly making Borscht Belt-style jokes he shouldn't understand, and then commenting gleefully on that fact immediately afterward — but it's a winning one for now. Ask me after the next couple times Hill hosts whether it still works.
Winter Wonderlanding of the Week
With much of the U.S. incurring some seriously cold weather of late, it makes sense to see a winter-themed sketch. In this digital short, Kenan Thompson, Taran Killam, and Jay Pharoah play gangsters distracted from an assigned hit by the enchantment of snow. Instead of focusing on taking lives, the three bond over winter tropes like Carole King and the uniqueness of snowflakes. Like the cold opening, it doesn't rise above the level of decency, but it's amusing enough to sustain the episode's momentum.
Shame Show of the Week
The poo joke has a long and storied history. Much like its brethren, the fart joke and the dick joke, poo jokes are often maligned for being too easy and mired in juvenilia. However, it is these very same two factors that make it all the more impressive when a poo joke lands. Tonight's game show sketch is set on a program called Couples Quiz. Soon after the inevitably Kenan-hosted show starts, however, things come to a grinding halt in order to solve the mystery of which contestant is responsible for clogging the toilet. ("Someone's gotta pay for this," Kenan decrees.) The remainder of the sketch plays out like The Crucible of poo jokes (The Poocible?), with Killam and Hill in a makeshift witch trial for not only clogging the toilet, but, um, going on top of the clog. Let it never be said that the SNL writers didn't commit fully to the details of this extended poo joke, nor that Hill didn't act the hell out of his role of the guilty party.
Concurrent Events of the Week
The hot topic toward the end of this past week was the inescapable news of downward spiraling superstar Justin Bieber's DUI. Perhaps because Kate McKinnon debuted her Bieber impression on the previous episode, the SNL team wisely chose to find a different angle to cover the news than have a Bieber-surrogate defend himself. Instead, Thompson portrayed the Miami police officer who busted the Biebs. As par for the course in her gradual training wheels–removal, co-anchor Cecily Strong conducted the interview, rather than departing head writer Seth Meyers, and her interplay with Thompson was sound.
Even though McKinnon left her new Bieber impression at home, she still ably bat cleanup on Weekend Update as Olya Povlatsky, a woman from a small village in Russia, commenting on the issues of the Sochi-set Olympics. The one-off character got in some good, thickly accented zingers, despite being a somewhat xenophobic creation. Props to the performer for affecting a laugh that looks like something horrifying is taking place.
Societal Commentary of the Week
Somehow, the hottest target in the YouTube parody game right now is Spike Jonze's possibly over-earnest film Her. Such an abundance, though, merely makes it more of a challenge for the writers to come up with a clever, original premise, and in that, they succeeded. Here, the movie Her, which is about a lonely Joaquin Phoenix falling for his ostensibly female iOS, becomes Me, a film about a lonely Joaquin Phoenix falling in love with an iOS that is exactly like himself. It's a smart critique of a society scaling new heights of unabashed narcissism, made better by Hill's nuanced take on the walrus-mustached Phoenix, and a cameo from Michael Cera. (Superbad reunion!)
Self-Talk of the Week
I mentioned earlier that our host's acting improved the comedy this week, and here is the sketch where it was most obvious. Hill plays a bumbling guest at his boss's dinner who continually leaves the table to go berate himself in the next room. The joke, of course, is that we and the other dinner guests can hear him doing so. It's not an obvious winner, nor was it the funniest sketch of the evening, but Hill's commitment to the bit is beyond convincing. Hearing him mistake the name of a salad, and then privately scream, "It's Waldorf, you pussy!" is kind of funny. The sincere look of barely suppressed boiling rage before he goes off, though, is above and beyond.
Authentic Amateurs of the Week
"Inside SoCal" is the latest digital short from Beck Bennett and Kyle Mooney. While the two have yet to achieve Lonely Island-style virality, they've managed to carve out a weird little niche for themselves, and I look forward to seeing their episode-ending shtick each week. This time out, the two play hosts of an amateur lifestyle webseries, whose rhythms are realistically off.
Vroom Vroom of the Week
With so many established stars of the show having fled last season, SNL is currently on a tear of trying to find recurring characters to replace the Stefons and such of yore. Sometimes it works and sometimes it doesn't. In the case of Cecily Strong and Vanessa Bayer's ex–porn star infomercial team, it's a welcome return. When last we left these two, they were hawking "Manual Blondicks" in the Tina Fey season opener. Now, they're back to unload "Lambortinis" with all the dead eyes and flubbed line delivery of a thousand AVN award speeches. Just the sight of a tiny Lambo atop a Doric column would probably be funny enough, but Bayer and Strong really bring it. (Few people realize how hard it is to do bad acting on purpose.) A wheelchair-bound Hill has basically only one line here, delivered three times, but he does more than enough with it to silence his haters until the next Oscar nomination.