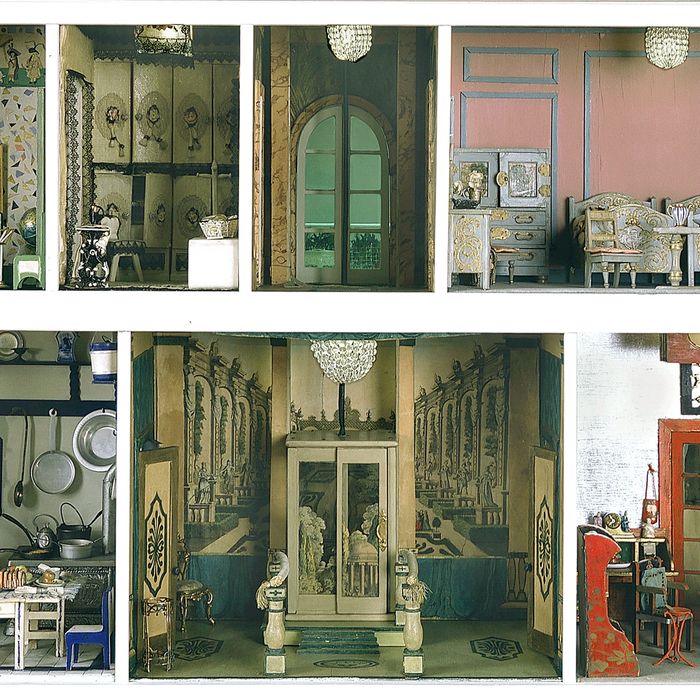 The Stettheimer Dollhouse, hung with miniature (real) artworks.
Photo: Courtesy of the Museum of the City of New York
A few days after New Year's, my wife and I made our annual postholiday pilgrimage to one of the sweetest and most visionary sights permanently on view in any New York museum: Carrie Stettheimer's fabulist two-story twelve-room dollhouse. Constructed between 1916 and 1935 and displayed at the Museum of the City of New York, it's a wondrous candy-colored miniature of interior decoration, and it annually transports the two of us back to one of New York's most important, gloriously chic salons. Despite its atrocious placement in the museum's second floor hallway—it ought to have its own gallery—and even though it's encased awkwardly in a wooden windowed box, the dollhouse is enough to remind indoor-dwelling wintered minds how much creative magic is always afoot around us. 
The salon of the German-Jewish Stettheimer family was at 180 West 58th Street, in the Alwyn Court Building—not far from the similarly illustrious Arensberg salon at 33 West 67th—and was overseen by a matriarchy. Presiding queen was Rosette, the mother Stettheimer. Always in attendance were her three amazingly gifted, never-married daughters. Florine, one of the most wonderful, visionary painters this country produced in the twentieth century, was set designer for Gertrude Stein and Virgil Thompson's performance of Four Saints in Three Acts; Ettie was the writer who described her sister Carrie's pleasures as "reading, learning, and conversation," observing that these pleasures were so time-consuming that they "greatly limited opportunities for working on the dollhouse." Regular guests included figures from the country's first avant-garde, artists and writers like Marcel Duchamp, Man Ray, Marsden Hartley,  Carl Van Vechten, Gaston Lachaise, Alfred Stieglitz, Georgia O'Keeffe, Pavel Tchelitchew, Virgil Thomson, and many others.
The dollhouse is large, more than four feet long and three feet high, and it used to be peopled with little plaster figurines of some of the salon's spell-casters. They're gone now. You need to get in close; even the details have details. Start anywhere and make your way around and around; take your own sweet time. The foyer is a splendiferous grayish-pale yellow and malachite-green architectural fantasy with tiny silver and gold topiary trees in white urns, and cellophane curtains tied with cherry-colored ribbons. Did I mention the red velvet carpet? Or the enclosed elevator with formal floral bouquets? The nursery is papered with one of Carrie's collages and a dreamy frieze of Noah's ark. 
After inspecting the kitchen with its wee pots and pans, linen room with linen sheets and woolen blankets, and the bedroom with its Limoges vases and blue taffeta drapery, you can begin gawking at the Ballroom, often called the gallery. Here, in addition to a powder-blue piano, neoclassical fireplace, and gold-and-white-painted wooden floor is one of the most transporting collections of miniature art that you may ever see. Marcel Duchamp contributed a perfect 2-by-3 inch rendition of Nude Descending a Staircase. (Who says New Yorkers have to go to the Philadelphia Museum of Art to see this modernist touchstone? We can get smidgens of the fix it provides right here in town.) Nearby in the house's gallery are even smaller nudes by Marguerite Zorach and Alexander Archipenko. There's a micro-cubist portrait by Albert Gleizes, William Zorach's thumb-sized bronze Mother and Child and Lachaise's alabaster nude. I've heard there's a George Bellows here somewhere, but I've never spotted it. Maybe I'm just too hypnotized.
The other day I found myself thinking about Warhol's factory and how he would have loved the Stettheimer salon. Then I found this from Warhol: "Florine Stettheimer was a wealthy primitive painter, a friend of Marcel Duchamp's, who'd had a one-woman show at the Museum of Modern Art in 1946, and her sister Carrie made some fabulous dollhouse that I loved at the Museum of the City of New York." 

I told you that there's greatness in the woodwork of New York. Happy New Year.