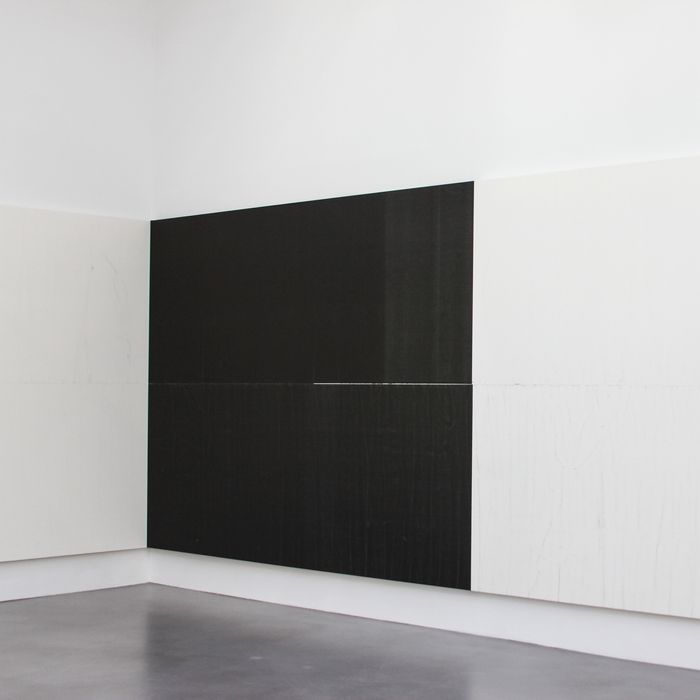 Photo: Arman Dzidzovic/Courtesy of The New York Observer
What was Wade Guyton to do? When last we saw him in his full-on 2012 Whitney retrospective, deploying Microsoft Word, Adobe Photoshop, bitmapped files, and inkjet printing on linen, Guyton had non-painted himself into a corner. On the one hand, he pushed these technologies beyond their limits in amazing ways, establishing a signature open way of making paintings that proceeded from artists like Reinhardt, Kelly, Warhol, Robert Morris, Dan Flavin, Christopher Wool, and the Pictures Art crowd. He developed a complex quantum touch, simultaneously there and not there, located between painting and printmaking, a computer and a printer, and dependent on the transmission of pure information. I liked two of the para-paintings in his survey so much I had the artist Vincent Zambrano make me perfect copies, using TIFFs of the originals, processed through Adobe Illustrator. I love them.
The shortcoming was that while Guyton found or invented a new paintbrush and process — no small achievement — his imagery and compositional strategies were familiarly modernist, minimal, and postminimal. Stripes, bands, dots, geometric configurations, and other generic abstract motifs — all were from the classic-rock era of painting. These compositional tics felt more nostalgic and imposed than discovered, less original or risky than his unique process. Guyton's paintings were glamorous in part because they were in such good art-historical taste.
His first gallery outing after the retrospective is even more puritanical in its post-minimalism, using as its sole compositional motif a 2007 digital file of his plywood studio floor. Yet this show is an impressive sight and experience, a breaking-away from his corner. Guyton has gone the full Richard Serra with this show: five gigantic new ink-on-stretched-linen paintings, each nine feet high, made by twice feeding the folded material through a printer, once for the top half, once for the bottom. The works are sized specifically to the gallery's walls, always touching at least one and usually two corners. All are between 25 and 52 feet long. There's also a 24-foot plywood sculpture covered in walnut veneer propped on concrete blocks. The shelflike form is based on the coat-check counter at the Carnegie Museum in Pittsburgh, and it's instantly vexing and fantastic, the kind of thing you can ponder for a long time and not be able to take its full artistic measure. Which is saying a lot for this otherwise simple Richard Artschwager–like sculpture.
As is typical in Guyton's printed paintings, all the surfaces are sensual, marked with skids, striations, inconsistent ink densities, smudges, and other digital glitches. This adds an uncanny layer to the megapresence of these works, giving them a humility. Enlarged so, the paintings cease to be anything identifiable, and have more to do with forces measuring space, the urge to extend one's arms to the walls and feel for openings, to define confined volumes, to sense how one occupies space. The paintings are huge freak flags, flatbeds moved from floor to wall via the computer, explorations, and delineations of the poetics of space. Not bad for things that should be really boring and look like sound-proofing panels. They're hypertextiles.
In measuring out and scaling space, this way Guyton picks up on post-minimalists like Dorothea Rockburne, Barry LeVa, and Mel Bochner, all of whom filled up empty spaces with material that defined, deconstructed, or questioned ideas of art and its marketing. In his "Theory of Sculpture" series from the sixties, Bochner deployed chalk lines, stones, and tape to make familiar shapes in variously tangible ways. Like Bochner's work, Guyton's will cease to exist in just the same way once it's removed from this space. These works are not scaled to any home, anywhere — meaning that virtually no collector can buy and display it unless he's willing to rebuild to fit the art. Guyton is laying down new markers for himself and his audience.
I'm old-fashioned and still wish he'd look beyond his minimalistic motifs and find other compositional strategies. Still, there's no denying that this show is spatially, materially, visually, and conceptually forceful, making the space of the gallery very real in the mind.
Guyton's show is at Petzel Gallery through February 22.