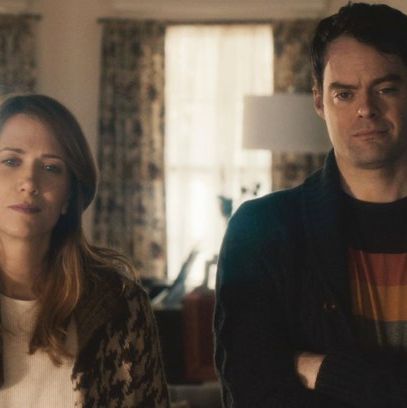 You wouldn't necessarily expect a movie about depressed twins on the brink of suicide to be a crowd-pleaser, but The Skeleton Twins pulled off that feat at Sundance today thanks to its dynamic starring duo of Bill Hader and Kristen Wiig. Audiences were buzzing about Hader's surprisingly skilled dramatic turn — as a self-lacerating gay man, he handles his first major lead role with aplomb — but there's plenty of dark comedy here, too, which the ex–Saturday Night Live stars obviously excel at. And nowhere is that tricky blend of comedy and tragedy better navigated than in the film's showpiece sequence, an epically choreographed lip-synch to Starship's "Nothing's Gonna Stop Us Now."
First, a little setup: Hader and Wiig play fraternal twins who haven't spoken in ten years, but they're brought back together after a drunken, emotionally depleted Hader slits his wrists in the film's opening scene. As luck would have it, the call from the hospital that's treating Hader interrupts Wiig's own coincidentally concurrent pill overdose, a reminder that these twins are more alike in their misery than they'd care to admit. Still, once Hader moves in with Wiig and her husband Luke Wilson to convalesce, both their commonalities and their differences come rising to the surface, and, like most close siblings, just about all of it is fair game for a fight.
Which brings us to the lip-synch in question. After Hader arrives late to a job that Wiig secured for him (he was still recovering from a drunken, illicit hookup with Modern Family's Ty Burrell, of all people), the mood between the twins that night is as frosty as ever, at least until Hader puts on "Nothing's Gonna Stop Us Now" and begins an impressively choreographed lip-synch designed to thaw her defenses. Hader busts out slick moves and works the room like a contestant up for elimination on RuPaul's Drag Race, and even though you know that the eventual reconnection is coming — these twins know exactly which buttons to press to get the other to fall in line — Wiig so masterfully underplays her last-minute decision to join this one-sided duet that the Library Theater burst into delighted cheers when the moment finally came. It's the scene in the movie that you're going to be searching for on YouTube four years from now.
"I choreographed the whole thing," Hader laughed during the post-premiere Q&A. "I came in there and said, 'No no no no, this is how it's gonna go.'" All jokes aside, Hader said that the lip-synch scene is one of the things that drew him to the project: "I have two younger sisters and that's actually something we do together."
"The most important part of that scene was that it was dramatic," added director Craig Johnson. "As long as there was some sort of tension in it — for a lot of the scene, Bill's trying to get Kristen to sing — that was more important than the dance moves."
How did Johnson know that Hader was capable of the movie's dramatic demands? "The truth is I didn't know," Johnson said. "I have to give mad props to Avy Kaufman, our casting director. We were thinking about some people and I must say, Bill wasn't on my initial radar." But Kaufman remembered attending a script reading years ago where Hader ably held his own with stars like Kate Winslet and suspected he could deliver.
Still, though Hader will no doubt surprise people in the role, there is one unavoidable S-word that came up at the premiere: Gay club kid Stefon, Hader's most famous character from Saturday Night Live. "The only thing those two people share is being gay," said Johnson, who praised "Bill's sweet nature and sensitivity, which you might not get so much when you watch Stefon. Although I guess Stefon is a sensitive guy, right?"
Deadpanned Hader, "Well, he's done a lot of drugs."