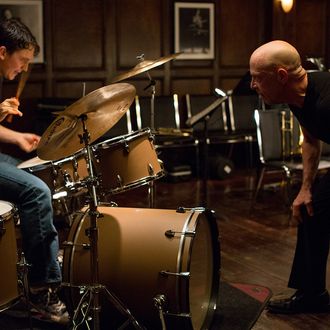 Miles Teller and J.K. Simmons in Whiplash.
Photo: Daniel McFadden/2013
I wasn't kidding when I said Whiplash was the strongest Sundance opening film in years. Tonight, first-time director Damien Chazelle's furious jazz-drumming psychological thriller (yes, that's a pretty apt description, and it's totally awesome) won both the Audience Award and Grand Jury Prize in the U.S. Dramatic category, a feat previously achieved by last year's Fruitvale Station and 2009's Oscar-bound Precious. Fruitvale's lack of end-of-season awards has thrown my radar off somewhat, but something tells me that Whiplash, which also sold to Sony Pictures and Sony Classics in the first big deal of the festival, may have a bigger commercial run; it also has a higher potential for acting awards — for J.K. Simmons, who gave one of the festival's great performances as an in-your-face, insult-spewing jazz band instructor, and Miles Teller as his most promising student, banging and sweating and bleeding his way to greatness.
Nick Offerman co-hosted the awards ceremony with "this sweet piece of action," as he described his wife, Megan Mullally. "There's no other place we'd rather get our swerve on than right here in Park City, Utah," said Mullally. "Because our absolute favorite place to commit the act of love is during the screening of an independently financed film." Offerman concurred: "Indeed, there's just something about a movie made outside of the studio system that makes me want to buy some popcorn in Megan's downstairs lobby … In short, we have seen your movies and we have found them arousing." They also joked that Offerman's nickname for Mullally's vagina is "Robert Redford's face."

Rich Hill, a cinéma vérité look at three teenage boys living in backwater Missouri, took the U.S. Grand Jury prize, while Alive Inside: A Story of Music & Memory, about how music can ease the pain of Alzheimer's patients, took the U.S. Documentary Audience Award. 20,000 Days On Earth, a documentary about 24 hours in the life of rocker Nick Cave, won two awards, for directing and editing in World Documentary; and The Case Against 8, about the fight to overturn California's ban on gay marriage, won prizes in directing and editing for U.S. Documentary.
The Skeleton Twins director Craig Johnson and his co-writer Mark Heyman (Black Swan) won the Waldo Salt Screenwriting Award for their funny, bittersweet story of estranged twins (played by Bill Hader and Kristen Wiig) who reunite after joint suicide attempts. (It sold to Lionsgate, Roadside Attractions, and Sony Pictures Worldwide Acquisitions for a reported $3.5 million, which may be the biggest deal of the festival.)
Every year, the juries create unique Special Jury prizes designed to reward films for a very specific achievement. This year was more specific than usual: A U.S. Documentary Special Jury Award for "Intuitive Filmmaking" went to The Overnighters, about a group of men in the North Dakota oil fields. Dear White People's writer-director, Justin Simien, won a prize for Breakthrough Talent. A World Cinema Documentary Special Jury Award for Cinematic Bravery went to We Come As Friends, a French-Austrian movie about "a science-fiction-like journey in a tiny homemade flying machine into the heart of Africa." And Belle & Sebastian front man Stuart Murdoch's musical God Help the Girl won a prize that should win a second prize for being the longest-named prize ever: World Cinema Dramatic Special Jury Award for the Delightful Ensemble Performance, and How the Director Brought His Own Universe into Cinema.

Below, the complete list of winners:
U.S. Grand Jury Prize, Dramatic: Whiplash
U.S. Grand Jury Prize, Documentary: Rich Hill
World Cinema Grand Jury Prize, Dramatic: To Kill a Man
World Cinema Grand Jury Prize, Documentary: Return to Homs
Audience Award, U.S. Dramatic: Whiplash
Audience Award, U.S. Documentary: Alive Inside: A Story of Music & Memory
Audience Award, World Cinema Dramatic: Difret
Audience Award, World Cinema Documentary: The Green Prince
Audience Award, Best of NEXT: Imperial Dreams
Directing Award, U.S. Dramatic: Cutter Hodierne, Fishing Without Nets
Directing Award, U.S. Documentary: Ben Cotner and Ryan White, The Case Against 8
Directing Award, World Cinema Dramatic: Sophie Hyde, 52 Tuesdays
Directing Award, World Cinema Documentary: Iain Forsyth and Jane Pollard, 20,000 Days on Earth

Waldo Salt Screenwriting Award, U.S. Dramatic: Craig Johnson and Mark Heyman, The Skeleton Twins
Screenwriting Award, World Cinema Dramatic: Eskil Vogt, Blind
Editing Award, U.S. Documentary: Jenny Golden and Karen Sim, Watchers of the Sky
Editing Award, World Cinema Documentary: Jonathan Amos, 20,000 Days on Earth
Cinematography Award, U.S. Dramatic: Christopher Blauvelt, Low Down
Cinematography Award, U.S. Documentary: Rachel Beth Anderson and Ross Kauffman, E-TEAM
Cinematography Award, World Cinema Dramatic: Ula Pontikos, Lilting
Cinematography Award, World Cinema Documentary: Thomas Balmès and Nina Bernfeld, Happiness
U.S. Documentary Special Jury Award for Use of Animation: Watchers of the Sky
U.S. Documentary Special Jury Award for Intuitive Filmmaking: The Overnighters
U.S. Dramatic Special Jury Award for Musical Score: The Octopus Project, Kumiko, the Treasure Hunter
U.S. Dramatic Special Jury Award for Breakthrough Talent: Justin Simien, Dear White People
World Cinema Dramatic Special Jury Award for the Delightful Ensemble Performance, and How the Director Brought His Own Unique Universe into Cinema: God Help the Girl
World Cinema Documentary Special Jury Award for Cinematic Bravery: We Come as Friends
Short Film Audience Award: Chapel Perilous