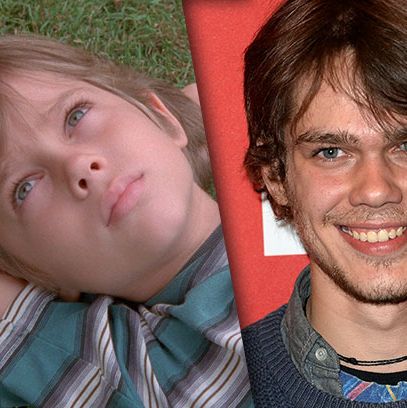 Actor Ellar Coltrane at 7 (left) and 19 (right).
"4,207 days ago, we started shooting this film, and we're really happy to be here," director Richard Linklater said last night at the Sundance Film Festival, introducing his unique new film Boyhood with a lopsided grin. To call his movie highly anticipated would have been an understatement, since few films have been teased as long as this one: The thing that gives Boyhood its unusual kick is that Linklater has been shooting it in three- or four-day increments for the last twelve years, meaning that in this coming-of-age story, we literally watch the protagonist (played throughout by Ellar Coltrane) age from 7 to 18 years old.
No fiction director has ever attempted such a long-lasting project, and if it had been anyone other than Linklater (who has also smartly chartered the passage of time in his years-spanning Before Sunrise trilogy), you can imagine how mawkish Boyhood might have turned out: Before the film, everyone I spoke to was already expecting to cry as this young boy's life flashed before our eyes, his moments of childhood innocence slipping away from scene to scene. But Boyhood isn't the film you're expecting. It's intimate and elusive, and the landmarks that usually turn up in most other coming-of-age stories are all but absent here: We don't watch our protagonist, Mason, experience his first kiss or even hear about his eventual loss of virginity. Prom is only mentioned in passing, and only one birthday is celebrated onscreen. Except for a few flashes of high drama when Mason's mother (Patricia Arquette) marries an abusive alcoholic, Linklater avoids big, definitive scenes, preferring instead to show us the smaller moments in between. One youthful sequence follows the excited Mason into a book release party for Harry Potter and the Half-Blood Prince; later, when the more fully grown Mason asks his divorced father (Ethan Hawke), "Dad, there's no real magic in the world, is there?" Linklater trusts you to fill in the gaps.
Even the transitions from year to year happen in ellipsis: In one early scene, we watch Mason's mom flirting with a new character, her college professor, and in the next, they're returning from their honeymoon. "In the early years, I had abrupt transitions that were kind of clever," Linklater confessed at the post-premiere Q&A, "but I ended up cutting out some of those and trying to make them less noticeable." The effect is that you mostly track the passage of time though the pop-cultural ephemera cropping up in the margins (the temporary soundtrack starts in the "Oops, I Did It Again" era and ends with Daft Punk's recent hit "Get Lucky") and even more crucially by the length of Mason's ever-evolving hair. Still, some transitions can knock the wind out of you: When we see Mason shrug his shirt off at 12, his pear-shaped body still ringed with baby fat, it's startling to see the next scene, where mere months later, he's a foot taller and whippet-thin. (The young father sitting next to me, especially susceptible to this sort of thing, gasped and muttered an anguished "God!" at the reveal.)
"Around 12 or 13, it began to gradually dawn on me what was actually happening," Coltrane said at the premiere. "Later on, the character started to merge with my actual life, and it became much easier."
Did Linklater know exactly where the film would go when he started shooting? "I'd say the structure of the film was worked out, pretty much," Linklater said. "By the second year, I knew the last shot of the movie … but even though I had a contour for this movie, it was always gonna go where they went. If he grew up to be a wrestler, maybe that would have worked its way in."
Instead both Mason and Coltrane became a little more punk as Boyhood progressed, and the character grew to accommodate Coltrane's own affectations, like a studded ear and painted nails. (One thing Boyhood gets so right is how utterly inexpressive most teenage boys can be, so when Mason finally starts exhibiting his own point of view, you're actually proud of him.) Linklater also cast his own daughter Lorelei as Mason's sister, and her onscreen aging is just as profound. Still, laughed Linklater, "I remember around year three, Lorelei came to me and asked me, 'Can my character, like, die?' It is cruel to hold a 9-year-old to a twelve-year contract — which doesn't exist, by the way!"
The film wrapped its final section this past October, and both Linklater and Coltrane confessed that the moment arrived with an emotional wallop. "I mean every shoot, even if it's a three-day shoot, when you hear 'This is the martini' — meaning it's the last shot — it's always kind of like, 'Aww,'" said Linklater. "But to hear that after this long a time … it was pretty intense, man.
"I was feeling inside of myself this great relief and sadness at the same time," added Coltrane, who's now 19.
So would Linklater ever pick up Mason down the line for a sequel, in much the same way he's followed Celine and Jesse through the years-apart follow-ups to Before Sunrise? "We've never even talked about that," confessed Linklater. He turned to Coltrane and sized him up, unable to stop himself from pitching the sequel: "We'll pick him up as a young parent." And time goes on and on.