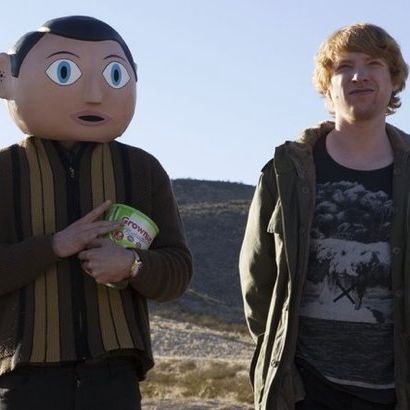 After playing a rapist slave owner, a tormented sex addict, and a defiantly starving IRA member, it's a relief to see Michael Fassbender finally access his lighter side in the delightful new comedy Frank, which debuted last night at the Sundance Film Festival. As the title character, the front man of a very unusual rock band, Fassbender gets to sing, shimmy, and show off some crack comic timing, and none too soon, with his villainous 12 Years a Slave role currently in the Oscar-nominated spotlight. There's just one little asterisk we should mention — one thing that keeps this screen performance from genially counterbalancing those many times we've seen Fassbender's furrowed, frustrated brow onscreen — and it's kind of a biggie: Fassbender spends Frank's running time wearing a giant papier-mâché head that he never takes off.
It's an absurd central joke that's even more out-there when you think about the face it's obscuring: All those jagged, striking planes of Fassbender's steadily more famous mug are swallowed up by a silly round mask so wide-eyed and cartoonish that it looks like like he should be fighting to free Princess Zelda in The Wind Waker. You'd expect that mask to limit his performance, but it's actually weirdly freeing: You get to search Fassbender's gangly physicality and suggestive voice for the performance instead. "He was very comfortable in the head," director Lenny Abrahamson said after the premiere, speaking for his star in absentia (Fassbender's busy filming Macbeth at the moment and couldn't make it to Park City). "He said he actually liked acting in the head."
I should note that Abrahamson was talking to a packed audience that had been given Frank masks of their own while entering; when the director asked everyone in the crowd to put the masks on at the same time, the overall effect of these thousands of chidlike Franks staring back at him was half horror movie, half lunatic comedy. But people were all too happy to don (and keep) the Frank face, which seems apropos given the film's story: Frank is so compelling in his totally forthright hiddenness that he's who all the other characters aspire to be.
The movie begins with sadsack Irishman Jon (Domhnall Gleeson), a wannabe singer-songwriter who feels thwarted by his totally normal, healthy upbringing; instead of writing personal anthems that tap into a rebellious anger that he doesn't have but desperately wishes to possess, Jon wanders aimlessly around town, live-tweeting his dull lunch breaks from work with the half-hearted hashtag #livingthedream. Fate intervenes when Jon happens to meet Frank and his eccentric bandmates. They're looking for a new keyboardist (the last one forebodingly tried to drown himself) and that just so happens to be Jon's specialty.
Frank's acidic bandmate Clara (Maggie Gyllenhaal) is wary of the interloper — she memorably warns him, "Stay away from my fucking theremin" — but Frank warmly welcomes Jon into the inner circle, or at least seems to (it's hard to tell when his expression never changes). The other bandmates are in Frank's thrall, murmuring of their leader, "He lives all the way out there, man, in the furthest corners," and though Frank can be tempestuous and very well might be mentally ill, Jon thrills to what the unpredictable group dynamic is doing for his creativity: "I have found my abusive childhood," he says happily.
As you might imagine given the premise, the film is sort of a tonal high-wire act, and while it played well in the room, reviews were decidedly mixed: Variety's Peter Debruge was charmed, but Todd McCarthy ripped the movie a new one in a scathing review filed this morning. I found it kinda wonderful, especially loving the comic lines that the film seems to toss out like a boomerang that arcs back and hits you in an unexpected way; at one point, while pondering Frank's essential unknowability, Jon wonders in voice-over, "What goes on inside the head inside that head?" But Frank is the very definition of a cult comedy, and even Gyllenhaal confessed she didn't initially get it. "I did not understand it at all when I first read it," she said at the premiere. "At first I said no, and then a couple weeks later, I called Lenny back and said, 'Please, can I do it?' It took me a while to understand the tone, but once I was in it, I was in it."
Perhaps it all comes down to what you can project onto that giant head, and everyone brought something different to the table: Some were weirdly touched by Frank's eternally innocent visage, while others continued laughing at his reaction shots all the way up until the end. For her part, Gyllenhaal went into the project so convinced that Clara was Frank's one true love, that when she got onto set with Michael Fassbender, she'd be able to access a love that was pure and strong amid the film's prevailing weirdness. It wasn't easy. "In fact," she laughed, "it's very difficult to be soul mates with someone who has a big head on.