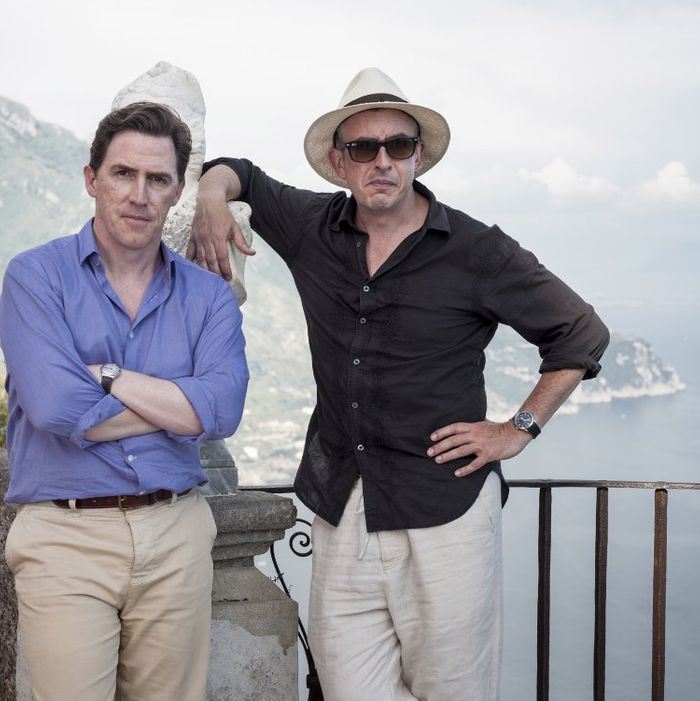 Let's get straight to the question you're dying to know about The Trip to Italy, director Michael Winterbottom's sequel to 2010's The Trip, in which Steve Coogan and Rob Brydon spend a man-cation eating and one-upping each other: Are there more dueling Michael Caine impressions? The answer is yes — an emphatic yes. And even though Coogan declared in the original that "anyone over 40 who amuses themselves by doing impressions needs to take a long, hard look in the mirror," Caine isn't the only actor from The Dark Knight Rises who is subject to their withering imitations.
The topic of Batman movies comes up in the film when Coogan and Brydon, who are being sent on a second trip to to review restaurants, talk about how sequels are never as good as the originals. They do competing impersonations of Caine talking to Master Bruce, throw in a little jab at Jude Law (Brydon: "He's quite young-looking, Jude Law." Coogan: "He's balding. He's got that young, bald look."), and then move on to imitating Tom Hardy and Christian Bale "competing to see who is the least understandable." Each of them starts mumbling unintelligibly through their hands as if talking through a scuba mask, while throwing in comments like this Brydon quip about Hardy: "He's very muscular, so he's a very good actor." It culminates in a hilarious sequence where Brydon pretends to be the shy assistant director who has to tell Tom Hardy that no one can understand him, while Coogan imitates Hardy, mumble-yelling like Godzilla. (In the end, everyone decides they were mistaken and could understand Tom Hardy perfectly well this whole time.)
Because they're in Italy, Brydon has plenty of opportunities to do his Al Pacino. And they make sure to get in digs to other celebrities as they go. Brydon: "Where do you stand on Michael Bublé?" Coogan: "His windpipe."
As the pair set out in Piedmont to work their way down through Italy to the Amalfi Coast, they've rented a Mini Cooper with a broken iPod jack and are forced to blast the single CD that Brydon bought: Alanis Morissette's Jagged Little Pill. Brydon this time is the one dabbling with the ladies, despite a wife and small son at home; Coogan has wrapped the second and final season of the TV show he'd turned down at the end of The Trip, has stopped drinking, and is trying to repair his relationship with his son.
Death comes up constantly, starting with Coogan's statement to Brydon as soon as they get in the car: "The only time I'd snuggle up to you is if I was on the Eiger on a shelf and not doing so would mean I'd freeze to death." Brydon: "We could also wee on each other as well." Over lunch, they imagine a plane crash in the Andes where they'd have to start eating other passengers, and when and how they might start devouring the likely very succulent British Olympic champion long-distance runner Mo Farrah. "If he was paralyzed from the waist down, would you start eating those fantastic legs?" Coogan asks, then announces he'd probably refuse to eat Brydon, for lack of tastiness. But they both agree they'd gladly eat each other if the only legs up for grabs were Stephen Hawking's.
At the post-screening Q&A, the duo explained, disappointingly, that their banter isn't quite like that in real life. They filmed their lunches and ate offscreen dinners together where the conversations were far nicer. "Both of us cried on different occasions," said Coogan. "We had a lovely time this time," said Brydon, who ate less on this trip because he'd gained eight pounds on the last one. "I suppose the difference is we don't see that much of each other normally, so we would never go on that kind of trip in reality, and the conversations would be far more …  supportive of each other. They'd be duller and there wouldn't be impressions and we wouldn't be trying to push each other's buttons. We were in tears on more than one occasion, talking about the passing of the years."
But most of the dialogue did come straight from their heads. The Batman screed was never on the page; pretty much nothing was other than the basic story line involving Coogan and his son, and Brydon's landing of a sizable role in a Michael Mann movie. "There's not really a script at all," Coogan told the crowd, "but then, when there is a script with Michael, I mean, I gave up learning the script with him, because even on scripted films he'll go, 'Uh, I'm not really interested in this. Let's do something else.'"
They said that the shoot took place over four weeks and was as enjoyable as it looked. "It was just sort of spellbinding scenery wherever we went," said Coogan, "and we diminished it all by talking crap." Coogan also admitted to being "a bit discombobulated" by the choice to blast Alanis Morissette but eventually came around. "There's something wonderful and poignant and pathetic and sort of poetic about two middle-aged men singing to a sort of angry adolescent." Asked if they'd team up for another, Coogan referenced the Before Sunrise movies in saying it was quite likely: "Well, if Richard Linklater can do three, I think we can."
If their banter is just for show, the filmmakers gladly gave the crowd a little of what they wanted. When a woman stood up to tell them how amazing they all are, and wanted to know if people had started to recognize them from The Trip, Coogan replied, "Well, when they come up to me, they say to me, 'Hey, Steve, I loved you in that thing The Trip with that other guy.'"
Brydon: "I just think it's great that your agent has come along tonight and she's talking you up."
During another answer, Coogan pointed out that people were walking out. "It must be you," he said to Brydon.
Brydon: "They want to go out to see Philomena."
And of course, there were requests for new impressions, which neither of them indulged. Coogan said he had a few more up his sleeve that he planned on unleashing at a later date, but "Well, Rob's repertoire is quite limited."
If they couldn't do more celebrity impressions, could they at least do each other? "Well," said Coogan, "Rob can do me, but I can't be bothered to do him. That sounds like an ironic answer, but it's actually the truth."