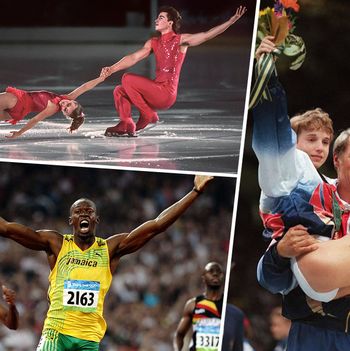 Tomorrow, Lifetime will air The Gabby Douglas Story, a heart-tugging film about the 16-year-old gymnast who moved far away from her family and trained her whole life to become the 2012 All-Around Olympic champion. This is wonderful for Gabby Douglas, who was endearing and triumphed and certainly deserves her own very cheesy biopic. But you know who else deserves a cheesy biopic? The many Olympians listed below. Make them all, Hollywood! We deserve inspiring human-interest stories every year — not just during the Olympics.
Ekaterina Gordeeva and Sergei Grinkov (figure skaters, 1998, 1994) should get a … biopic.
But like a really weepy, Nicholas Sparks–style biopic, because this story (spoiler alert) is devastating. Short version: Gordeeva and Grinkov met as teenagers; they skated for the USSR; they fell in love, got married, had a baby, won the gold medal in Lillehammer in 1994, and then … Sergei collapsed on the ice during practice. He died. She skated a whole tribute program to him, which you can watch here, if you don't mind weeping for the rest of the day.
Oscar Pistorius, a.k.a. the Blade Runner (sprinter, 2012 Olympics), should get a … procedural.
There is surely already a Law & Order episode in the works about Pistorius, who was the first double-leg amputee to ever participate in the Olympics and who was then arrested for the murder of his girlfriend in 2013. (He shot her through the bathroom door; he claims it was self-defense.) A season-long procedural might have to get flexible with the details — some sort of conspiracy should probably be involved (if it isn't already!) — but this seems like a ready-made cable drama, right down the unusual accents.
Surya Bonaly (figure skating, 1992, 1994, 1998) should get … a biopic
During figure skating's nineties heyday, Bonaly stood out not just for her talent, but also because she wore unusual bodysuits and frequently skated to avant-garde music (or nature sounds). She also has a pretty fascinating backstory: She was already a decorated tumbler when a figure-skating coach discovered her at 10, and that coach created a fake story about Surya's origins to garner media attention. (This 1995 profile of Bonaly is riveting.) Whatever demure princess-y image we might associate with female figure skaters never seemed like it applied to Surya, and in her final program at the Nagano Olympics, she performed an illegal backflip — as a fuck-you to judges.
Kerri Strug (gymnast, 1996) should get a … reality show.
She taught a generation of young women about perseverance (or about performing life-threatening feats and possibly destroying a limb because a Romanian man is yelling at you). So who is better qualified to coach brave Americans through major life events of their own? Strug would help unemployed mothers find new jobs, or encourage timid children to stand up to bullies. The vault would play during every title sequence. U-S-A! U-S-A!
Dan O'Brien (decathlon, 1996) and Dave Johnson (decathlon, 1992) should have … a buddy sitcom.
Recall the walk-up to the 1992 Barcelona Olympics. There were these commercials. "Dan & Dave." Rivals and friends! The commercials were everywhere and they absolutely made O'Brien and Johnson the face of the decathlon. (Sorry, Bruce Jenner.) Then O'Brien shockingly failed to qualify for the '92 games, though Johnson won a bronze. Johnson then retired, and O'Brien won a gold medal in Atlanta. But there's no real need to stick to the exact facts of the story: A comedy set within the world of elite track-and-field competitors, where the top two guys are are pals? It could be called Athletic Achievement, and feature high jinks.
Dan Jansen (speed-skating, 1984, 1988, 1992, 1994) should get a … heart-warming sports-triumph story.
If someone made a fictional movie with the plotline of Dan Jansen's actual life, it would be too schmaltzy: Jansen was a heavy favorite to win in the 500- and 1,000-meter races at the '88 Games in Calgary. Then his sister Jane died of leukemia hours before his 500 race; Jansen crashed. He didn't complete the 1,000, either. In '92, he finished fourth in the 500 and 26th in the 1,000, despite breaking world records in those years' other competitions. Finally, in '94, he finished eighth in the 500 — but he won the 1,000! His not-favorite event! And he set a world record while doing so! And then, after the medal ceremony, he took a customary victor lap while holding his baby daughter, Jane.
Usain Bolt (sprinter, 2004, 2008, 2012) should get a … reality show.
A by-no-means-comprehensive summary of the activities chronicled on the very charismatic Bolt's Instagram: motorbike racing in Jamaica; cooking with Jamie Oliver; playing the piano; crashing a wedding in Paris; reviewing the Drake album; meeting Jay Z; purchasing Call of Duty; winning a bunch of medals. Don't you want to watch this show?
The 1996 Atlanta Bombing should be … an action film.
ESPN just released a "30 for 30" short on Richard Jewell, the security guard who was falsely accused of the 1996 bombing at Centennial Olympic Park in Atlanta. It is excellent, but it's only part of the story; Jewell was later exonerated and Eric Rudolph, the real bomber, was arrested after living in the woods for several years. The bombing, the false accusations, the dramatic hunt for the radical anti-abortion fugitive: Your action film is already written.
America's First Family of Curling deserves … a Duck Dynasty–style family reality show.
Siblings Erika and Craig Brown were born into a curling family: their parents have won two national titles together, and their father is one of America's most decorated curlers. Sochi will be Erika's third Olympics and Craig's first, and Erika is married to a world-champion curler, too. The show could be called Curling Up With the Browns, and it could educate us all about the wonderful world of curling.
All the different mascots should have … a documentary.
How is there no documentary about the creation process for every Olympics' mascot? Sam the Olympic Eagle from 1984 is a treasure, while Izzy, the "whatizit" mascot for the 1996 Atlanta games, is an abomination. Hodori the tiger from Seoul was great, and Cobi the dog from Barcelona would be the best ever if not for Quatchi the Sasquatch from Vancouver. Sometimes the mascots seem very important, other times less so. Walk us through the whole process, please!