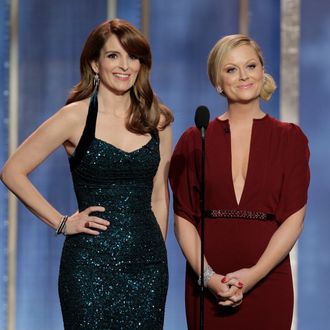 Amy Poehler, the best.
Photo: Handout/Getty
Hosting an awards show is a lot of work, demanding hours upon hours of writing and rehearsing. Which is why, in an interview with The Hollywood Reporter, Amy Poehler, who's getting ready to host the Golden Globes a second time with pal Tina Fey, would not waste time on cheap interview questions. Though done separately, her and Fey's answers are put next to each other, creating a sharp contrast between Fey's willingness to do bits and Poehler's unwillingness to suffer fools. For example, when THR jokingly challenged them to wear Amy Adams's American Hustle dress for $1,000, Fey responded, "First of all, if you think my going rate for anything is $1,000 you are looking at an old catalog. I get at least $12,000 to dress up in sexual costumes for people. I would wear that for free. You would not have to pay me to wear that." Poehler: "Oh eww, I don't want to even answer this question. Pass. Next." Read some other great responses below and revel in how much of a boss Amy Poehler is.
When asked about the worst awards-show joke she had been pitched: 
"You think I'm going to tell you a bad idea for a joke? You're f—ing crazy. No!"
When asked if they have to do the show as a musical, after the popularity of Sound of Music on NBC:
"OK, I see what you're doing, you're going to set up jokes. I'm not falling for that. I didn't say any of that. I've worked at NBC for 12 years so I'm happy they had a successful night of TV." 
When asked about Seth MacFarlane's Oscar hosting and "boobs" song:
It's so hard to host. I don't want to comment on anybody else's performance. Why would you think that we would say anything about anybody's performance if we're getting ready to do our own? It's a hard to job to host anything. Period. 
When asked about the criticism over SNL not having an African-American female cast member:
Ugh, I don't want to talk about this. Pass.
When asked for new rules for the Golden Globes drinking game: 
So now I'm just writing a joke for you that I might want to use for the show. How about this for a drinking game? Every time I drink, everybody at home should drink. 
And remember: This was the stuff they kept in.