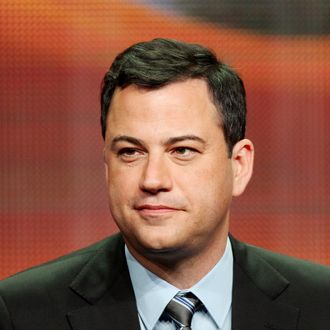 Photo: Frederick M. Brown/Getty Images
Back in October, Jimmy Kimmel Live aired a "Kids Table" segment about the childishness of the government shutdown in which a 6-year-old proposed the U.S. "kill all the people in China" to solve America's debt crisis (see it here). Naturally, the unscripted comment garnered some criticism, and both Kimmel and ABC apologized profusely. Still, someone started a WhiteHouse.gov petition asking the White House to "immediately cut the show," and, according to The Hollywood Reporter, it received 105,000 signatures.
On Friday, the executive branch finally responded (as it is obligated to do when a petition reaches 100,000 signatures), explaining to petitioners that a little thing called the First Amendment, which protects free speech, prevents such action. While they're aware of the offense that particular segment may have caused, we should accept both "Jimmy Kimmel's apology here and ABC's apology here" and maybe take it up with the FCC. Remember how well that worked with Miley Cyrus?