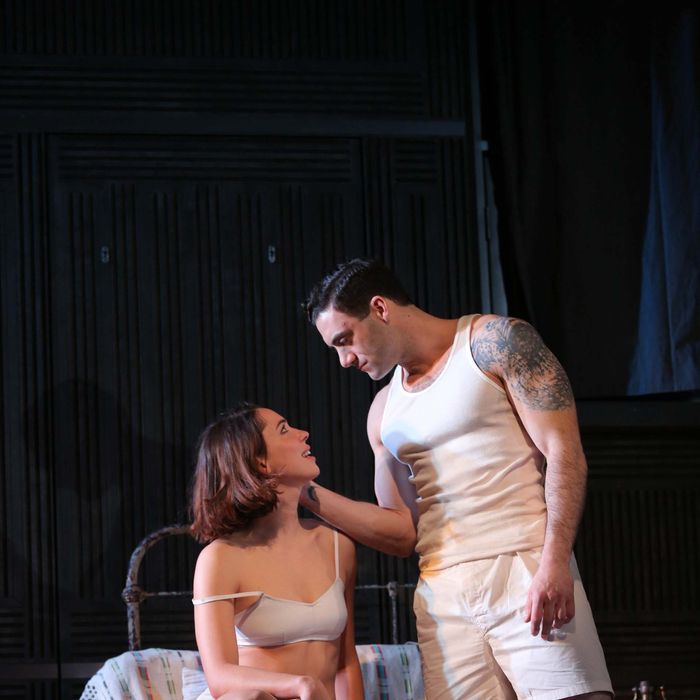 Though Sophie Treadwell didn't call for it in the text, the superb Roundabout revival of her 1928 play Machinal begins, quite fittingly, with a machine. In very dim light, we perceive a subway car crowded with gray humans lurching and shaking; a woman pushes through the throng, desperate for an exit. You feel her claustrophobic panic, the sense that this hell-tube is apt to crush her.
If you read into that image a vision of modernity (at least as seen from 1928) you would not be mistaken, but it is only partly sketched at this point. As the play proper starts, the train recedes into the gloom; it turns out to be part of a huge, revolving maze-like box, a kind of Art Deco cabinet of wonders, in which the actors will move from scene to scene in a forced march. It's like Sleep No More's McKittrick Hotel, only the rooms filled with the voyeurable doings come to you instead of vice versa.
The design, by Es Devlin, brilliantly lit by Jane Cox, is apt not only because it visually organizes the sprawling story that follows. The play itself is an odd amalgam of eyewitness journalism and expressionistic art object. Treadwell was, among other things, a reporter. (She was the only American to interview Pancho Villa, in 1921.) After years of covering "women's" news, often enough including the trials of murderous wives, she was moved by the Ruth Snyder case of 1927 to dramatize if not quite justify an apparently sane woman's killing her husband. In nine "episodes" taking place over six years — with titles like "To Business," "At Home," "Honeymoon," and "Maternal" — she puts her claustrophobic protagonist (who isn't given her scrap of a name, Helen Jones, until nearly the end) through the kinds of anxieties and humiliations that might understandably make anyone snap.
The real Ruth Snyder story, which also inspired Double Indemnity and The Postman Always Rings Twice, was too tawdry and venal for Treadwell's purposes: Snyder roped a lover into her plan to garrote her husband and collect the insurance. In Machinal, Helen Jones is less of a psychopathic narcissist and more of a rat-race refusenik. She can tolerate living with her shrew of a mother (Suzanne Bertish, terrifying) no better than she did the subway; in her office, she is literally out of sync with the other workers, who talk in a rhythmic symphony of syncopated nonsense. (They sound like mental patients performing "Rock Island" at the beginning of The Music Man.) This and their stereotyped movements (whipping paper from the typewriter; pulling the crank on the adding machine, plugging calls into the switchboard) turn them into automata, workers of the future, and in fact the word "machinal" is an obscure variant of "mechanical." But one of the ironies or confusions of the story is that they seem perfectly happy about it. 
Perhaps Treadwell was offering a style, not a critique, because only Helen, among the characters, can't take it. She hyperventilates, pulls at her hair, and seems on the verge of tears at all times. As delivered by Rebecca Hall in an overwhelming performance, her pressured speech is volcanic; the (interpolated) vision of her zombie wedding and (scripted) scene of her wedding night are excruciating. Granted, her husband, the boss she married to get out of the office, is a horrible prig, given to sententious self-congratulatory catchphrases. (Michael Cumpsty, a handsome man, has now made a brilliant specialty of playing undesirable boors.) He literally causes her to gag. Having a child merely alienates her further. It is only in the play's central scenes that she catches a break, in the form of a manly but gentle lover straight out of a Hollywood dream. (Morgan Spector ably fills the wifebeater of Clark Gable, who played the role in the original Broadway production.) In their two scenes together, the expressionism quickly seeps away, leaving behind a beautiful naturalism; whatever it does to the tonal coherence of the play is more than compensated in the release of tension it offers both Helen and the audience. For the first time, she feels normal in her world, as we do in the theater — ours.
The break for both her and us is temporary; as Helen's plight twists around her, the pressured speech and mechanistic dialogue return. Odd, how the legal lingo of her trial needs almost no tweaking to seem expressionistic. Odd, too, how such intense emotion is wrung from what seem like formal abstractions. Indeed, the play is so rigorously brutal and swift it almost gets to the end before you realize that the expressionism is a bit of a smoke screen, the alterations to the Snyder story a bit of a dodge. Helen Jones, deprived by Treadwell of a monetary motive, or even the motive of marrying her lover, is reduced to a Garboesque explanation: She wanted to be left alone. To avoid suggesting that such a woman must kill such a husband, and possibly even that all wives are such women, Treadwell strangles the sob-sister sentimentality and buries the unwarranted idea with her style.
But she sure is stylish. Also daring. How many commercial playwrights of her era, male or female, would include, without too much nose-holding, frank discussions of abortion, or a scene of "a middle-aged fairy" seducing a boy? For that matter, how many would offer a one-night stand as the high point of a heroine's life? Whatever moral shiftiness may be squirming beneath its surface, Machinal is at least as worthy of revival as O'Neill's Strange Interlude, another expressionistic drama that opened on Broadway in 1928. Happily, the Roundabout, which has been steadily upgrading its "classic" offerings in terms of both choice and execution, gives it the top-drawer mounting it deserves. The director, Lyndsey Turner, making an exceptional U.S. debut, pulls off the neat trick of realizing a Big Idea without letting it consume the play. She's also elicited compelling performances from the large supporting cast, and mustered all the technical elements into a comprehensible if resolutely mysterious whole. 
Now, everyone: Surely there is a follow-up Treadwell play worth producing from among her more than 30 others?
Machinal is at the American Airlines Theatre through March 2.