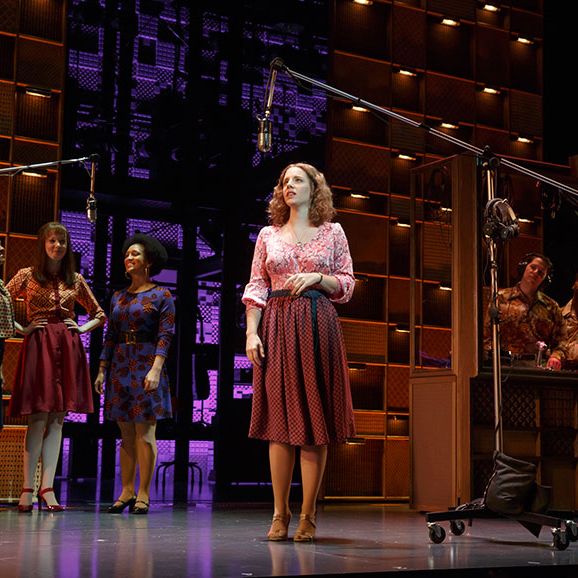 If the recently dead Funny Girl revival ever gets resurrected, producers should look no further than the stage of the Stephen Sondheim Theatre for their Fanny Brice. There they will find all the humor and verve and musicality they could want in Jessie Mueller, who steps up from supporting roles in her two previous Broadway outings to the huge and scary job of carrying a show. In Beautiful: The Carole King Musical (as it is awkwardly and not quite accurately called) she makes her success look easy, playing the title character almost better than the famously stage-frightened singer-songwriter ever played herself. Without slavish vocal imitation, Mueller is completely believable as King when she sings, catching both her sexy huskiness and the idiosyncratic way she adjusts the placement of her voice syllable by syllable. The result, regardless of its Kingliness, is thrilling and true — but it's not just a vocal performance. From the lineaments of the character she has created a symphony of shy line readings and bubbly self-doubt; from the limitations of having to perform much of the show with a piano blocking her body, she has devised a veritable neck-up ballet. She also manages the best (and most comprehensive) keyboard fakery I've ever seen on Broadway. It seems almost as great an achievement as the real playing it copies. 
Thus ends the rave. For, sad to say, Mueller is starring in a mess of a show that, caught between genres, has chosen the wrong models. We do not get the dramatic coherence of book biomusicals like Funny Girl, for instance, or the thematic purity of abstract stagings like What's It All About? Rather, Beautiful borrows the then-I-wrote (or co-wrote, or stole) jumpiness of jukebox nightmares like Motown. It'll probably run forever.
Not that the concept itself is bad. King's life has been both unique in its professional achievements and utterly representative in its personal challenges. On the one hand, there are her 118 pop hits, many written with her first husband, Gerry Goffin, starting with "Will You Love Me Tomorrow?" "The Locomotion," and "One Fine Day"; on the other hand, there's the ingrained sexism of her industry, Goffin's flagrantly humiliating infidelities, and her struggles as a working mother. As if that weren't enough, she and Goffin come complete with built-in musical-comedy foils: Barry Mann and Cynthia Weil, friends turning out hits from the next office over. 
The bookwriter, Douglas McGrath, has sensibly latched onto the competition between the two songwriting couples as the motor for his story. (The Mann-Weil songs in The Carole King Musical include "He's Sure the Boy I Love," "You've Lost That Lovin' Feelin," and, inevitably, "On Broadway.") The theme, though, is King's emergence as a "natural woman," neatly culminating with her solo triumph, Tapestry, in 1971. This also allows McGrath to sketch the profound changes that King helped initiate in the music business, bridging as she did the end of the songplugger era and the rise of the singer-songwriter. It's a smart way to conceive of wrestling a big life like hers onto the stage, if you've accepted that doubtful challenge in the first place. But the execution, perhaps hampered by legal concerns or the unfortunate example of Jersey Boys, is terrible. Like that whitewashed biography of Frankie Valli and the Four Seasons, which I've elsewhere called a slick bag of Vaseline, Beautiful is so riddled with historical inaccuracies you can see right through it. (Goffin's drug use and manic depression, for instance, are heavily sanitized.) But historical inaccuracy is forgivable, at least as entertainment, in the service of narrative coherence, which Beautiful almost virtuosically lacks.  
Basically, there's no time for it. To get the story into two and a half hours, anything that would take more than a minute to dramatize is instead explained in five seconds of ludicrous dialogue. At Queens College, in 1958, King is introduced to Goffin by his lab partner, who says, "He's a killer flirt. Even my frog has a crush on him." Later, after a jump cut in which the couple have their first child, the book attempts to reorient us by making King tell her frustrated publisher, Donnie Kirschner, what he surely would already know:
DONNIE: You okay? How's the baby?
CAROLE: She's good. She's almost 5.
DONNIE: Man, 5 years old already, the time really —
CAROLE: Five months.
DONNIE: Jesus, people count the months? Anyway, is the kid a problem? You're not giving me enough stuff.
CAROLE: It's hard. We don't earn enough from our music yet, so Gerry works as a chemist all day and by the time he gets home, he's dead. I've had a new song finished for a week, but he's too tired to do the lyrics. Plus, we still live with my mom, which doesn't make things easier.
(CYNTHIA WEIL appears, knocks on the open door.)
CYNTHIA: I'm sorry, I'm lost.
Is she ever. But more than one character is introduced into the story by showing up lost at a door. Little Eva, the Goffins' babysitter, doesn't even bother with a door; she just appears in their office at 1650 Broadway, through some sort of Bookwriter's Exemption, saying "Surprise!" Four lines later, having performed one of the now de rigueur before-your-eyes costume transformations, she's singing "The Locomotion" on American Bandstand.   
The shifty technique is straight from Jersey Boys, here covered by winks instead of smarm. Time after time, scenes that seem ready to evolve into drama are short-circuited by the realization that they were nothing but ruses to get to the next song. This gives the entire production an undercurrent of bad faith, and it's catching. By the time King tells Weil, Mann, and Kirschner she is moving to Los Angeles, even McGrath has given up. "What can I possibly say after all we've been through?" he has King ask. "So I'm not going to say good-bye. I'd rather say this." At which point she sits at the piano and offers "You've Got a Friend." The others, who have supposedly never heard it, harmonize beautifully at once.
Perhaps such material can't be well directed, but we will never know. What I can say is that Marc Bruni certainly hasn't improved it. The show is full of clunky transitions, dead space, scenes that peter out until someone mercifully snaps off the lights. Derek McLane's post-and-scaffold Jersey Boy-clone sets seem generic and tacky. (Perhaps the reason Goffin feels trapped in the house he and King move to in New Jersey is because its view is attached to the back of its windows. When the door opens, the view opens with it.) Even the big production numbers — the Righteous Brothers singing "You've Lost that Lovin' Feelin'," the Shirelles singing "Will You Love Me Tomorrow?" — fail to pop. (The choreography is by Josh Prince.) In a way, that may be historically accurate; King wrote for her own voice even before she dared to use it. It all sounded better on her.
Likewise, everything in Beautiful sounds better on Jessie Mueller. Or, for that matter, on Jake Epstein as Goffin, Jarrod Spector as Mann, and Anika Larsen as Weil. To the extent the show remains bizarrely enjoyable despite its essential hackishness, it's this central quartet of performers who make it happen. (The musical arrangements by Steve Sidwell are also good — and bonus points for hiring Dillon Kondor, King's grandson, on guitar.) Of course, there are the songs themselves, which excuse many faults. At one point we hear an actor playing Neil Sedaka sing his 1959 hit "Oh! Carol," supposedly written in heartbreak over King, whom he'd dated. "It's a song, not a deposition," King tells her worried mother. Beautiful is no deposition, god knows; there's virtually nothing true in it. But at its best, and only then, it's a song. 
Beautiful: The Carole King Musical is at the Stephen Sondheim Theatre.