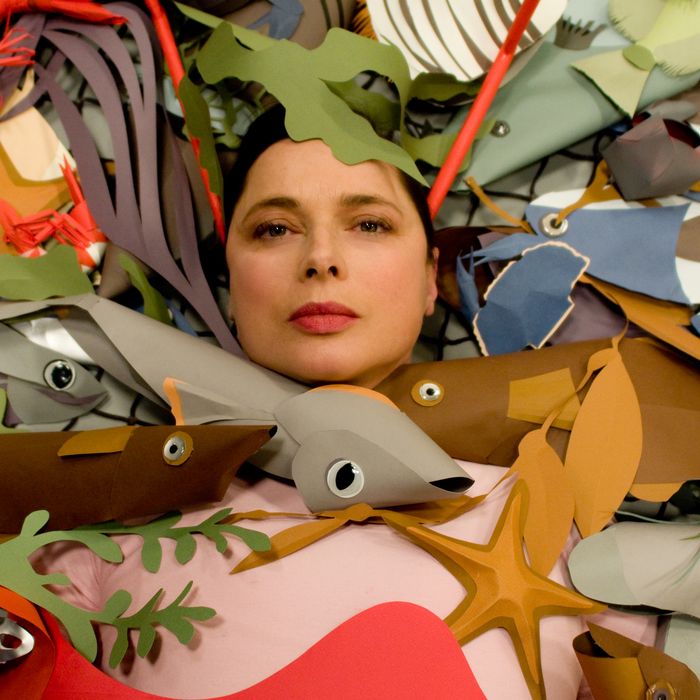 Considering how much of Green Porno is about aquatic sex, it's only fitting that Isabella Rossellini has chosen to stage her performance piece on the Fishman Stage, in the new Fisher Building, at BAM. In that auditorium-style black box, with no set but a screen and a podium, she delivers what amounts to a lecture with projected illustrations (she calls it a "conference") about the myriad ways reproductive biology functions throughout the animal kingdom. She's the best professor you could ever imagine: witty, lovely to watch, charmingly eliding non-Italian consonants so that the hamster she portrays at one point becomes an "amster." So what if the result has no business calling itself a play? As a seminar, it's about as much fun as you can have learning about the fun other creatures are having.
There is a light attempt to dramatize, or at least theatricalize, the material, with no less than Jean-Claude Carrière sharing the writing credit with Rossellini. (The production is staged by Muriel Mayette-Holtz.) There are many, often phallic, props. The floor-length black gown and pearls that Rossellini arrives in are soon shed to reveal other costumes, an apt demonstration of the theme of multi-morphism. Whether worn "live on stage" (as the subtitle salaciously puts it) or shown in the short films Rossellini has been making for the Sundance Channel since 2008, the costumes are hilarious in their absurdity, the more so given her fame as a model. She says she dons them as a form of Method acting: to understand animals better by getting into their skin. Perhaps, but having been the "face of Lancôme" for fourteen years, she surely knows how little the skin actually tells.
No, the visuals are really just meant to maintain the audience's interest, which might otherwise flag, even at a mere 75 minutes. There is only so much theatrical entertainment to be squeezed out of biology, and whether personifying animals or animalifying people, Rossellini, though droll, is not by nature hilarious. Nature, however, is, and it's in her descriptions of its perplexing variety of mating behaviors — sadomasochistic snail foreplay, gay dolphin blowhole intercourse, duck gang rape, erotic asphyxiation of the toads — that Green Porno eventually works its way around to a compelling argument. The diversity of biosex, with its sequential hermaphrodites and detachable penises, shames our paltry human perspective, our invidious categorizations. Noah, she says, had it all wrong with his simple double-mindedness. And yet, she concludes, Noah at least sought to preserve biodiversity, as he understood it. "Where," she asks the audience vehemently, "is the Noah among you?"
Green Porno is at BAM's Fishman Stage through January 25.