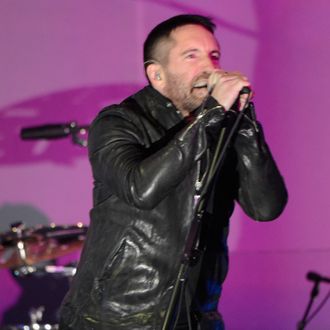 Trent Reznor, angry person.
Photo: Kevin Mazur/2014 Kevin Mazur
In his review of the show, Jody Rosen wrote, "What's up with all the pianos? Forget Irving Berlin: Nobody loves a piano like Grammy." And even when there weren't pianos, there rarely were guitars, especially electric guitars. It appeared the Academy had decided to leave all the rocking to its big final number featuring Trent Reznor, Queens of the Stone Age, Dave Grohl, and Lindsey Buckingham. The only problem was the number was cut short with cutaways to ads to the show's hotel and travel sponsors. Of the many who were mad about this, not surprisingly, Reznor was one, tweeting, "Music's biggest night … to be disrespected. A heartfelt FUCK YOU guys." Harsh words, but, hell, at least he got to seem anti-Establishment and punk for a guy who played on the same show as the Johnny Depp–quoting Hunter Hayes.