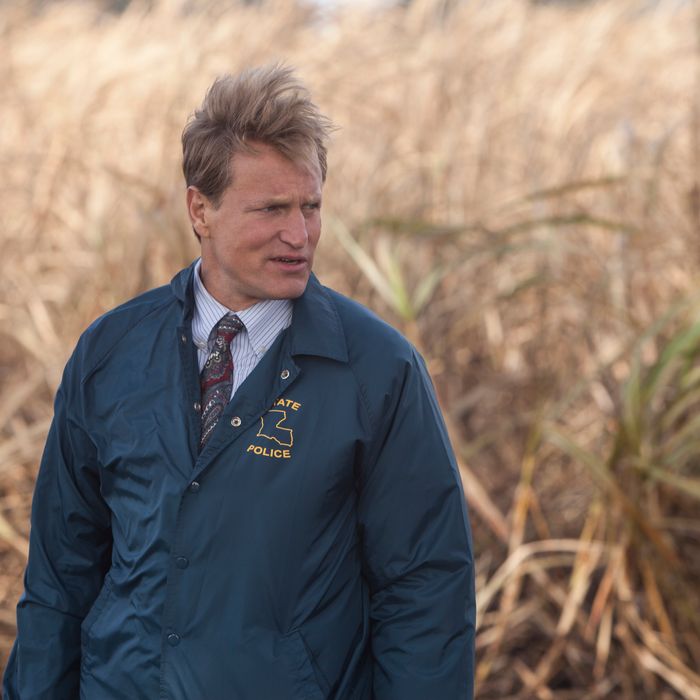 There's great detail in True Detective. Just listen to those ice cubes clank against the sides of the glass Louisiana criminal investigator Martin Hart (Woody Harrelson) holds as he observes his restful daughter after returning home from a horrific psychosexual murder scene. He's a fairly collected guy at first blush, but the tension and rage are there, inside that tumbler of what one presumes is whiskey.
His new partner in crime-solving, Rustin "Rust" Cohle (Matthew McConaughey), embodies minutiae, right down to a ledger-full of case notes that have quickly earned him a derogatory precinct nickname: the Taxman. Cohle is haunted by the ghosts of a dead daughter and a crumbled marriage, and those uncorked demons accompany him to the gruesome scene in a field outside of Erath, Louisiana, a Vermillion Parish sugar-cropping town, where he and Hart find the slain body of prostitute Dora Lange, who had been tied up, raped, mutilated, and crowned with deer antlers. His internal pain hints at why he immediately becomes consumed with this unsettling crime and the otherwise unassuming corner of the South that he describes as "somebody's memory of a town." Erath is emblematic of how he walks through life.
A lot of what carries for conversation between Hart and Cohle in "The Long, Bright Dark" is anti-banter: Cohle speaks in riddles about meta-psychoses and how humans are emboldened by a deluding "secretion of sense and feeling," while Hart does his best to stifle the bizarre chitchat. This is, apparently, their chemistry. Even when the show jumps ahead to 2012, with the two being questioned in separate rooms about a case with striking similarities to the Dora Lange murder, their personalities remain true. Get Rust going and he won't stop talking. Everything to him is connected; it just matters how you come to the only obvious conclusion. Hart, conversely, is terrified of making assumptions about anything, including why he's being interviewed on-camera seventeen years after the Lange case was solved. Nor does he offer any easy introspection about having gone a decade sans anti-banter with his former partner after a mysterious falling out in 2002.
You get the sense that this first installment in writer-showrunner Nic Pizzolatto's eight-part anthology series has no intentions of un-muddying his two leads' dynamic. It's not The Killing. We knew going in that the actors, characters, and circumstances would turn over come next year, à la American Horror Story. As Hart and Cohle (a play on heart and soul, given Cohle's philosophical viewpoint?) set about the insular process of tracking Lange's killer, we get a pilot's worth of passing introduction to colleagues (including Kevin Dunn, fresh off a lunatic performance in Veep, playing it straighter as the CID major), Hart's children and wife (was that opening shot of Michelle Monaghan as Hart's better half a Lost in Translation homage?), and local yokels, who seem to fall into one of two stock categories: irksome old-timers reluctant to share local secrets, and medium-functioning miscreants who lack the common sense to stay out of trouble. The latter includes kin of a young girl who went missing years back but who was presumed to be with her father. After some rooting around the family's hen cages, Cohle finds evidence, namely a Blair Witch–esque bundle of sticks resembling the so-called "devil's nests" they found placed near Lange's body in that scorched sugar field.
Then again, those spooky arts-and-crafts paeans could just be popular area urban legend, a response to the Christian majority that lords over their parish. At one point, the governor's cousin — a preacher named Billy Lee Tuttle (Jay O. Sanders), whose toupee and ten-dollar smile ooze schoolyard bully — butts heads with nihilist Cohle while stopping by CID HQ to ensure they're all pursuing this obvious heretic who strung up Lange. Not that Tuttle's on his own. Cohle even slaps one particularly derisive department lackey in the face and is roundly critical of his peers' un-evolved police work. Everybody at HQ hates Cohle.
Mostly the proceedings are as bleak and joyless as the crime they're investigating, but the pilot episode did give us splashes of humor, like in the 2012 scene where Hart lets us and CID cameras know that his unit is of the "big-ass" variety. A dick joke isn't all that passes for comedy in Detective. During his own '12 questioning, Cohle pushes the investigators' patience to its limits by insisting on smoking and fetching them to get a six-pack. He's like Buster bargaining for grilled-cheese sandwiches in exchange for intel on Arrested Development, only Cohle actually knows what his counterparts don't, and his tiresome demands are deadly serious. Relatively muted as the dialogue is, stories with opposing personalities seeking common ends will happen upon awkward humor.
Likewise, any adult drama whose protagonist comes home wearily to wife and children will eventually seek action on the side. There's a moment at work when Hart sneaks away from all the Lange melodrama for what appears to be a bit of extramarital business with a bosomy court clerk played by Alexandra Daddario. Infidelity is apparently how he gets winks at night.
Pizzolatto, on the other hand, was quite faithful behind the scenes, working with one director (Cary Fukunaga of Sin Nombre and Jane Eyre acclaim) for all eight hours of era-shuffling procedure. It's a signature choice. After all, even Breaking Bad employed a rotating stable of auteurs as its timeline progressed. Then again, nothing in Detective's near-present-day Erath feels that different from how it's depicted circa 1995, except that Hart's gotten older, balder, and fatter and Cohle's outward appearance inevitably reflects his inner hell. It's still Louisiana, it's another dead girl, and it's Thursday at noon, which means Rust wants his six-pack of Lone Star and an ashtray mug for his Camels.