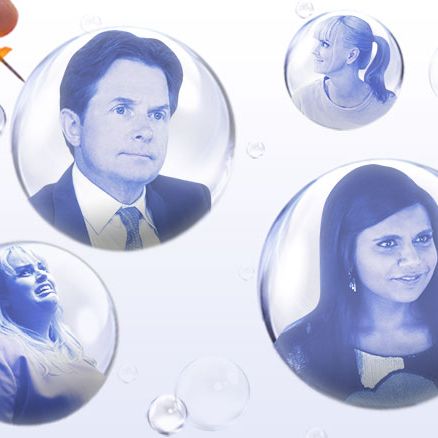 Photo: Maya Robinson and Photos by FOX, ABC, NBC and CBS
This week brought good news for the producers of Bones (it got renewed for a tenth season) and heartache for the team behind Sean Saves the World (NBC shut down production on the Sean Hayes sitcom, almost certainly spelling doom). But the fates are not so certain for the folks behind the many so-called "bubble" shows, those new and veteran series that have neither tanked hard enough to merit being yanked (R.I.P., Ironside) nor broken out enough to earn early renewal (such as NBC's The Blacklist and Fox's Sleepy Hollow). Every year around this time, Vulture takes a trip to the land of bubbles, where we compile a list of shows whose futures have at least a shadow of a doubt. We process the ratings numbers, look at the scheduling grids, and, increasingly these days, consider the various financial factors surrounding them (e.g., whether the network owns the show, how well it does in the international marketplace, etc.). We throw that data into our time-tested Bubble Meter, which then spits out a numerical score representing each show's odds of survival. A top score of ten means another season is as certain as The Blacklist; the low score of one signals that the series is likely to meet the same fate as the short-lived CBS sitcom We Are Men.
Before we get to our predictions, we need to issue the usual caveats: Already renewed shows (Fox's Glee, for instance) and those that have been pulled and/or outright canceled aren't included here. (Hence no Lucky 7 or Welcome to the Family.) Unless we've identified a financial issue, veteran shows whose renewals are likely formalities are also missing from the list (no need to worry about Person of Interest, Grey's Anatomy, or anything from Dick Wolf). Reality shows, animated shows, and anything from the CW also can't be processed by the Bubble Meter; the usual rules of renewals simply don't apply to them. And this year, we've also opted against including any shows that debuted or returned after January 1 (the sole exception: Community, which has already racked up five episodes), as there's just not enough existing data to gauge the staying power of newbies such as Rake and Chicago P.D., or even ABC's returning Suburgatory, whose third season began just a few weeks ago. Finally, an acknowledgment: It's becoming harder than ever to render a verdict on some bubble shows. As one industry source told us this week, "The bubble stuff is infinitely trickier now because you have to factor in so many more things." Those factors include the aforementioned matters of ownership and profitability, as well the networks' increasing realization that they're better off sticking with even very low-rated programs than launching new series to fill the void (this explains why NBC kept Hannibal around for another season, and why ABC renewed The Taste even after it bombed on Thursdays last winter). The bottom line: Predicting which bubble shows will float and which will get popped is an art, not a science.
Note: In tandem with our follow-up article running down the fates of 2014 series that premiered too late to be included here, we have updated ten of these slides to reflect the decisions networks have made on ten programs as of April 3. Fans of Brooklyn Nine-Nine and nine others can rest easier knowing that we've been able to slap a happy blue "RENEWED" stamp on them; remaining Raising Hope viewers have already cried into their pillows about seeing that chilling red "CANCELLED." And yet bubble shows remain! Click forth!