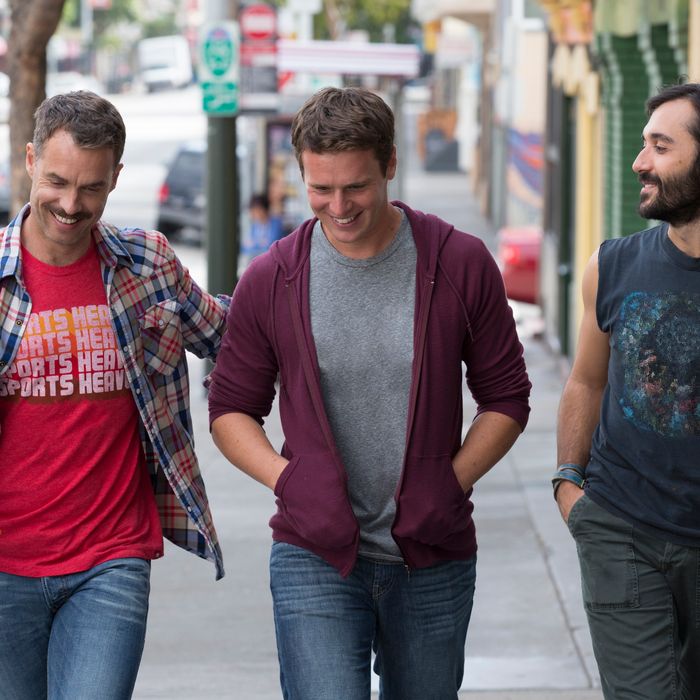 Photo: John P Johnson/HBO
After you've watched the entire first episode of HBO's Looking, a new series about the lives and loves of young gay men in San Francisco, the opening scene of its hero hooking up with a random dude in a public park plays like a knowing bait-and-switch. The main character, 29-year old video-game designer Patrick (Glee's Jonathan Groff), bails out of a furtive hand job that he wasn't enjoying all that much anyway ("Cold hands!") when a friend calls on his cell, prompting him to bolt. Discussing the moment with close friends later, he says he left the scene partly because he assumed it was his mother calling him, " … like she somehow knew where I was, and was calling me to stop me from being one of those gays who hooks up with people in a park."
The opening gives us insight into Patrick's character — he subsequently reveals that he's never been in a relationship longer than a few months, is uncomfortable working in a straight-male-dominated industry, and is still balancing what he's been told a gay man should be versus what he actually wants and needs — but it's also a commentary on how stories about guys like Patrick tend to be treated in mainstream culture.  It kicks off by making you think it's the show you expect to see on pay cable — filled with "provocative" moments that flirt with or flat-out embrace stereotypes. Then it goes in a different direction, presenting San Francisco singledom circa 2014 as anthropologically specific but otherwise unremarkable. In contrast to the British and American versions of Queer As Folk — products of the nineties and early aughts, respectively; eons ago in terms of mainstream acceptance of gay characters — it's not a series about what it means to be gay, but a series about a group of men who happen to be gay.
There's not much sex, and the sex we do see is mainly a springboard for the characters to discover things about themselves and other people. The first few installments include a briefly glimpsed threesome and a bathhouse scene, but they're presented without commentary or implicit judgment, much less as signifiers of authenticity. They're just depicted as activities in which some gay men partake, along with eating in restaurants, snuggling in living rooms, angling for a plum job at the office, getting married, and hitting up old friends for money to open a restaurant. When I think about the episodes sent out for review, the first scene I think of is a quiet one in which two of Patrick's friends, Agustin (Frankie J. Alvarez) and Frank (O.T. Fagbenle), who've decided to move in together and are feeling anxious about the decision, sit on a couch on a weekend night, mulling whether to turn off the TV and go see a local band. Running beneath this scene is the unspoken anxiety that wanting to stay in and cocoon makes a person lame, or old. It's a moment that every couple will recognize, but it's perhaps more acute in this milieu, which presents nightclubbing as a semi-obligatory activity that one does at least partly to prove that one still has a pulse. Like a lot of the better scenes on Looking, it's universal yet specific.
Better yet, the major characters have a core of mystery that prevents them from being written off as mere types. Patrick has the matinee-idol looks and easygoing demeanor of an male ingenue — he's got a young Christopher Reeve thing happening when he grins or laughs — but the more we get to know him, the quirkier and less "lovable" he seems. This is partly because of Groff's relaxed, confident lead performance; in scenes with overlapping, seemingly improvised dialogue, he's warm, witty, and an active listener. But it's mostly owing to the writing and direction (by co-producers Michael Lannan and Andrew Haigh, who directed the film Weekend, respectively), which make sport of Patrick's snobbishness and sarcastic condescension, and put him in quandaries that test his emotional and sexual urges against his wish to be thought of as a wise and decent person. Should he attend the wedding of an ex that he still has unresolved feelings for, and once there, how should he behave? Should he go through the motions of having a true connection with a man that he really only wants to have sex with? Should he flirt with a cute new British boss that he feels certain is the only other gay man in his office?
The buff, mustachioed Dom (Murray Bartlett) is likewise a character who at first reads as standard-issue but soon reveals surprising shadings. At 40, he's the oldest of the show's main characters. He lives with his ex-girlfriend Doris (Lauren Weedman), who's the best banterer on a show filled with good ones. He's still hurting over a long-ago-busted relationship with a monstrous narcissist; his resistance to attachment might stem at least partly from that agonizing experience. You also get the sense that Dom's identity is partly defined by nostalgia for a pre-AIDS era that he was too young to have experienced firsthand. This is confirmed in a future episode featuring Scott Bakula as a veteran of that era, a fiftysomething hunk who talks about San Francisco in the seventies in the way that old hippies talk about the Summer of Love.
That's not to say that Looking is a perfect show that's guaranteed to be all things to all viewers. Although it has a couple of non-Caucasian recurring characters, the series will be criticized (not without reason) for largely ignoring lesbians and transgendered people while focusing mainly on the sorts of gay men you'd be unsurprised to see on network sitcoms:  young-ish, conventionally handsome white guys. (It does deal with race rather pointedly, though: In a future episode, a date between a white man and a Mexican-American is revealed to be at least partly about the thrill of transgressing social boundaries — and it's a thrill both men share.) Looking carries itself as if there have already been nine or ten shows about gay men that could have been paired with Girls on HBO. Like Lena Dunham's series — and Louie, which the intimate shooting style often evokes — it's mainly about characters struggling to get past their neuroses and self-centeredness and really connect with other people. There's nothing formally or dramatically groundbreaking about it, except for its "no big deal" attitude. But that in itself is striking. It should be counted as progress. That Looking doesn't seem to be terribly concerned with words like progress should count as progress, too.